Welcome to Year 6!
On this page we will be sharing some of the fantastic things we do in class. Don't forget to visit the Young Journalist Academy website to read our YJA team's articles too!
You can find out about the learning we have planned for the weeks ahead in our Class Newsletter.
Going out with a BANG!
'The Pirates of the Curry-Bean'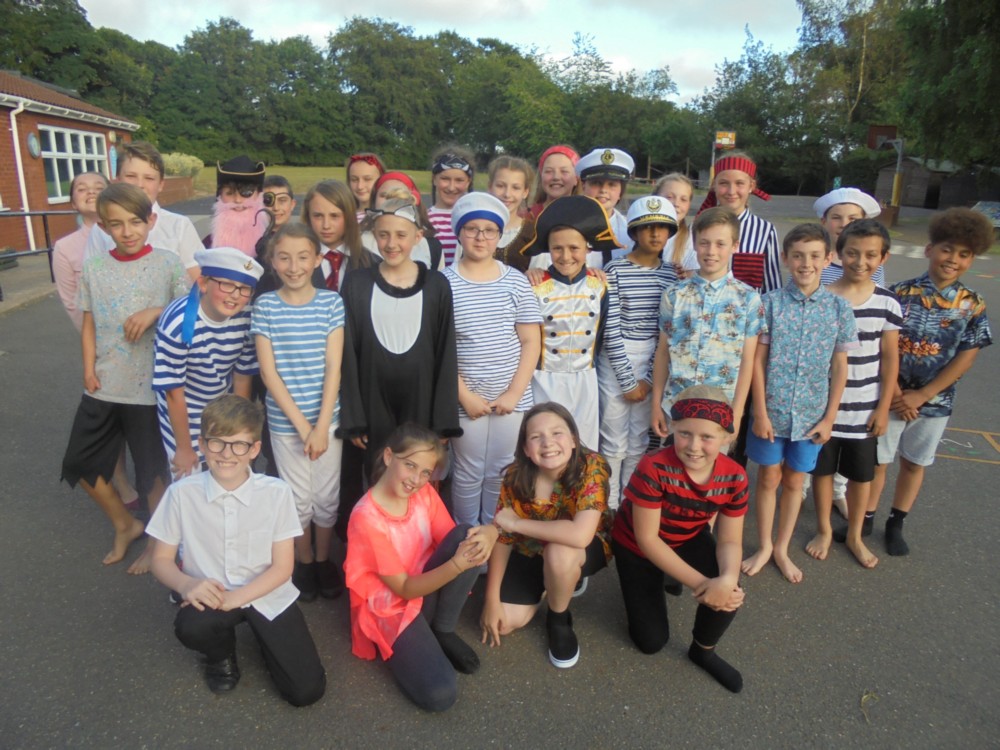 Following a couple of weeks filled with rehearsals, this week Year Six gave three performances of their show 'The Pirates of the Curry-Bean'. Following the performance to the school, I didn't think it was possible for it to get any better, but with each performance it just did! The children have worked incredibly hard learning their lines, perfecting their acting, not to mention the amazing song and dance routines and when it all came together it was a triumph!
Well done Year Six!!
Our Teacher is
Miss Millman
Miss Millman is our lovely Year 6 teacher. If she is not in a good mood (which doesn't happen very often!) you'd better do as you are told. She is polite and helpful. She is always a good friend to other staff. She has a secret stash of chocolate and loves to bake. Miss Millman is in charge of History and Geography in school.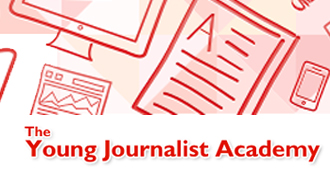 Cheese Straws 28th June
Year 6 have taken a break from acting and been practicing their cooking skills, 'Bake Off style' today. They were given a recipe, ingredients and equipment and off they went (under the watchful and helpful eye of Miss Millman and Mrs Brereton of course!).
Today's challenge was cheese straws and there was lots of excellent weighing, mixing, grating, rolling and cutting to be seen. The other children and grownups round school have been drawn towards the Year Six classroom by the amazing smells emanating from within.
These were very successful and taste just as good as they look!
Sharing Stories 15 June
On Monday Year 6 went to visit the Reception class to share a story they had written with them, based on the picture book 'Chalk' by Bill Thompson. We really enjoyed reading our stories (and some other books) with them and Reception seemed very impressed with our story-telling skills!
Church Schools' Festival 25 May
On Wednesday, Year Six headed off to Lincoln Cathedral to take part in the Church Schools' Festival. As part of this we had a tour of the cathedral (making sure we found the Lincoln Imp), took part in a singing workshop and had either a bell ringing or bird of prey workshop.
In the afternoon a service took place celebrating being part of the Church School family. During the service, all the schools taking part paraded with their school banners and collected a candle to commemorate the day.
Thank you to Bill (from the YJA team) for coming along to the mornings activities and taking some great photographs!
Ratio 28 March
This week in Maths we have been learning about ratio. On Wednesday we put our skills to the test and used ratio to work out the amount of ingredients needed to make some Easter buns. We also used ratio in our decorations. Great fun was had by all and some impressive cakes were made!
The Heart 9 March
This week we have been learning about the heart and its role in the circulatory system. We have named the parts of the heart, learnt about how blood travels and done some drama thinking about the journey of a blood droplet through the body.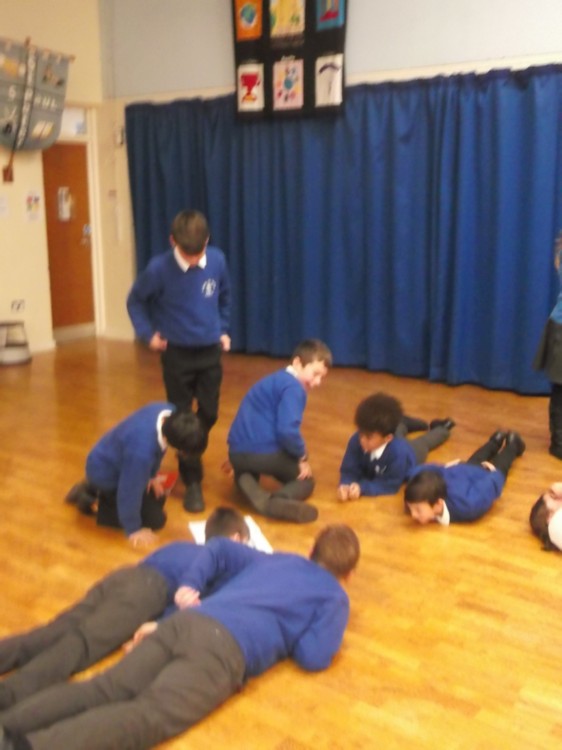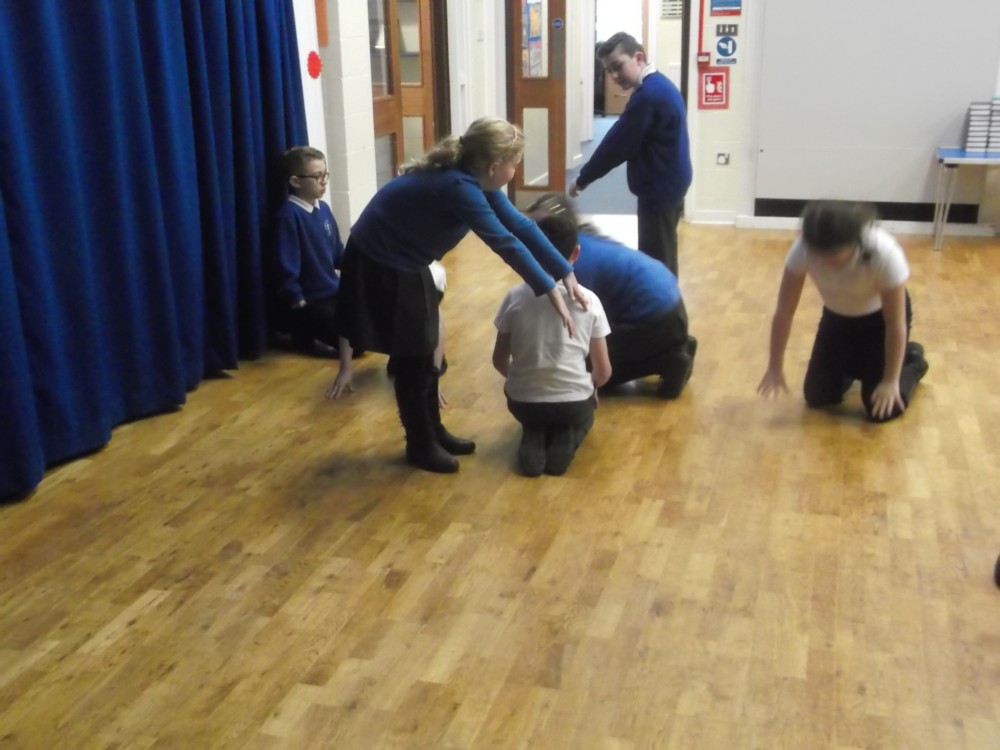 Blood 23 February
Year 6 have been learning about the components of blood today. There are 4 components: red blood cells, white blood cells, platelets and plasma. Each component has a special job to do.
To illustrate this we made 'blood' from raspberries (red blood cells), marshmallows (white blood cells), sprinkles (platelets) and pineapple juice (plasma). When blood is looked at under an electron microscope the different components can be seen. When whizzed together, our smoothie represented what we see when we bleed.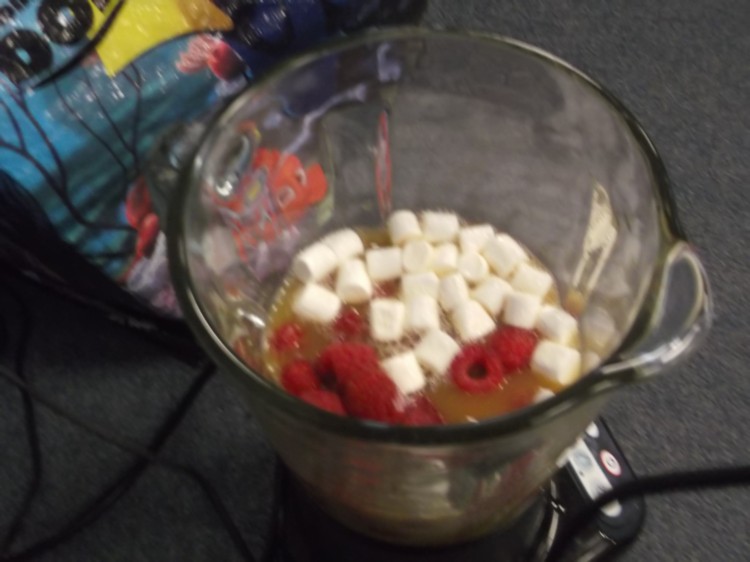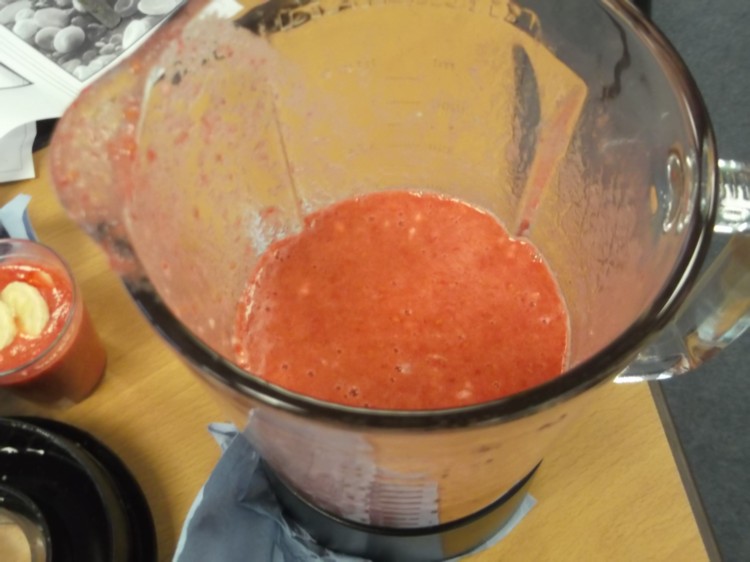 We also learnt some fascinating facts about blood. For example, did you know in a drop of blood there are millions of red blood cells and between 7 and 25 thousand white cells? Also an average adult has 5 litres of blood inside them.
Science 9 February
For the last week our classroom has had lots of slices of bread lying around it and every morning there has been lots of excited discussion about the amounts and appearance of the mould that has grown on it! There has been a reason for this, as we have been investigating the conditions in which mould grows best.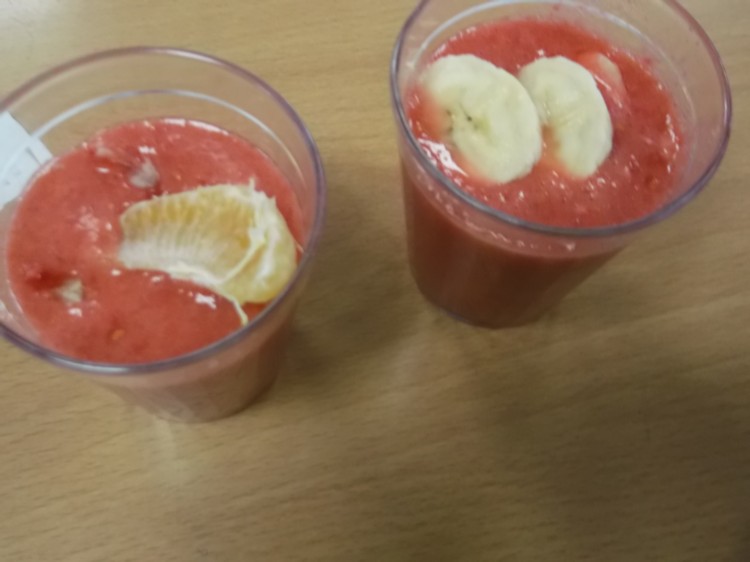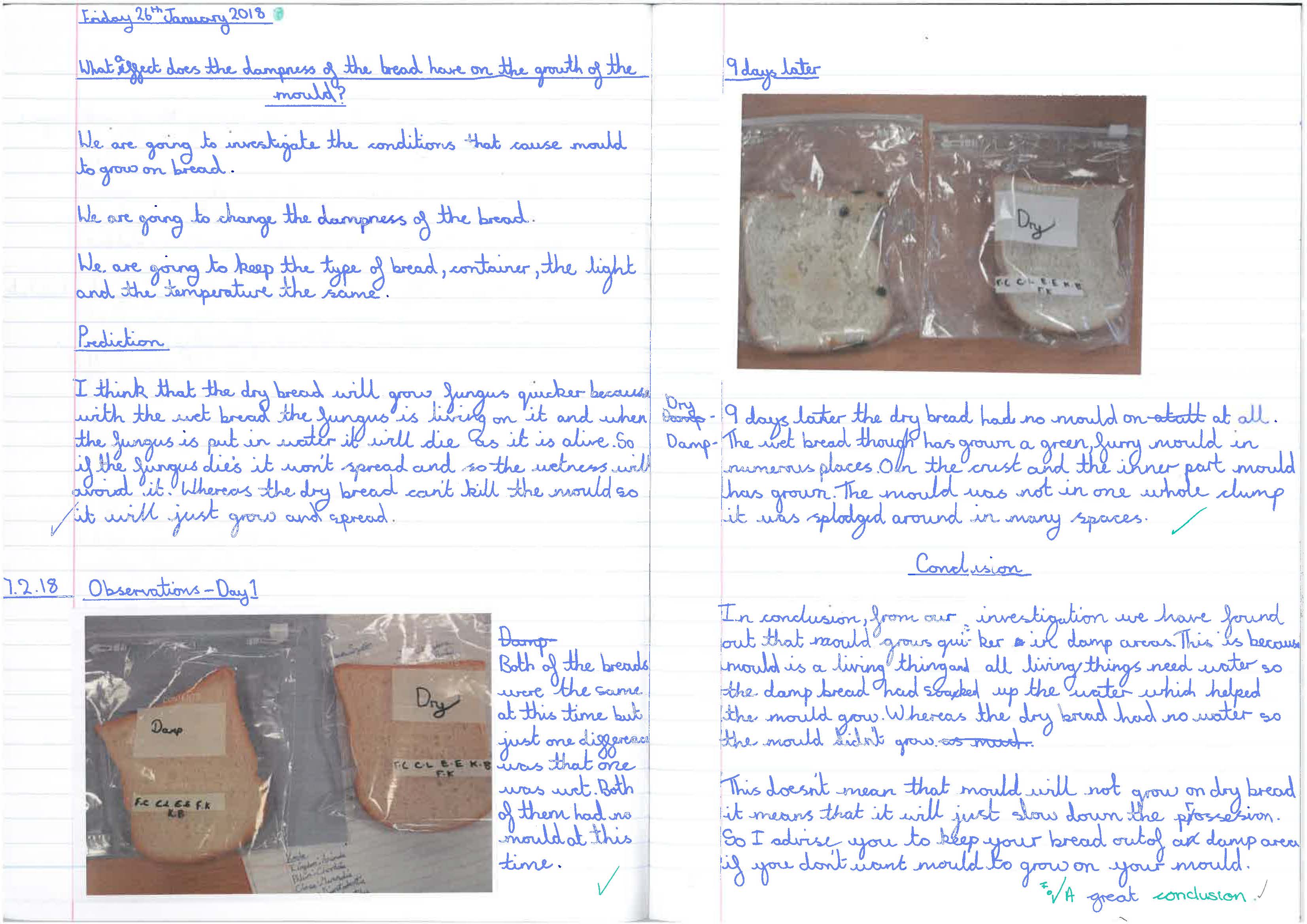 Charles Dickens Biographies 26 January
This week we have finished our biographies, using the facts we learnt about Charles Dickens. We used a formal tone and tried to include examples of the passive voice within them. Read our Biographies
Linnaeus System 19 January
We have been learning about the scientific method of classifying all living things.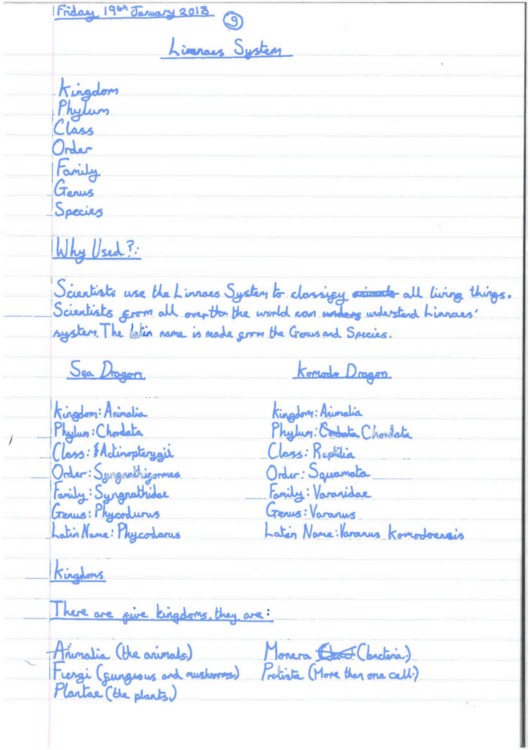 Charles Dickens
We have started to learn about writing biographies in English. As part of this we have been learning about Charles Dickens's life and novels. We now know lots of interesting facts about him and will looking at how to write this into a biography next week. Watch this space for the finished articles.
Incarnation
As a start to our new RE topic Year 6 have been recapping their knowledge of The Holy Trinity. As part of this we read a poem, 'Trinity Chant', and used this as a basis to write our own as a class, describing the Holy Trinity.
Each verse has a line about the Father, the Son and the Holy Spirit.
The Holy Trinity
Inspiration starter,
God follower,
Dream holder.
Heaven ruler,
People teacher,
Soul Holder.
Life giver,
Will interpreter,
Hope giver.
Sin forgiver,
Lord dancer,
Soul toucher.
Planet creator,
Sheep protector,
Water giver.
Life giver,
Miracle maker,
Spirit bringer.
World beginner,
Peace maker,
Promise saver.
Bikeability, Art and E-Safety 10 November
It's been a busy week in Year Six. We've had four days of Bikeability training, with groups of children out on the Playground for Level 1 and on the roads around Burgh for Level 2.
Congratulations to all the children for their sensible, hard-working and enthusiastic approach to learning to be safe on their bikes! Watch out for an article appearing in the Skegness Standard as a journalist spotted us and wanted to find out more.
When not out on bikes, we have been making Maya masks. These were used for a variety of purposes, such as death masks, for use in battles and at a variety of celebrations or rituals. We have designed our own and made them using balloons, brown gummed tape and a range of decorative materials – photos of the finished masks are coming soon.
There has also been some drama occurring in the classroom – carefully scripted of course! We have written and started to film (using a green screen) films about e-safety. These will be appearing in the assembly we will be performing to the rest of school, helping them to learn to use technology safely.
English 4 November
This week in English Year 6 have been considering the question: Is it better to be an adult or a child? They have come up with reasons for both options and debated their points.
Here are some of the points made:
It's better to be an adult because …
You can do what you want with your life
You can drive
You can vote in life changing events
You can drink alcohol (this was a very popular point!)
You can have a job and your own money
It's better to be a child because …
You get more done for you
You don't have to pay the bills
You have more energy
You have more time to play games and make friends
You have more imagination
When we first asked the question, 21 people in the class thought it was better to be a child. After our debate, 15 people thought it was better to be a child and 14 that it was better to be an adult.
Science 20 October
Year 6 have made periscopes this week. They tested that these worked and then thought about how they worked. A great time was had by all!
YJA 13 October
Lots of the children in Year 6 have been taking part in the Young Journalist Academy and this week the first three have had articles published on the YJA website.
Football Team Blossoms on Social Media
Dangers of 'Bargain' Lipstick Highlighted
Keep checking back on the site to see future articles from our budding journalists. Also remember that you can leave comments supporting the children with their work.
Maths 13 October
Year Six have been learning to use long division for dividing by larger numbers. This has taken some thinking about, but almost everyone is starting to feel confident with this now. We use jottings to help us work out the answers.
Light 6 October
This week we have started our new Science topic on Light. We talked about how we see and had fun watching our pupils change size in the light.
We also investigated how light travels and found that it travels in straight lines.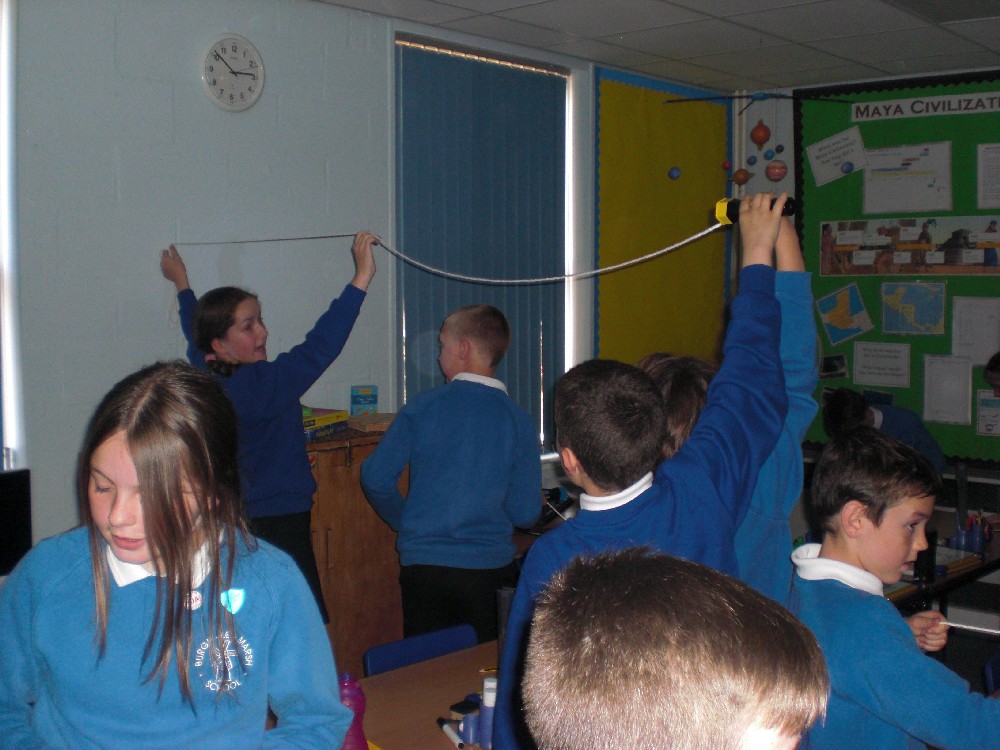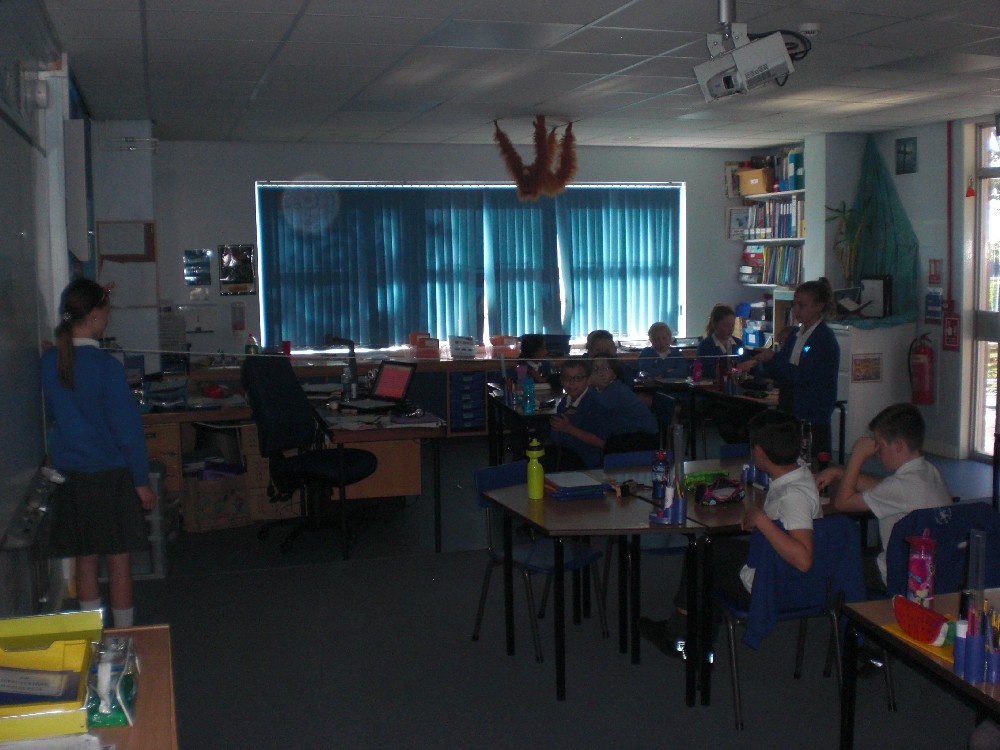 Maya Food and Farming 22 September
This week we have been finding out about Maya food and farming. We discovered some of the foods that the Maya used to eat. One of these was squash and we had a go at making and tasting butternut squash soup. Everyone tried it and most of us quite liked it too!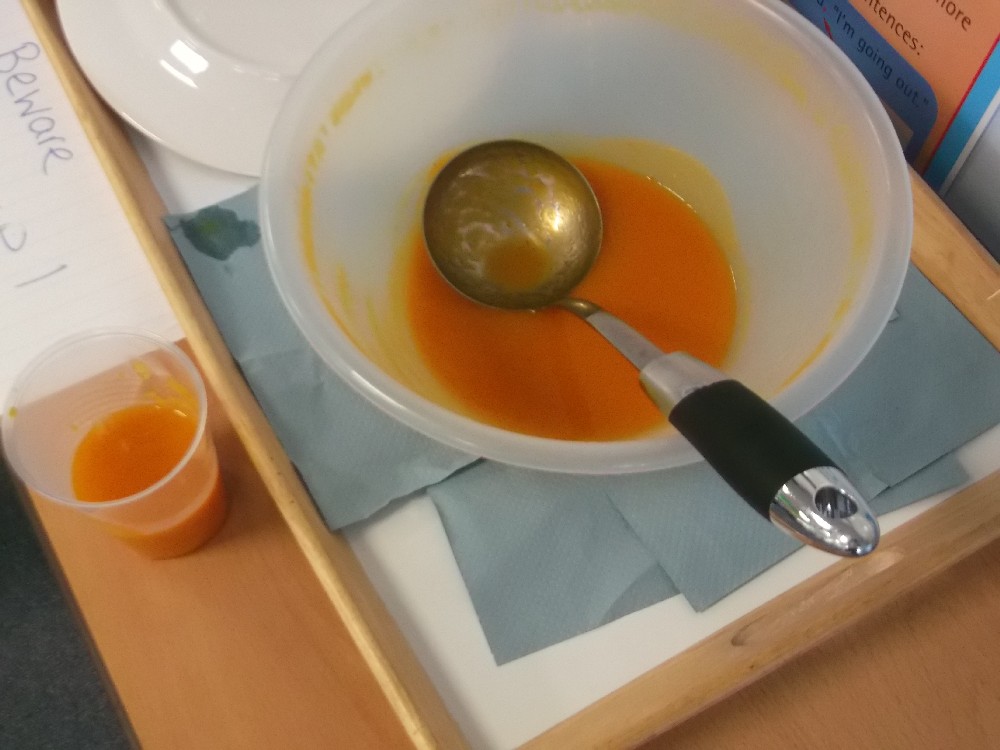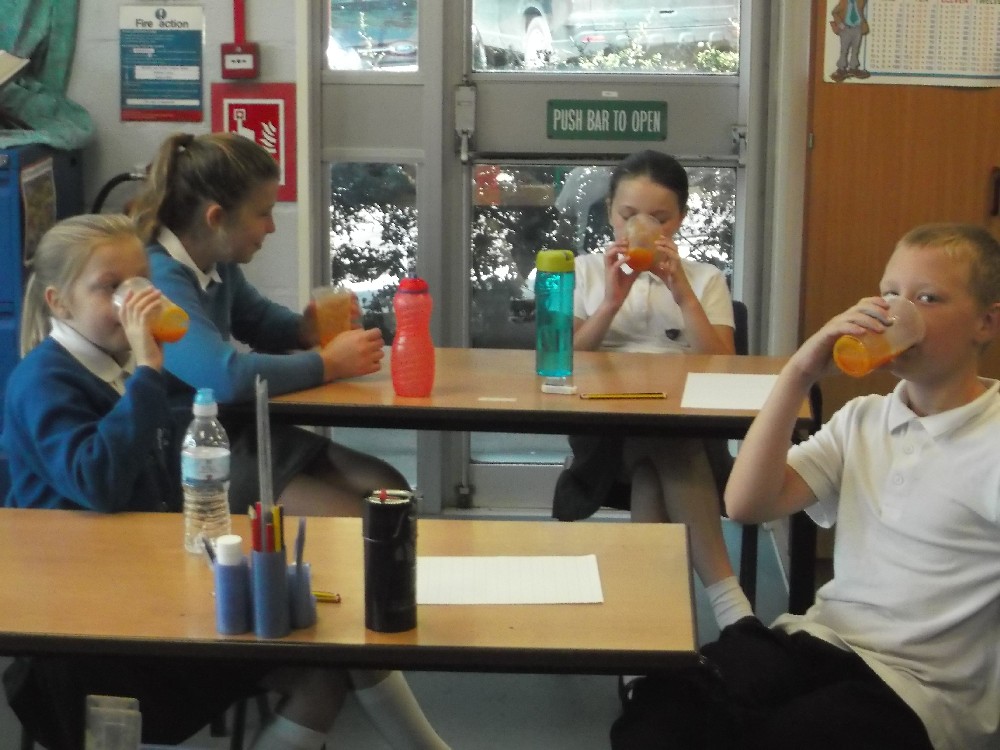 Try it for yourself by downloading the recipe.
Electricity
This week we have started lots of new topics. In Science we are looking at electricity and learnt how to use symbols to draw circuit diagrams.