Welcome to Miss Millman's Year 6 class
On this page we will be sharing some of the fantastic things we do in class.
Our Teacher is
Miss Millman
Miss Millman is our lovely Year 6 teacher. If she is not in a good mood (which doesn't happen very often!) you'd better do as you are told. She is polite and helpful. She is always a good friend to other staff. She has a secret stash of chocolate and loves to bake. Miss Millman is in charge of History and Geography in school.
World Book Day 5 March
Today the whole school have chosen a page from the book 'The Whale' (a fully illustrated book) and produced a piece of writing in their chosen genre. Year 6 picked to write a setting description to create suspense, and here it is!
PGL 2 March
WOW! What a wonderful time we all had last week at Caythorpe Court, PGL centre (and that even includes the grown-ups!). All the children behaved brilliantly, challenged themselves on the activities, supported each other and most importantly had fun. We did loads of different activities, including giant swing, trapeze, sensory trail, ambush (basically hide and seek in the dark), abseiling ... There were also other games learnt and lots of singing of 'Repeat after me songs'.
I would like to say well done to everyone; we had lots of children who were quite nervous about various aspects of the trip, but no-one let it hold them back and they all came back proud of their achievements. A big thank you also goes to all the adults who came and helped make the trip a success.
Ratio 24 January
This week Year 6 have been learning all about what ratio is. We are now great at describing ratios in words and through written frms, can compare them to fractions and have started looking at problem solving and reasoning involving ratio too.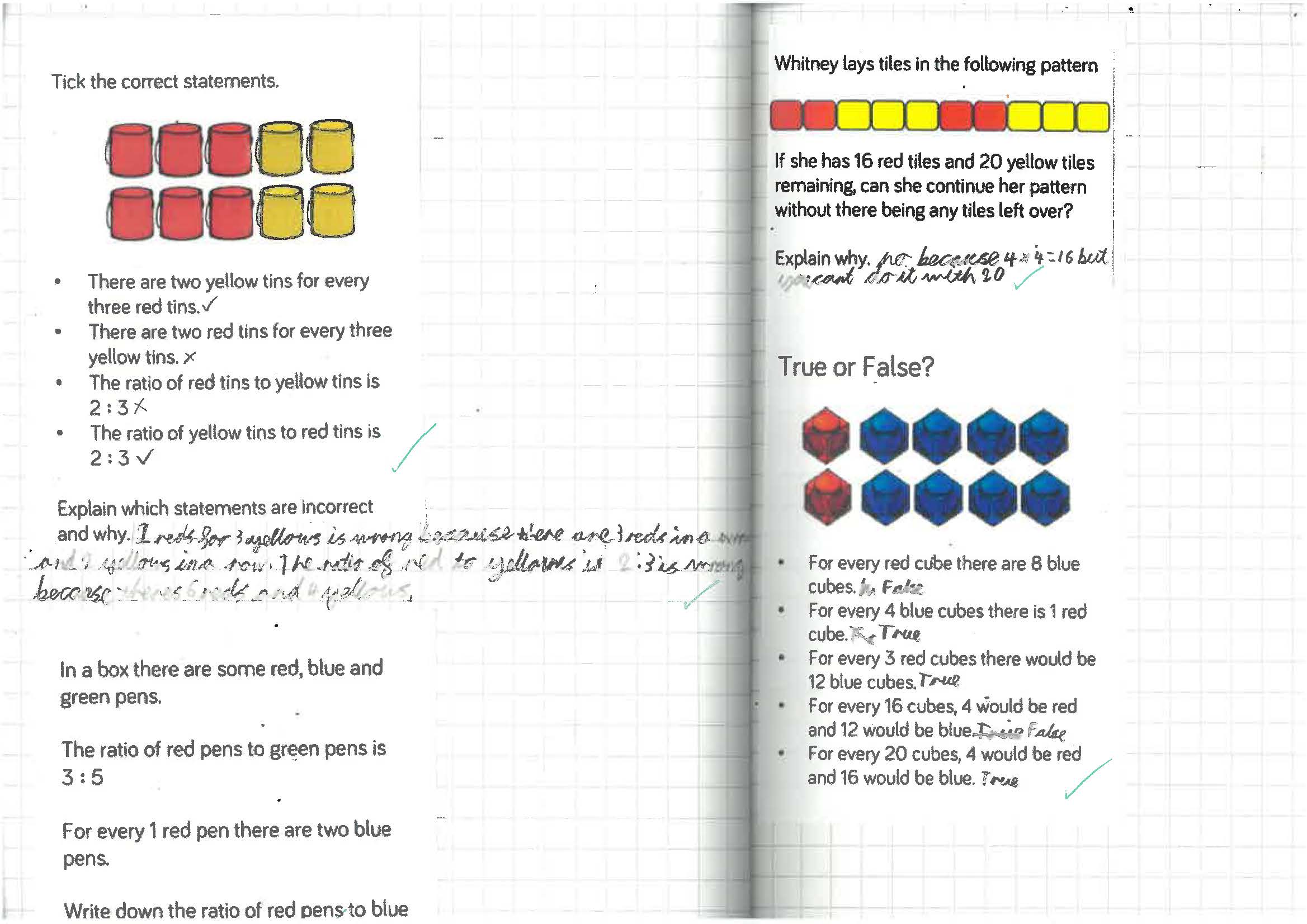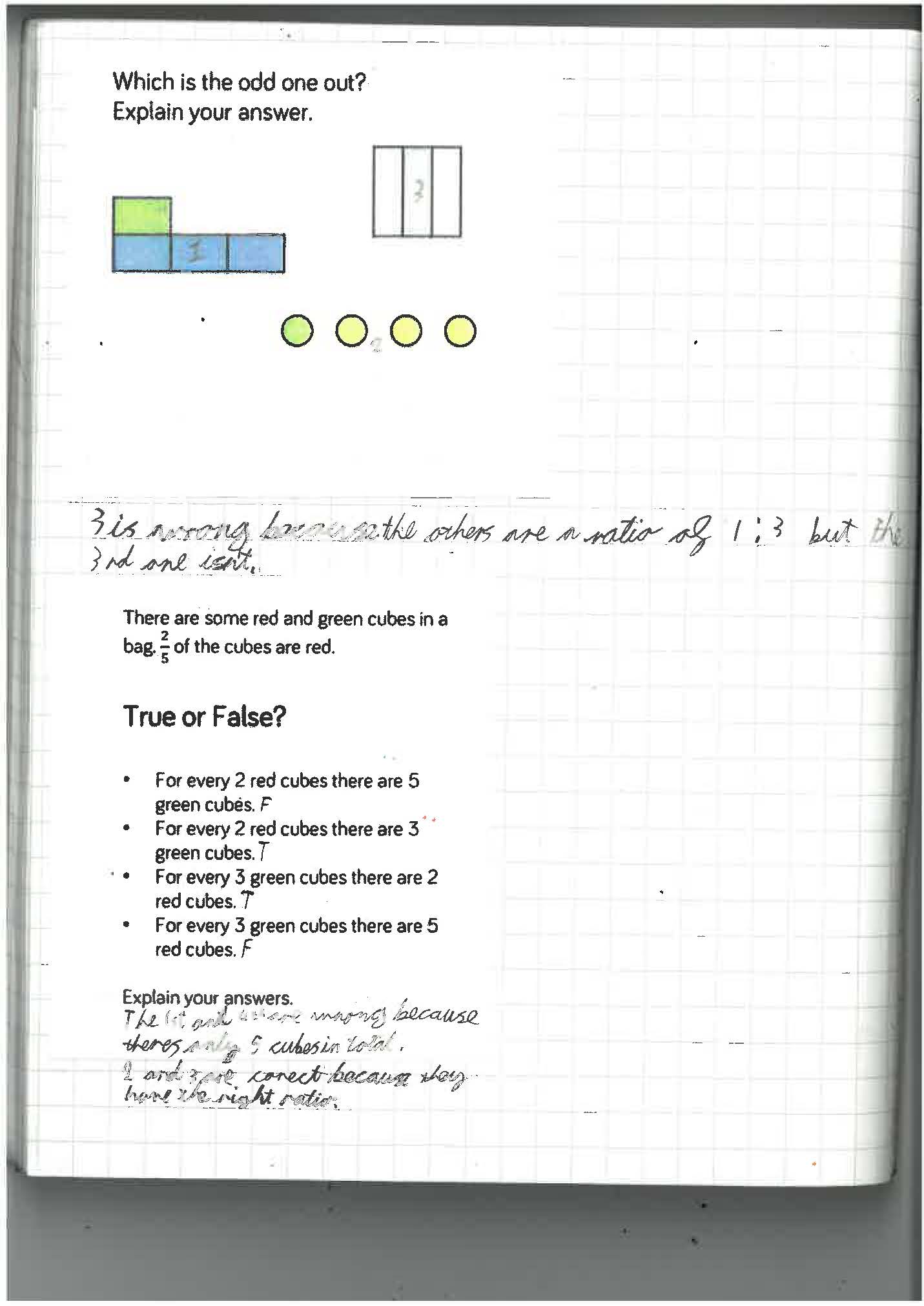 Guess Who? 10 January
This week we started our new Science topic of 'Evolution and Inheritance' by playing a game of 'Guess Who' using our own pictures as the faces. We had to use questions based on characteristics we could see in the photos. We then followed this with a discussion about inherited characteristics and environmental ones.
Christmas! 17 December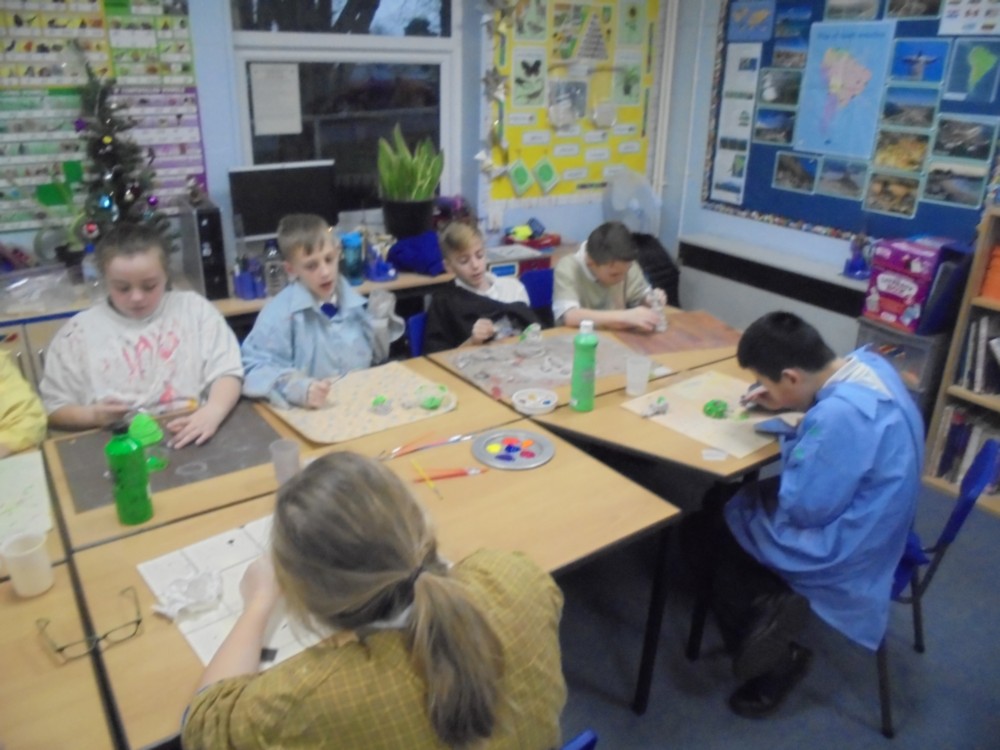 After a lovely morning at the panto watching Jack and the Beanstalk with the rest of the school, Year 6 have finished the day painting the amazing Christmas trees they made from clay on Christmas Art Day. These are looking really good now and the children were VERY excited to see glitter paint to add to the impact! Here's hoping they make them home in one piece!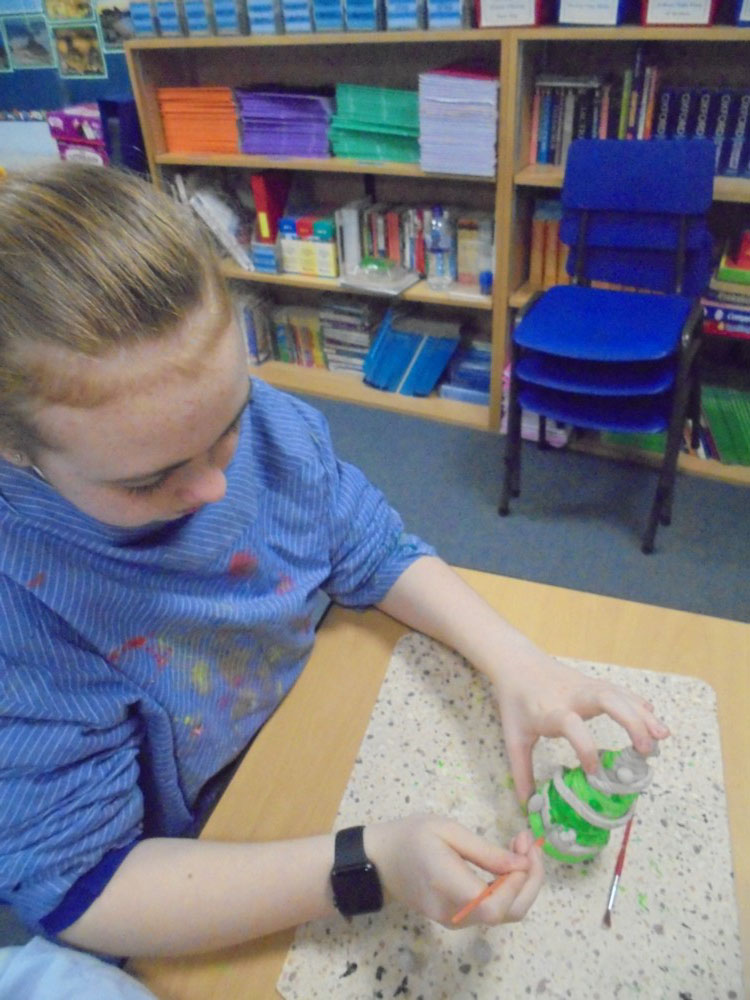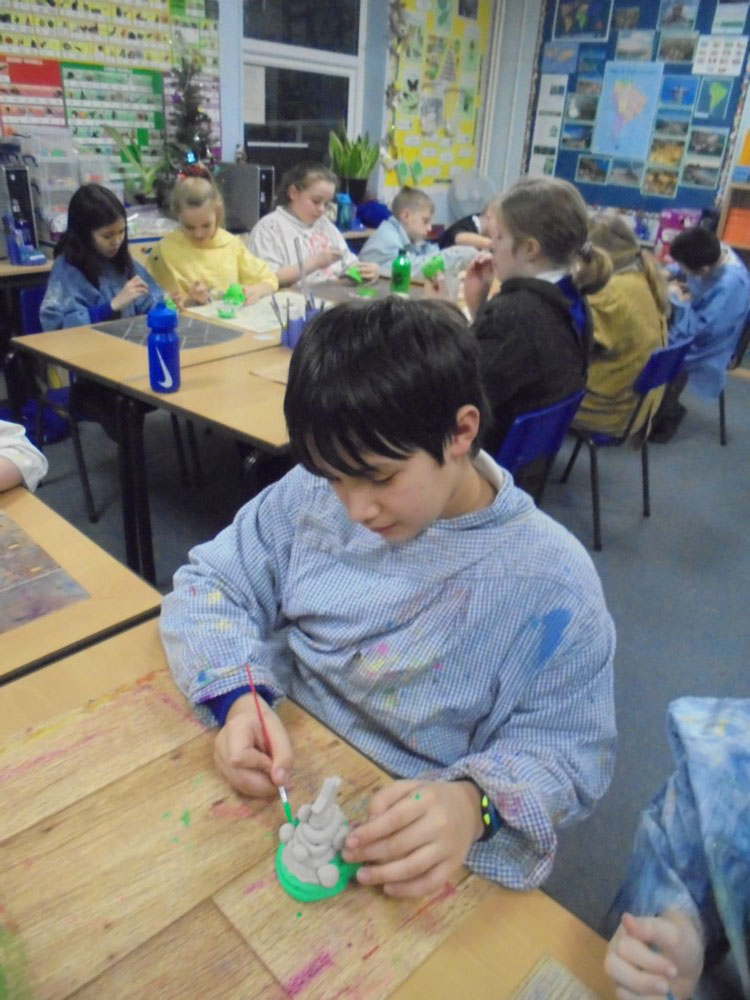 Pok-aTok 13 December
This week we have been learning about the Mayan ball game, Pok-a-Tok. We're not sure we want Mrs Potts to add this to her repertoire as we don't like the idea of being sacrificed to the Gods if we lose!
Take a look at our writing to find out more.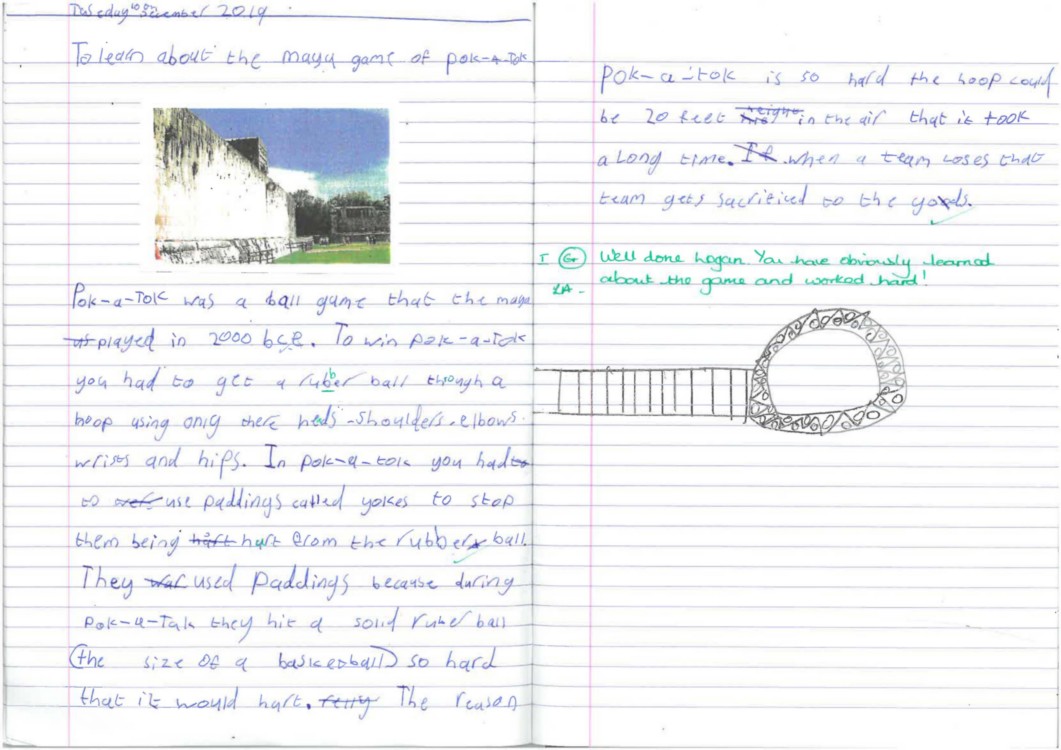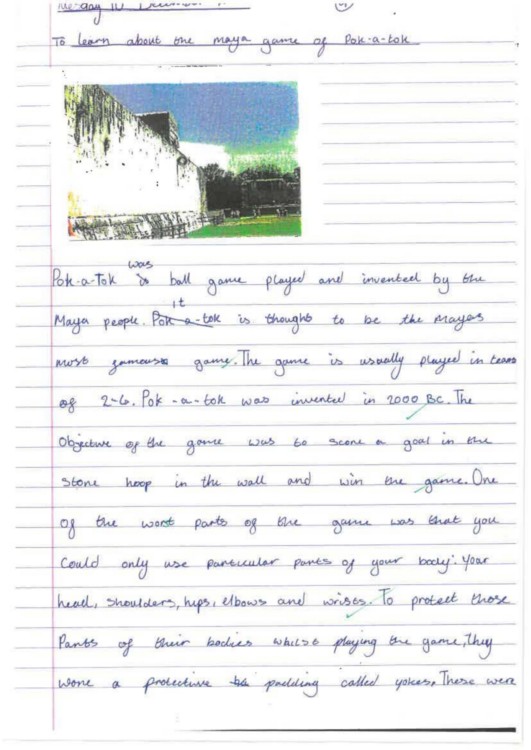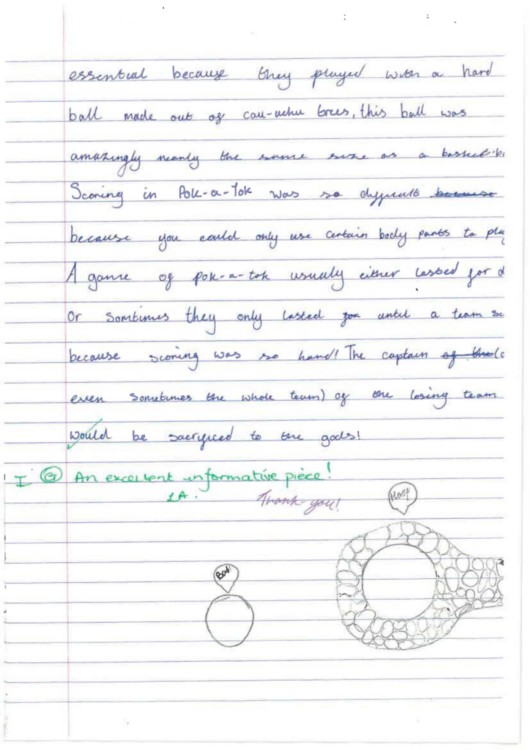 Christmas Arts Day 2 December
A great day has been had in Year 6 today, with all sorts of exciting activities taking place. We've made cards, pom-pom creatures, chocolate reindeers, stars, clay trees, snowy baubles and paper chains. All the children have worked really hard and helped each other if needed. A big thank you to Mrs Brereton who has been chief-elf doing all the organising for a well run day!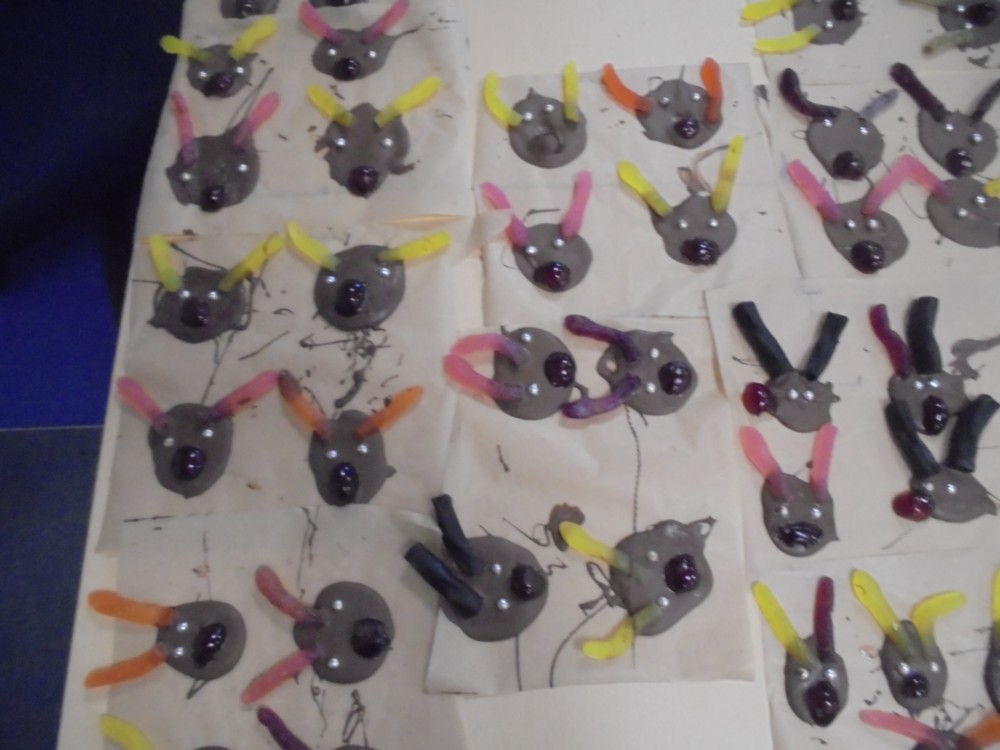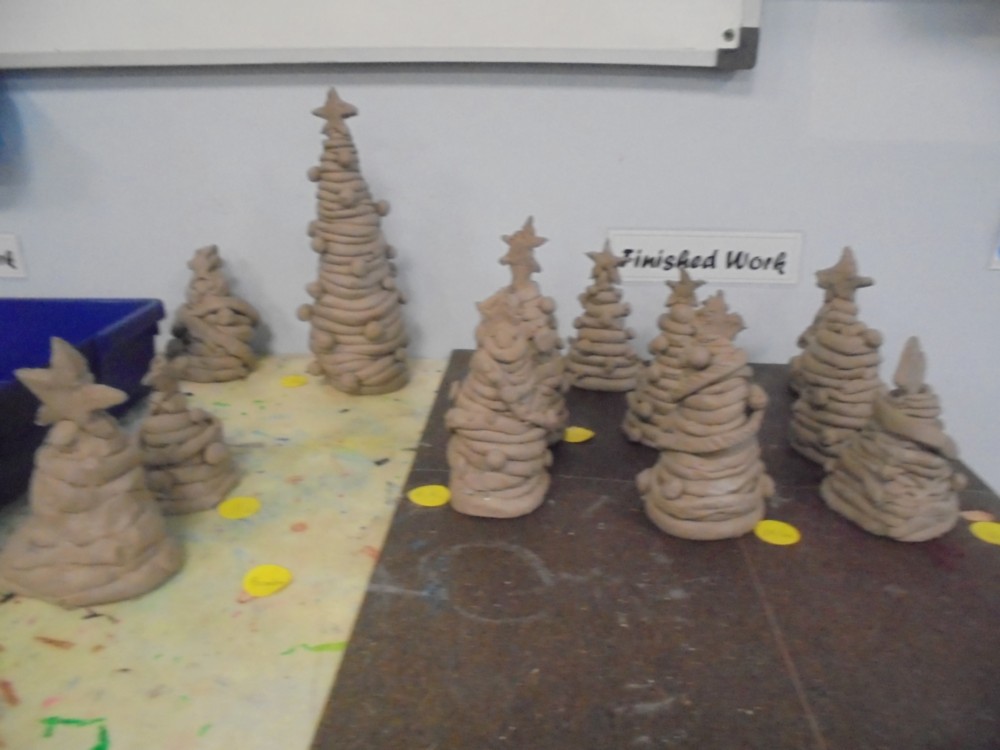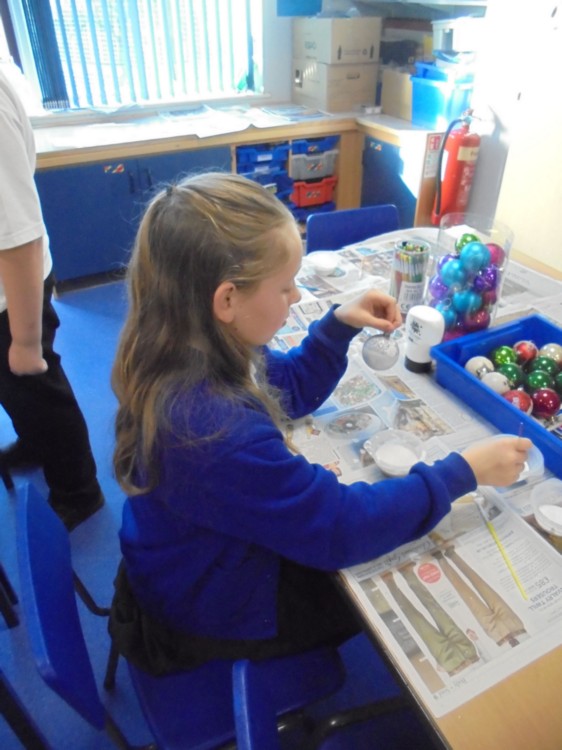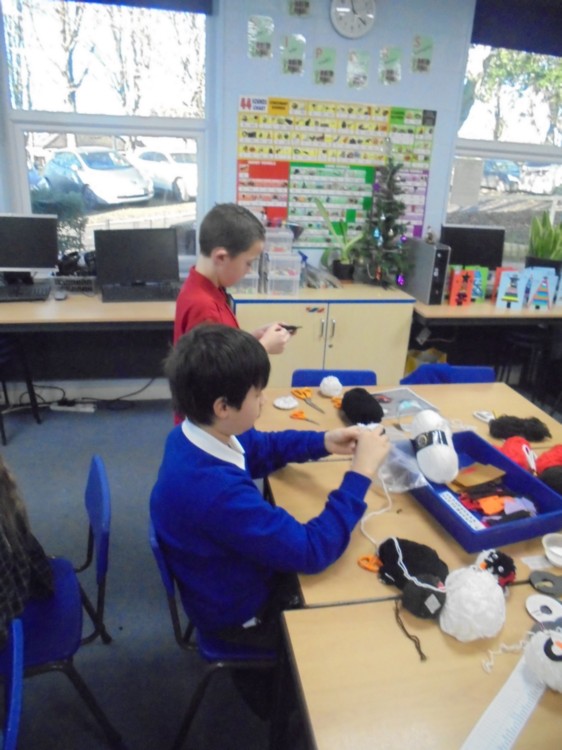 Bikeability 29 November
A huge congratulations to all of Year 6 this week for their biking skills. They all started off in the playground demonstrating their skills and practicing signalling and controlling their bikes.
You may then have seen them out and about around Burgh learning the skills of riding their bikes safely on the road. They practised the correct position to ride in on the road, how to overtake parked cars and turning in and out of junctions - both to the left and right and off and onto minor and major roads.
The instructors who came were very complimentary of the children's behaviour, listening skills and attitude. Well done Year 6!
TTRS 'Rock Out 2019' 15 November
Well done to Year 6 who have been taking part in the national Times Table Rock Stars competition this week, battling against other schools all round the country. We may not have won (or come close to some of the top scoring schools), but the dedication of lots of the children (giving up their lunchtime play, as well as playing at home) has been brilliant to see. The speed they can answer tables and division facts is amazing and I hope they keep up the hard work even when the competition is over.
Real-Life Maths 8 November
Today the whole school were invited to bring in 2p coins to support one of the Rotary Projects. These were all laid out in lines in the hall. When Y6 went in to add their coins there was lots of discussion about how much money there was in total. We decided to take this opportunity to try applying the Maths we have learnt to find out.
All the children estimated how much money (to the nearest pound) they thought there was; this ranged from £4 to about £200, with the majority of estimates being in the £30 - £80 range. We then discussed ways of finding out how much there was. We decided to work out how many metres of coins there were and the approximate number on coins in each metre and used this to work out we had made about £53.96. We then collected the money and counted it, making piles of ten 2p coins and added up each pairs totals. We found that we had raised £55.68 (give or take the odd 2p coin we found on the floor afterwards!).
We were very impressed with how close this was to out original calculation and with how much money the school had donated!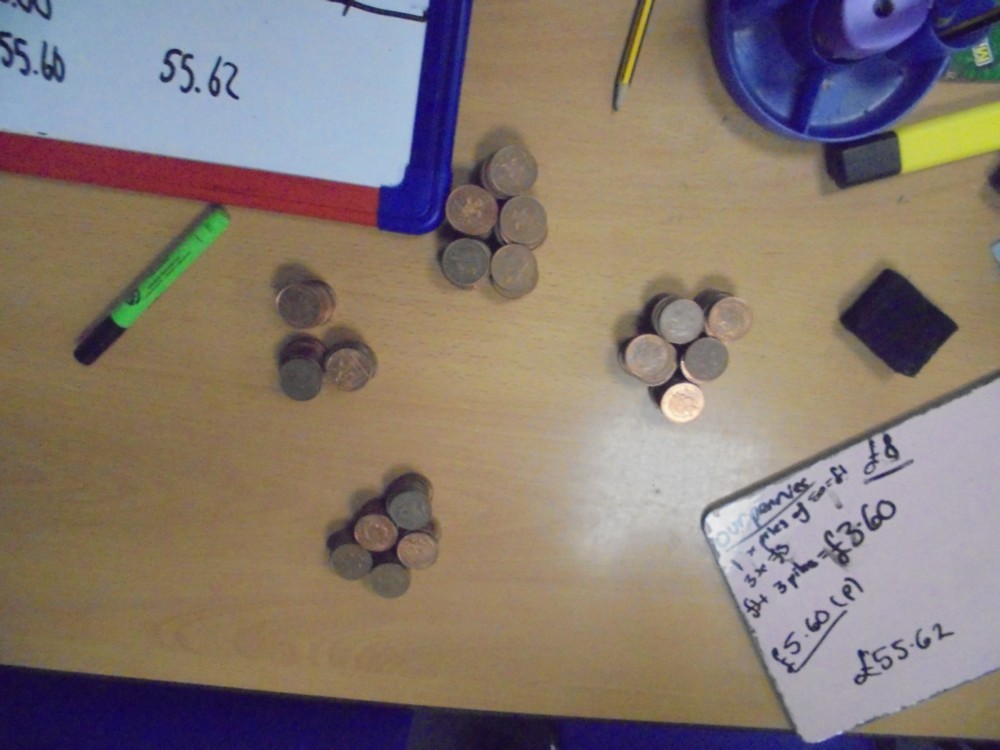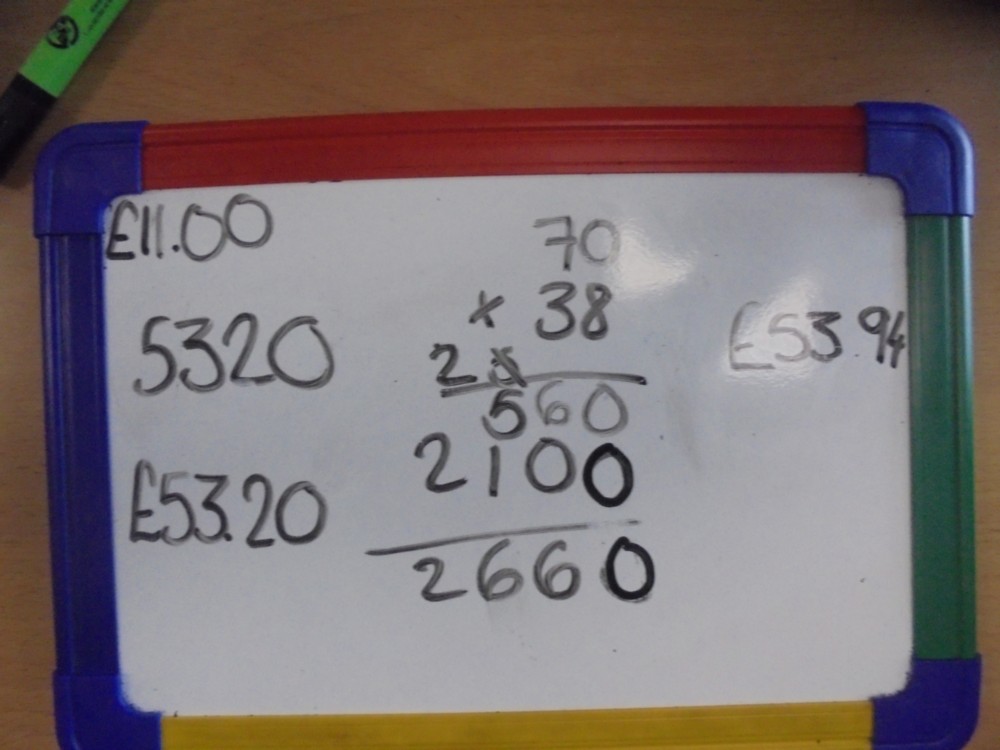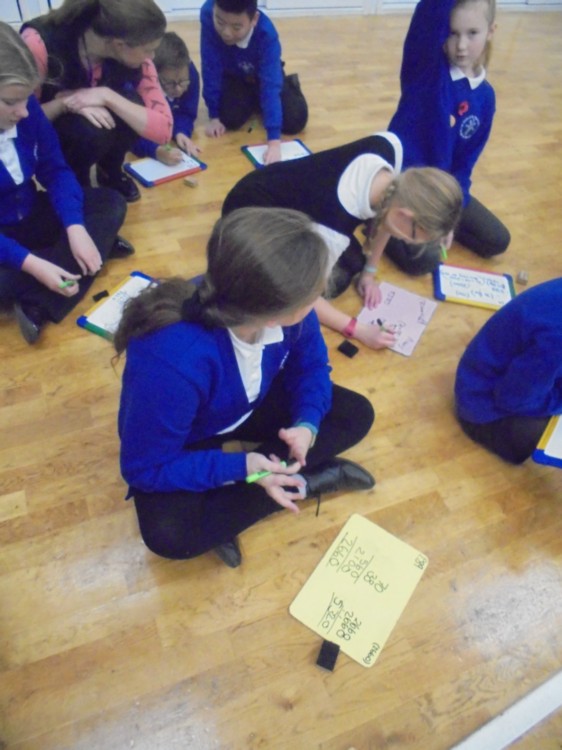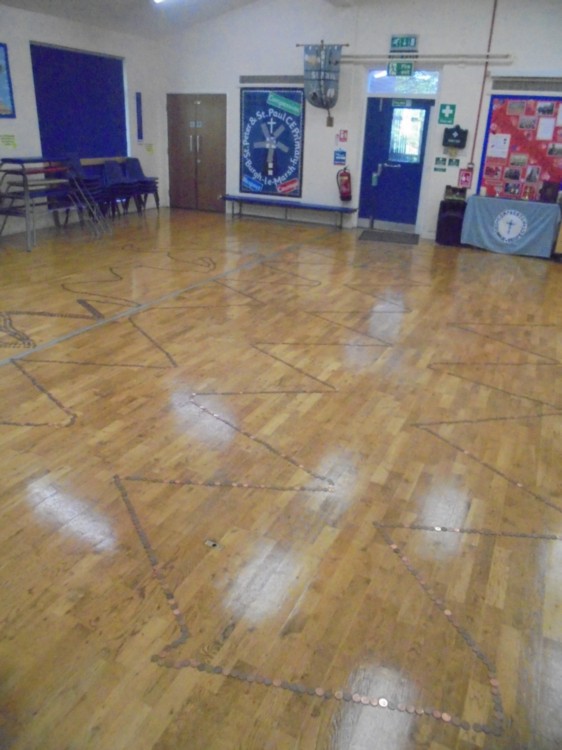 Long Division 1 November
WOW! This week Year 6 have been tackling the typically tricky topic of long division but they have done an amazing job with it and are even feeling confident in applying this skill. Well done to everyone!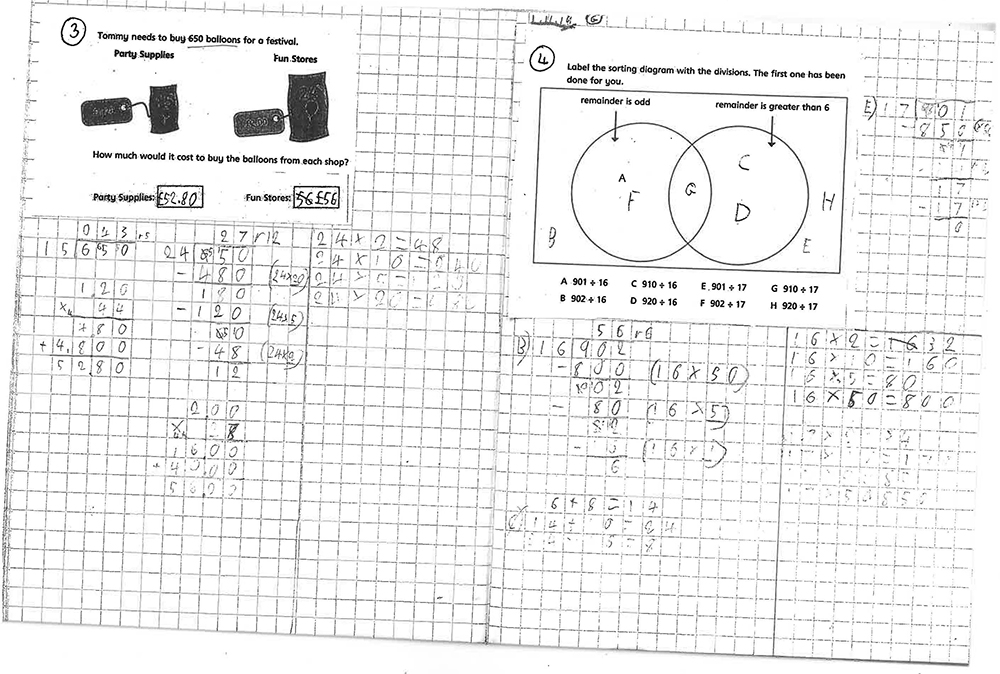 Designing a Vehicle of the Future 14 October
Today Year Six have been to visit John Spendluffe Technology College for a challenge day which has built upon our electricity work this term in Science. Each child has made their own hovercraft, adding the motor, testing it and fixing any problems and then creating an impressive design to personalise it. There were also awards for teamwork, creativity and accuracy. A special mention goes to Marlee who was the only child to receive two awards.
A big well done to all of the children, who all worked hard, showed resilience when things didn't go right the first time, and helped each other when things were tricky. Also a big thank you must go to the staff and students from JSTC who helped to make it such a great day!
Fun in Maths 4 October
Today in Maths, Year Six were having fun and practising their mental maths skills as well as having to think carefully about what the equals sign actually means. There was lots of excellent maths talk happening and everyone had fun (even if they got slightly frustrated at some points!!).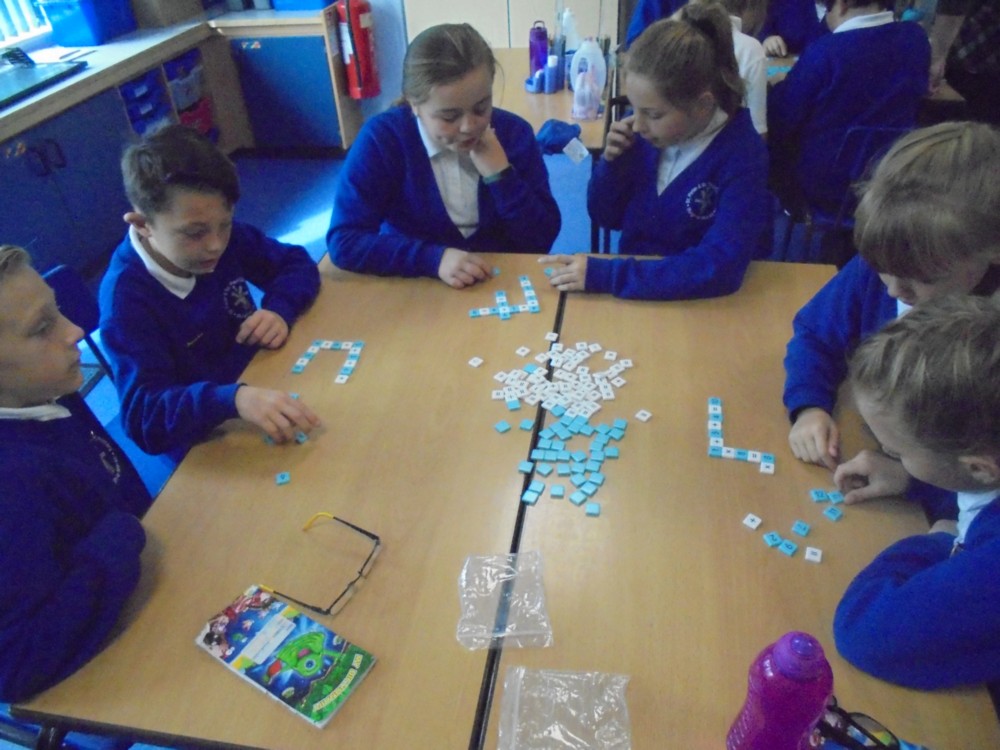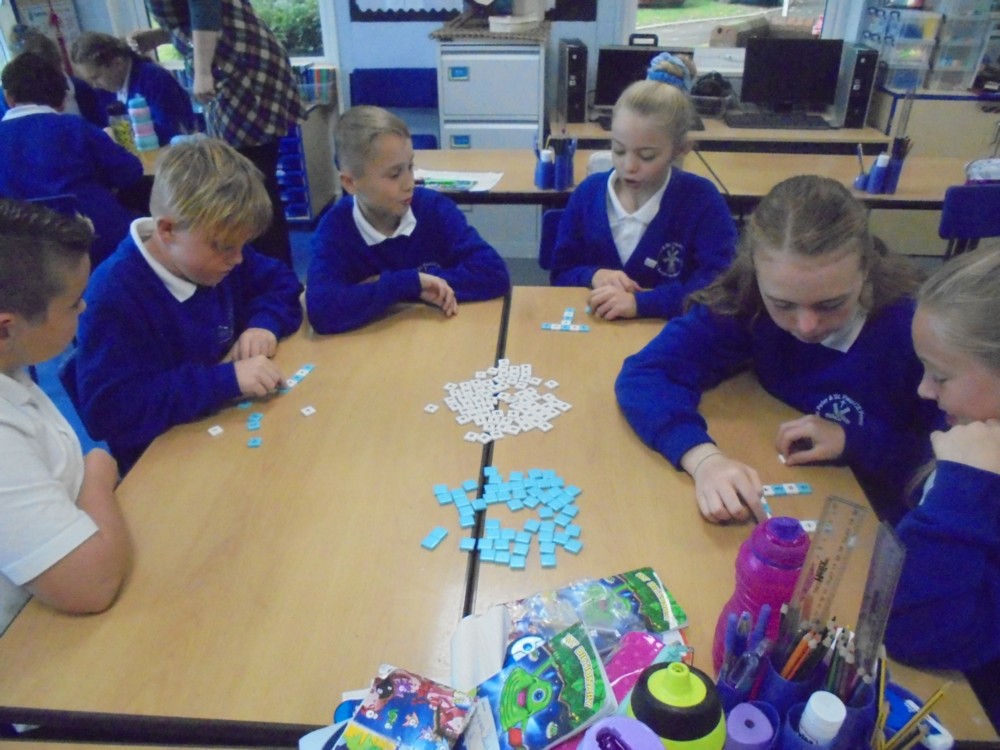 Dialogue 27 September
This week we have been learning to use dialogue in our writing. We have been trying to make it serve a purpose - either to tell you about the character or to move the plot forwards (or both). Have a look at our examples and see if you can spot what our dialogue is doing. Click on the images below to open the documents in PDF format.
Welcome to Year 6
Well Year 6 have had an exciting first couple of weeks back, there's been plenty of work completed, a test or two and even a little bit of fun! Everyone has settled in well and is getting used to the new classroom and roles and responsibilities; team captains have been elected and will soon be receiving their badges; PGL has been launched; registers have been delivered daily and everyone is still smiling!