Welcome to Reception Class
Transitional Art Tuesday 11th July
We found a new place to create and display our artificial flower art today. What do you think? We worked well as a team and put everything back in a new florist formation in the tyres in case it rained.
Differences Monday 10th July
We've been looking at the differences between our first day and our last month at school. Our Learning Journeys are coming home on Friday. Please don't forget to return the green response form that will be tucked behind the photograph on the front cover please.
Entomologists Thursday 6th July
We have been searching for bugs for the new minibeast hotel. We couldn't take all of them to a new home but the snails, beetles and woodlice are all now enjoying a holiday at the Burgh Woodland Trail hotel.
Tasting Day! Thursday 6th July
Wow! Growing, cooking and tasting our harvest has been an amazing experience. Well done everyone and congratulations on helping to gain Level 2 of the RHS School Gardening Award.
Minibeast Hotel Wednesday 5th July
After individually designing a minibeast hotel and then combining our ideas, we collected the materials we needed and set to work to transform the pile of pallets in our woodland area. What do you think to the transformation?
A Bumper Harvest Wednesday 5th July
We've had a fabulous day harvesting the produce that we've grown this year. We can't wait to cook some of it and taste it tomorrow!
More Child Initiated Play Tuesday 4th July
The towers were built in response to the current collective worship theme of Teamwork.
Recycling in Reception Monday 3rd July
Our beach hut canvases had faded in the wonderful sunshine, so we decided to repaint them. We became artists for the morning and had a wonderful time adding to the art as well as painting over what was already there!
Child Initiated Play Wednesday 28th June
We've been asked to share some examples of child initiated play. Birthday cakes, joined together hats, making cards, sticklebrick and Lego models. These examples were all in the space of thirty minutes!
A Great Big Thank You Tuesday 27th June
Reception would like to say a great big thank you to Year Six for inviting them to their dress rehearsal today. We loved it, especially the King's bum! Mrs Gould is looking forward to seeing your production on Thursday evening.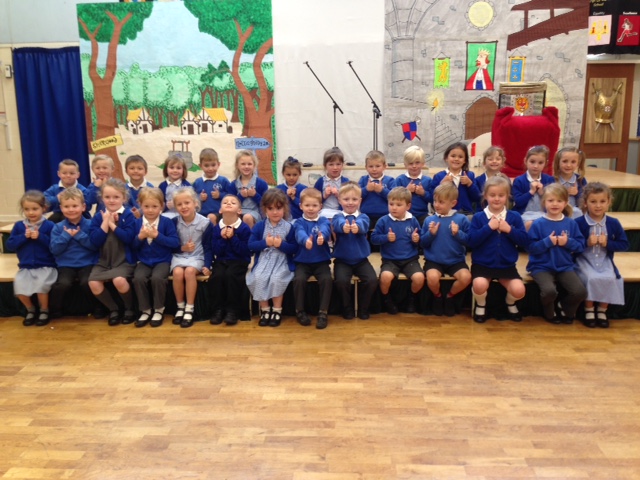 Response to Humanities Week19th June
Homework over the weekend was a response to Humanities Week. We love the responses so far. So much time and effort has gone into creating the Lego model of the school, and you can even see Mrs Barry sitting at her desk! Well done. The Lego used is also part of history as it is over forty years old. If you haven't returned your homework yet, please do. We will be sending copies and photographs to Miss Millman who organised the event. Thank you.
Doubling 19th June
The boys came up with their own game. Doubling the number of children and checking by counting their legs! To double check their doubling they used their fingers too!
School Values: Respect Compassion Courage 19 June
This is something we love to see. Our school values in action. The boys took care of one of the children's models whilst he collected an iPad to take a photograph for his Learning Journey.
Humanities Week 16 June
Thank you for everyone who came to visit us to see our wonderful model of the school. We hope you liked it. We've had an amazing week. Thank you Miss Millman for organising it.
Puppeteers 15 June
Our puppets have been in fine voice this week. We've been having fun making them sing, chat and stick their tongues out! Apparently they were practicing "th" - can you remember what it is called when two letters make one sound?
PDSA Club 15 June
This term Reception and Year 5 PDSA clubs have amalgamated. We are hoping to have some visiting pets come to see us over the next few weeks. The children have buddied up to think about questions that they would like to ask pet owners. Our teachers were very impressed with some of the questions we would like to ask. Everyone received a sticker for their work. We are looking forward to meeting some new animal friends soon.
Dough Disco Fun 15 June
Strengthening the muscles in our hands is just one of the things the Dough Disco helps us with. We are learning lots of new words, to both songs and for describing what we are doing. We are also learning to keep a steady beat and even making and creating during freestyle! You can really tell we are enjoying being entomologists this term - just look at all the minibeasts!
Have you seen these plants? Wednesday 14th June
There are lots of changes happening in our outdoor environment. Have you spotted these yet?
Wonderful Homework Friday 9th June
Homework isn't due until Monday but here are just a few examples of the wonderful work already handed in. It is all on display in our classroom. We've loved hearing about how the worms are made from pipe cleaners and breakfast cereal, how we can make a salt dough butterfly and we have had lots of words that can be made from the word caterpillar but we are not sharing those on here!
Our House 8 June
Over the last few weeks we have been designers, inventors and creative experts. We have completely redesigned both the interior and exterior. Can you see the rainbow wallpaper, the garden and the rabbit hutch? Along with making furniture and hanging pictures we've also been busy writing captions about what we've been doing too!
Growing Tuesday 6th June
Can you tell what is growing in our planter? Do you remember planting the seeds? Are you excited that we will be harvesting some of our crops soon? It's time to do some weeding too!
Exciting Delivery Monday 5th June
We received a letter in the post today. Please ask us about it.
A Treat For Reception Tuesday 23rd May
A huge thank you to Miss Millman's Year 4 class for inviting Reception to their ukulele concert. The Reception children really enjoyed the music and would now like to learn how to play them too! They were slightly worried about Archie being eaten though. Rest assured we explained it wasn't Archie, Father Terry's dog, but a bear in the song called Archie.
PE Tuesday 16th May
We all tried our best in PE today. Working individually, in pairs and in teams we listened to instructions, took turns and shared equipment. We will be transferring some of the skills, like hop scotch, into our Sports Day on Monday 22nd May.
5 A Day TV Monday 15th May
We enjoy 5 A Day TV so much we even wanted to do it during wet break today!
Laptops 12 May
The children in Reception can now all navigate their way around Espresso phonics. They are earning lots of trophies too!
Fabulous PE Tuesday 9th May
We worked really hard in our extra long PE session with Charlotte today. We concentrated on listening skills, paired and team games and following instructions. There were a few bumps and scrapes when we played stuck in the mud but otherwise we had lots of fun whilst building on our knowledge of games.
Writing in Reception 5 May
Our under the sea theme has continued with some writing and mark making. The sun has been shining and we've had fun trying to stay in the lanes ready for our sports day too. With maths fun on the laptops it's been a very busy day!
Under The Sea 3 May
This week we have started learning about creatures that live Under The Sea. We are using the theme to help us with other areas too like a phonics fishing game on the laptop, size ordering and even some turtle addition!
Thank you Friday 28th April
Thank you for visiting today and looking at our displays. It looks like you really enjoyed the tasting area. We are looking forward to sharing your homework on Tuesday morning to see what you thought of it all.
Lincolnshire Food Week: Reception Homework Thursday 27th April
The children's yellowbelly cakes and Lincolnshire flag biscuits are all bagged up ready to go home but we do have a few samples for families who join as at 3pm on Friday. We are sure they won't last for long! This week Reception's homework is to tell us about what the children thought to their creations. How did they taste? Did they enjoy Lincolnshire Food Week at school? After sharing these on Tuesday morning they will be added to their Learning Journeys. Thank you.
A Fantastic Lincolnshire Day Thursday 27th April
We have been so busy today working in our teams. Did you know our four team colours all feature on the Lincolnshire flag? We have decorated yellowbelly (yellerbelly) cakes, created the Lincolnshire flag on biscuits baked in our county, shared a book all about eggs in guided reading and looked back on all the wonderful cooking (amongst other highlights) that we have done this year in our Learning Journeys. We would like to say a very big thank you to Mrs Hayter and Mrs Holiday for their brilliant baking too.
We painted pictures of some of our favourite Lincolnshire foods Wednesday 26th April
Lincolnshire Food Week 25th April 2017
Today the Reception children have been food critics! We've tried lots of foods produced in Lincolnshire and given our honest reactions to how we think they taste. We hope you will come and see our display on Friday at 3pm
St George's Day Homework 24th April 2017
Yesterday was St. George's Day and we've all worked hard on our homework. Here are just some of our fabulous creations.
Lincolnshire Week Monday 24th April 2017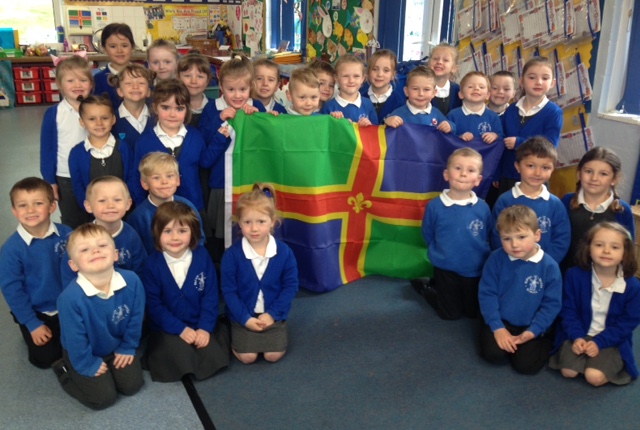 This week our learning is based around St. George and Lincolnshire produce and food. Here we are on Monday morning holding the Lincolnshire flag to begin the festivities.
Reception's Easter Holiday 18 April
We've heard lots about some of the wonderful activities the children have been doing throughout the Easter holidays today. They were all really pleased to see each other again and we've had an extremely busy first day back! One of our favourite activities today was creating our Easter Cross with artificial flowers. Our paper flower cross is on display in the hall, but last term as part of our Salvation topic, we asked to make one using flowers. Isn't it fantastic? We make a fabulous team.
Happy Easter 31st March 2017
This morning we all received a palm cross from Father Terry. We'd like to say a big thank you for all our Easter goodies. Have a safe holiday and we look forward to receiving something for your Learning Journey when you come back. We will be sharing the homework on our first day back. Happy Easter
Salvation Thursday 30th March
We've been reselling the Easter story in Reception today. We wrote the word "Hosanna" on our palm leaves. Do you know what hosanna means? We acted out waving our palm leaves as our actors playing Jesus and the donkey walked through the crowds. Our puppets, Louie and Wilf, helped tell the story of the palm cross and we pretended to be palm leaves and then transformed into crosses. We showed our feelings when Jesus died and how we would feel when he rose again. We had lots of fun making our own flower Easter Cross and tasted hot cross buns day. It's been an extremely busy day!
Gardening Tuesday 28th March
We are working towards our RHS Gardening Award Level 1 this week. We've looked around our school environment and seen all sorts of plants, bulbs and seeds growing. We have identified a project to grow vegetables in our planting box and cleared out the weeds. We looked through lots of packets of seeds and will be planting our chosen ones later this week. We are very excited about working through the stages and can't wait to get started!
Fabulous Homework 27 March
Wow! Such fantastic homework. We've all loved watching our real life chicks and here's a beautiful reminder of the impact they've had on us. Well done everyone. We are also pleased to report that our chicks have settled well into their new home with lots more animal friends.
Goodbye Chicks Wednesday 22nd March
Our six, strong, healthy chicks have now left for their new home. The children there are so excited that they are coming to stay at the animal farm. We are so lucky because they will send us emails to keep us updated with the progress Scarlett, Rosie, Pippie, Sonny, Peggy and Belle make. We've all loved having our chicks - thank you to everyone who has helped look after them.
Our Class Trip Tuesday 21st March
We've had an amazing morning at the farm. We've seen pigs, bulls, rabbits, guinea pigs, sheep, goats and even chicks that are a bit older than ours! We've held some of the smaller animals, fed some of the larger ones, sat inside a real tractor and had playtime in the park. We looked at some goose eggs and talked all about baby animals and what they need. It's been a wonderful morning and we would like to thank the Chestnuts Farm team for their hospitality and all our fabulous volunteers for allowing such a fantastic opportunity to take place. Thank you everyone.
Growing! Monday 20th March
It's the first day of Spring and our chicks, not even a week old yet, are growing fast. Can you see how their wing and tail feathers are forming?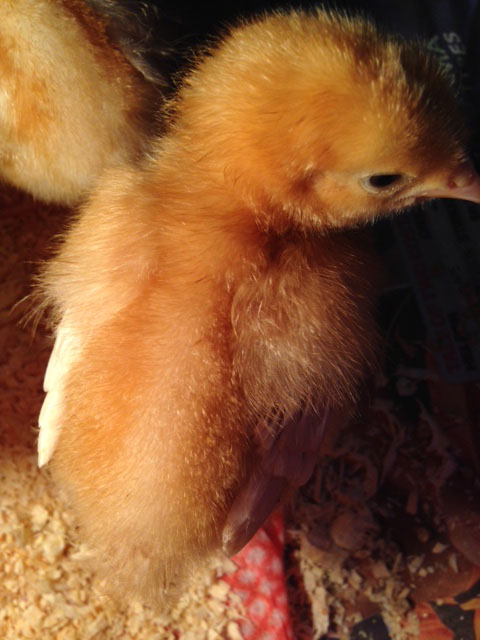 Sonny Thursday 16th March
We would like to welcome our fourth chick, Sonny. He has yellow feathers. Pippie is fluffy this morning and she is brown. It's very exciting as chick number five is hatching and chick number six is pipping! All three girls and one boy seem very happy.
The Brooder Box Thursday 16th March
Scarlett and Rosie have moved into the brooder box and are exploring their new bedding and showing an interest in their food and water. Scarlett is already testing out her wings!
Dander 15th March
Looking at the three chicks together, you can see the various stages of dander. Scarlett is quite fluffy now, Rosie has lost the dander from her sides and Pippie is covered in dander and looks like he/she has just got out of the shower! All three chicks are happy and two more chicks are pipping. We will start to move some of the chicks to the brooder box tomorrow.
Breaking News 15th March
At 4.13pm chick number 3 hatched. We are not sure yet if it is a boy or a girl but the name is Pippie.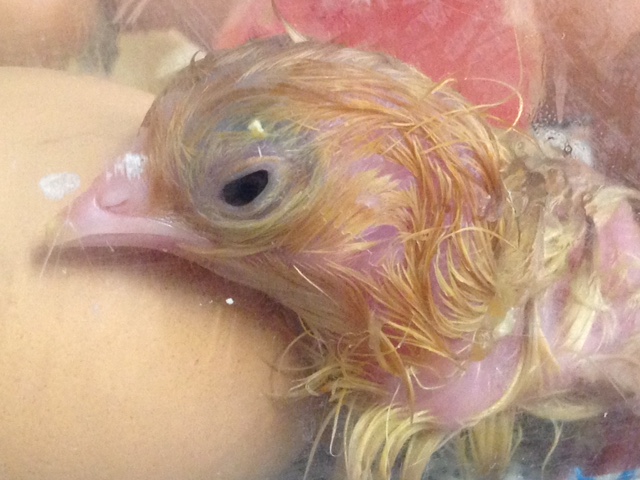 Wednesday Morning Update
Scarlett is encuraging the next chick to hatch! Can you see the next chick pipping?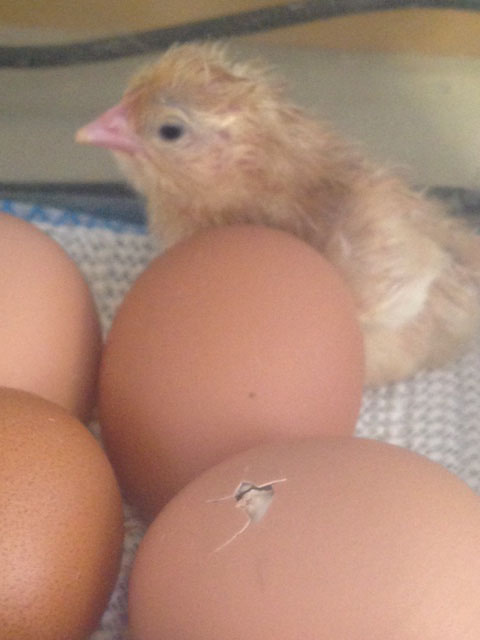 Exciting News Tuesday 14th March
Welcome to the world chick number one. We have named her Scarlett. Can you see her dander? She must have been a few hours ago because we can already see she has brown feathers. In about 24 hours she will be all fluffy. A second chick is pipping so we are hoping we might get to see a chick hatch today.
Capacity Tuesday 14th March
We have been exploring capacity this week. Yesterday Tia Ten and Eric Eight helped us to estimate how many glasses of milkshake we could fill from different sized jugs. Today we've continued to find out and explore empty, half full and full by using balloons, containers and glittery water!
PDSA Reception Pet Club Tuesday 14th March
We worked together to make some chicks to go on the wall behind the incubator at club today. We hope that if a chick hatches over night, our pictures will keep them company. We remembered that the yellow chicks are boys and the brown chicks are girls.
Living Eggs Monday 13th March
We were so excited when our Living Eggs arrived at the end of school today. Can you see the temperature the eggs need to be kept at? There are ten eggs and we can't wait to see what happens next!
Mystery Seeds Wednesday 8th March
We've created our own plant pots today. We recycled newspaper to make them. Then we planted our mystery seeds. We used compost in our plant pots but we didn't water them so it would be easier to carry them home. Everyone is excited to see what happens next!
Our Beautiful World Tuesday 7th March
We explored our environment today for signs of spring and new life. Here are just a few of the wonderful plants we saw. Do you know what they are?
World Book Day Thursday 2nd March 2017
We've had fun today celebrating World Book Day. We've all been given a voucher that we can exchange for a special book. There are some fabulous titles to chose from. We also chose a book from the Library to share at home.
St. David's Day 1st March
Today we have been talking about the Patron Saint of Wales, St. David. We have been busy painting Welsh dragons and looking carefully at our daffodils for a future project.
Shrove Tuesday 24th February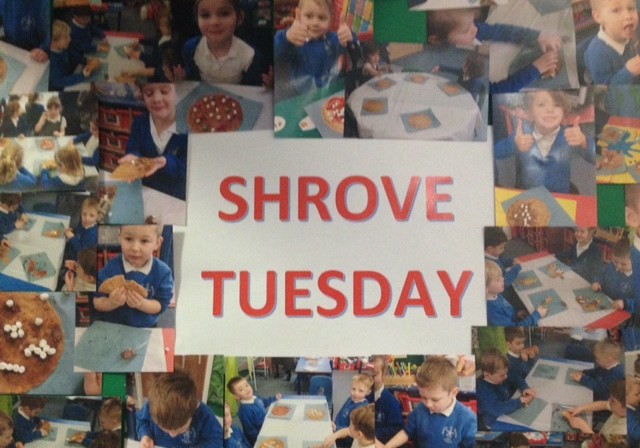 We've been learning about Shrove Tuesday and how it is an important day. Tomorrow is Ash Wednesday and the start of Lent. Our altar cover colour will change to purple. Are you giving anything up or making a Lent promise?
Colour Mixing Calculations 24th February 2017
We've had lots of fun learning about the primary colours today. Do you know what they are? Do you know what they can create? Please ask us about them!
Laptop Fun Friday 24th February
We found another game inside the Maths Treasure Chest today! It was about making patterns. We've been working on repeating patterns and now we've discovered music can be played in patterns too. Some children even created their own compositions!
Sharing is Caring 21st February 2017
In assembly today we talked about sharing. Two of the year six children shared a bar of chocolate. We knew they would need half each. We've been sharing poems with Mrs Gould today. Her favourite was the "Tea-time ABC."
Fruit Smoothies 21st February 2017
Tia Ten is a chef and she's been cooking with Fiona Five this week. When the characters work together they make a number that's even bigger. 10 + 5 = 15 On the show they made fruit salad but we decided to make fruit smoothies. It was fun making them and each team chose their own flavours. Please ask us about which of the fruits we used?
Snow! 10th February 2017
There's been great excitement as we've had falling snow at school today. We tried to catch the snowflakes and they landed on our hats, coats, gloves and even on a nose!
More Technology In Reception 10th February
This week some of us have been contributing to our own Learning Journeys by using the iPads.
PDSA Pet Club 7 February
This term Some of the children have been attending PDSA Pet Club after school on a Tuesday. It's been fabulous. We've been learning how to take care of pets, made origami dogs, paper plate rabbits and so much more. We hope everyone will sign up again next term as we are aiming for our bronze award.
Capital Letter and Digraph Detectives 2nd February
This week we have been working on a new digraph. However, we need to remember all of the other phonemes we have been learning too! How many digraphs can you spot in these pictures? Well done to the children who are aiming for a blue badge by working on their letter formation too.
Fourteen 30th January

This week we are concentrating on the number 14. Tia Ten and Freddie Four have been helping us today and we have counted out sets of fourteen objects and worked on forming our digits correctly. We know that fourteen comprises of one lot of ten and four units/ones
Chinese New Year Dragons 30th January
We made Chinese dragons for part of our homework this week. We all enjoyed making them and adding lots of details including glitter and feathers. One of our children who was away on Friday said, "They are amazing! So cool!" We watched some Chinese New Year celebrations on the SMARTBoard from this weekend across the world. Take a look at our fabulous creations. The children have chosen which photographs to add to the website this week.
Chinese New Year 27 January
We've started to look at how Chinese New Year is celebrated around the world. This weekend begins the year of the Rooster. We have found out that the Reception children were born in the year of the Rabbit or the year of the Dragon. We enjoyed looking at Chinese artefacts, using dragon puppets, making lucky red envelopes containing golden chocolate coins and retelling the story of how the Chinese calendar was created. That was all in just one morning! This afternoon we will be tasting rice crackers and talking about our special homework tasks. Kung Hei Fat Choy.
Australia 27 January
We've been enjoying finding out about Australia. We heard the story of Tiddalik the frog and learnt lots about symbolism in Aboriginal art. We have been looking at wildlife and one of our class told us how he went inside the Sydney Opera House and cuddled a koala on his visit to Australia. We enjoyed hearing about the celebrations, creating, painting and holding a genuine boomerang from Australia! We even managed to fit in some guided reading and hopping frog numeracy! Happy Australia Day.
Frozen Fever Tuesday 24th January
Following on from the children's interest in the film "Frozen" which was shown over Christmas we have based today's learning around "Frozen Fever." We have had so much fun whilst learning about patterns, shapes, numbers, solids, liquids, melting, what the sun provides us with, Olaf snowman phonics, making and creating, role play story telling, taking turns, sharing, caring and much much more. Please ask us about our day.
Please ask us to tell you about what happened today! Thursday 19th January 2017
Space Monday 16th January 2017
Space is a great topic. One of the children has really taken it upon himself to extend the fun. We thought we would share just a few additions to our learning this week. This week we are concentrating on the number 12.
Dinosaur News 13 January
On Wednesday we discovered an egg in a nest in our classroom. We carefully watched to see what would happen. On Thursday the egg began to crack. On Friday, what some of us thought might be a chick could be heard tapping. After lunch we could see a baby dinosaur emerging. Look what has happened this weekend!
How Do You Make A Storm? 12 January
This book got a thumbs up from everyone today so we thought we would share the title with you all.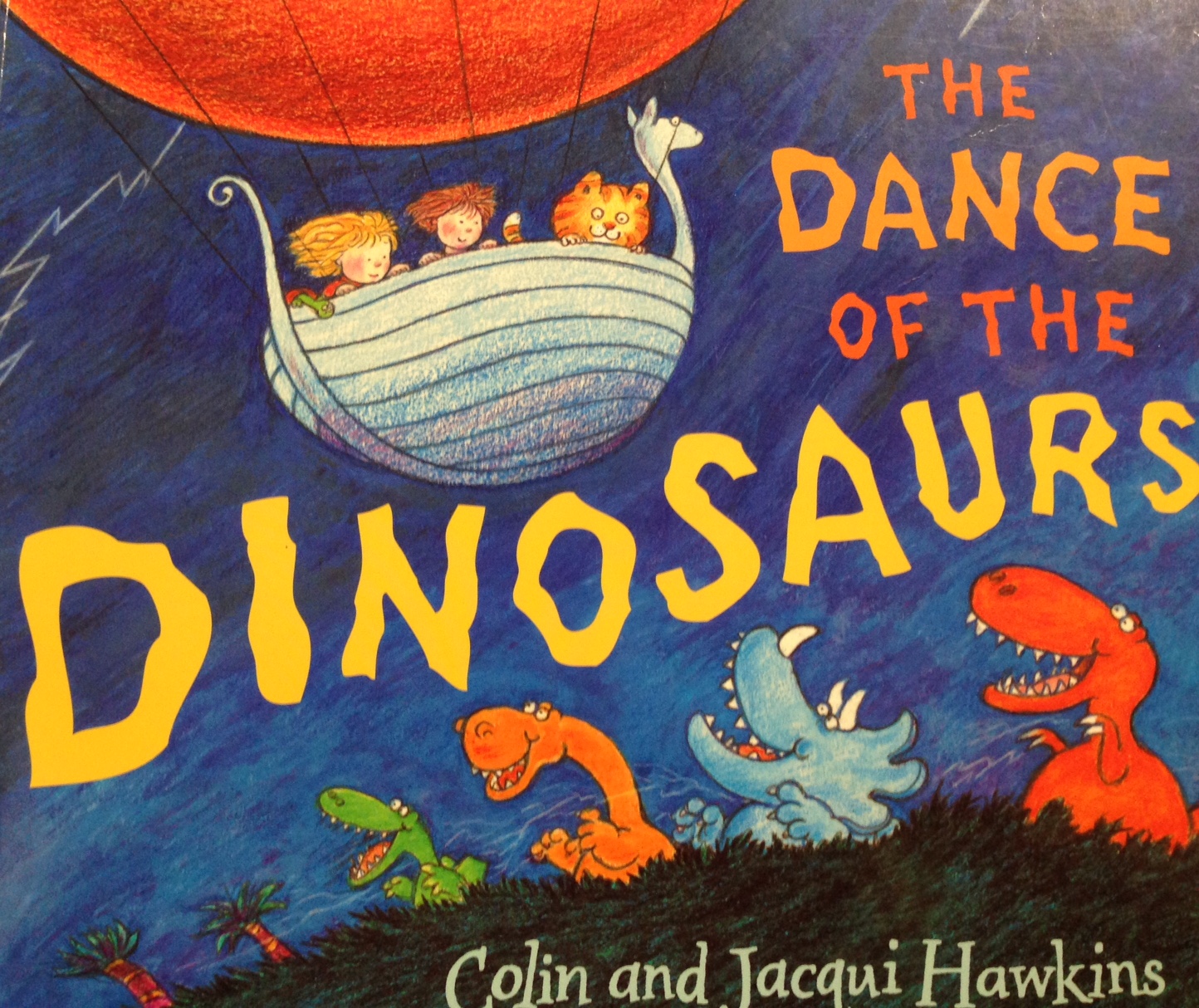 Designing and Making Sandwiches 12 January
Earlier this week we designed what we would like our very own sandwich to look like. We watched a film about healthy ingredients to inspire us to think about what we might like to use. We were fascinated by the amazing sorts of bread you can make and buy! We made a list of the ingredients we had used throughout our designs and then discussed how somethings couldn't be cooked in the time we had, although some of the teachers thought the idea of a steak and onion sandwich did sound tasty! Our learning journeys will have our individual thoughts about our creations, but overall it was a very successful task. Well done everyone.
Magical Mark Making Mermaid Material 10 January
We mark make in all sorts of ways in Reception but today there was something magical about it. Please ask us what happened.
Our Imagination 10 January
Today we had a selection of cardboard boxes, all shapes and sizes, on the carpet. They didn't stay as boxes for long! They became helicopters, cruise ships, rowing boats, gondolas, space rockets, robot arms, exercise mats, cots for babies, kennels and much, much more! We even made up our own game "Guess Who Is In The Box?"
Digging for Dinosaurs! 6 January
We've been palaeontologists in Reception this week. Please ask us about what we have discovered.
Happy New Year! 4 January
It has been a day full of fun as we start 2017 in Reception. We have made a "roarsome" mark making area and there are dinosaur activities everywhere! We've designed and created dinosaur nests and had fun with laptop Phonics and listening to our initial phonemes. We would like to say a big thank you to Miss Bone for our new jigsaw puzzle. We are now wondering who will be first to complete the puzzle.
Merry Christmas 20 December
The Reception Team would like to wish you a very Merry Christmas. Thank you so much for all the gifts, cards and well wishes. Don't forget to sing Happy Birthday to Jesus - Father Terry will ask you if you did! We are looking forward to seeing your Learning Journey contributions so you can tell us all about your holiday. See you all in January.
Christmas Jumper Day 2016 15 December
Thank you to everyone who sent a donation to school today for Save The Children. Reception are looking very festive!
Andy Goldsworthy 13 December
Last week we looked at the artist Andy Goldsworthy. This week we continue to be inspired by him with some transitional art. We thought you'd like to share some of our creations.
Numeracy Fun 13 December
We've been working so hard on our recognition of number. We have been trying to match the correct number of items in a set to the digit displayed. It's been fun placing the baubles on the Christmas tree (and on our fingers), placing the buttons on the snowman and counting out decorative pebbles to ten from a much larger set. We've also been counting out lollipop puppets to perform scenes from our featured author Raymond Briggs' books!
Nativity 2016 9 December
Today's Nativity was retold and performed by the Reception class. Well done everyone. A class of superstars.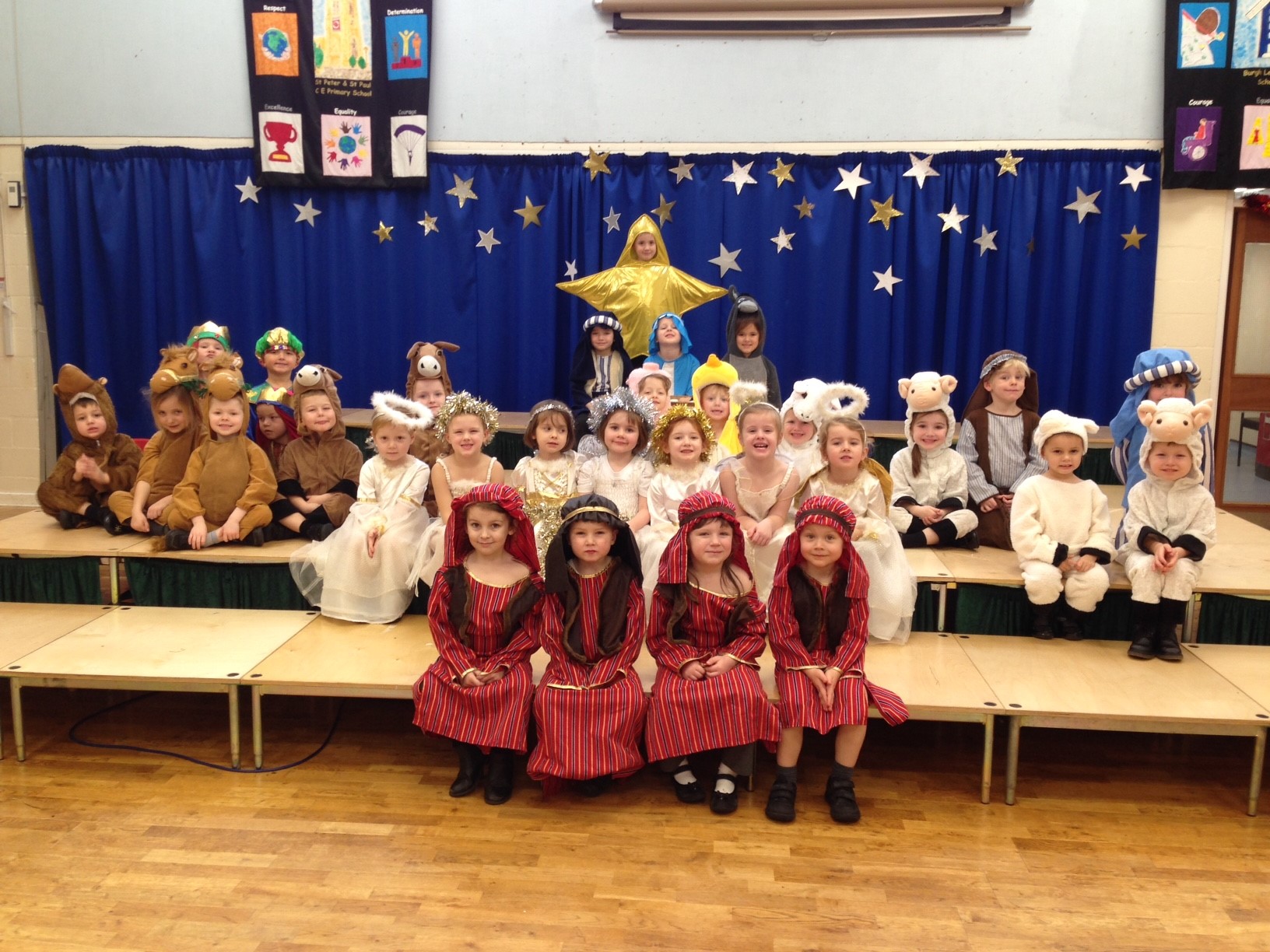 Christmas Fair 2 December
The whole class have been awarded work of the week this week for all the amazing items they have made to help raise money at the Christmas Fair today. We hope to see you there.
For Our Nativity 1 December
These are the words to the poem that some of the children have been trying to tell you about. Please help them to learn it for our sing a long next Friday. There will be a copy in bookbags too. Thank you.

Our Nativity 29 November
Today we have written our own version of the Nativity. Don't forget to check the board for details of our sing a long.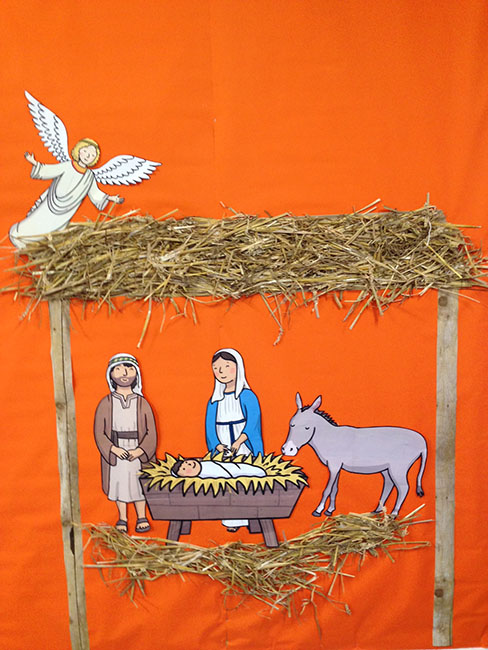 Eric Eight 23 November
This week we are helping Eric Eight to make lots of special things to sell at the Christmas Fair. In return he has been helping us to learn about the number 8. We've been playing his game on the SMARTBoard to find sets of eight objects. We have also been finding sets of eight children and finding ways of making Eight using Eric's scarves, finger prints and our fingers! We've also been dressing up like Olaf, who we think "looks like Eric Eight with a head and legs!"
Superhero Family Fun Friday 18th November
What a fabulous afternoon we've had. With a superhero theme, we showed our families some of the fun ways we use to learn. We played some balloon games to and prizes and stickers were awarded too. Thank you to everyone who joined in the fun.
Reading in Reception 17th November 2016
Having a secure phonic knowledge really helps us to learn to read. We've been using the laptops today and have had the opportunity to pick any of the phonic activities from Scrap's Phonics sets one to four. It's been lots of fun and we've filled up our ICT achievement chart. Well done Reception.
Remembrance Day 11th November 2016
Thank You For Our New Headphones 10 November
We have loved using our new headphones today. They have been kindly purchased for us by the PTFA and according to Reception they are "comfy and cosy", "they don't hurt my ears", "I can hear what they are saying!" We love using the laptops to help learn our phonemes. This week we have been working on g and o.
Fiona Five's Friday Fun 4 November
We've had fun with Fiona Five making fruit kebabs. We put five pieces of fruit on each one. There were apples, peaches, pears, pineapples, grapes, bananas, lemons and limes to choose from. When we had all made one we got to eat them!
We've also been learning about firework safety. We used pretend sparklers to practise holding them away from our faces. We practised writing our name with them as well as playing the whiz pop bang game! We added a new move called the Catherine wheel and composed our own firework songs. It's been fun making firework pictures too!
M, D and Fiona Five 3 November
We have been working very hard on two new letters this week. M and D have inspired lots of learning with marvellous monsters, magnificent mathematicians, dynamic dinosaurs and drumming dreams! Fiona Five is our latest character from Ten Town. She has been helping us to become fit and healthy. Fiona told us it is very important to eat healthy foods, drink lots of water and exercise well.
We've been using our five senses too! Today we tasted hot chocolate. Milk contains calcium which is very good for your bones. The Reception children and teaching team would like to say a big thank you to Mrs Holiday's mother-in-law, who has knitted all of our winter hats. THANK YOU!
Also we received a big thank you from the NSPCC for your fabulous fundraising. Thank you so much for your support.
Police Day Competition Prize Presentation 2 November
Jayne and her team were very impressed with the standard of competition entered this year. So much so, that a record number of prizes were awarded. Our top three winners received a teddy bear, puppet and bug. The six runners up were given a puppet and Lincolnshire Police bug. We all thanked Jayne for coming to see us again today.
Letters From King One 1 November
There was great excitement in Reception today. When the post arrived there was an envelope from Ten Town. Inside we discovered four letters from King One. He had replied to each of our team letters - the ones we had written last term when Freddie Four visited us. King One included a sticker for each of us to say thank you for looking after Freddie Four so well. It sounds like Freddie was worn out after being so busy with us. King One told us Freddie Four is hoping to return to Burgh next year!
Freddie Four 21 October
Freddie Four having fun in Reception at Burgh School
Dough Disco 19 October
We've had fabulous fun showing Freddie Four some of the fun we have in Reception. Today we demonstrated the dough disco! We taught him lots of moves. The children decided Freddie Four thought it was very funny.
Freddie Four Arrives in Burgh 14 October
There was great excitement in our classroom on Friday afternoon when Freddie Four arrived in Burgh le Marsh.
He has had a long journey back from Peru and was helped with the last leg of the journey by post. Please ask any member of our class what is inside his backpack and where they have recommended him to visit during his stay with us. We are creating our own travel agency this week, so if you are passing one in town or you have some at home, we'd really appreciate any brochures, tickets, posters or bus/coach/train timetables that you no longer need.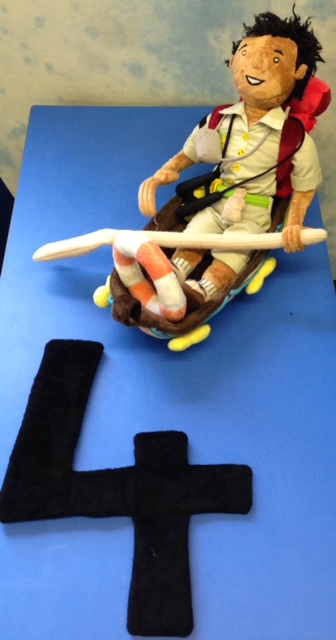 Phonics Fun 14 October
Just in case you missed the notice there is a free "Jolly Phonics by Jolly Learning" app available on iTunes at the moment. This week we have been working on the letter names, phoneme actions and phoneme for the letters c, k and e. We've also looked at the digraph (when two letters make one sound) ck. It's been fun using the laptops today to help us with our learning.
Music 14 October
It's been another busy morning in Reception. We've been playing tuned and untuned instruments. We are able to play, pause and stop to the music and today we enjoyed swapping between different instruments too.
Freddie Four 14 October
Freddie Four only leaves footprints behind on his travels and collects a souvenir to remind him of his adventures. We've been using footprints to practise number formation this week. Freddie Four has a rhyme to help us to form the number four correctly. "Down, across, oar in the water!" It's been fun looking at some of the places Freddie Four has visited in our passports. Two of his adventures, in France and Peru, can be viewed on YouTube "Ten Town Where's Freddie Four?"
People Who Help Us: Police Day 14 October
We would like to say a really big thank you to PSCO Jayne and PSCO Nigel for arranging to help us to learn about the Police. We all had a fabulous time and really enjoyed trying on the uniform, looking at our fingerprints and sitting in the police car. There were lots of other activities to try too. We think we've even found a police officer of the future! Thank you to everyone who made this wonderful experience possible.
Pizza Fun 14 October
We've been having lots of fun learning about the number four this week. We've been writing to Ten Town's Freddie Four. He is an explorer and likes to travel the world. One of his favourite places to visit is Italy and he loves eating pizza. We are very excited because he is on his way back from his latest adventure in Peru and is coming to visit us.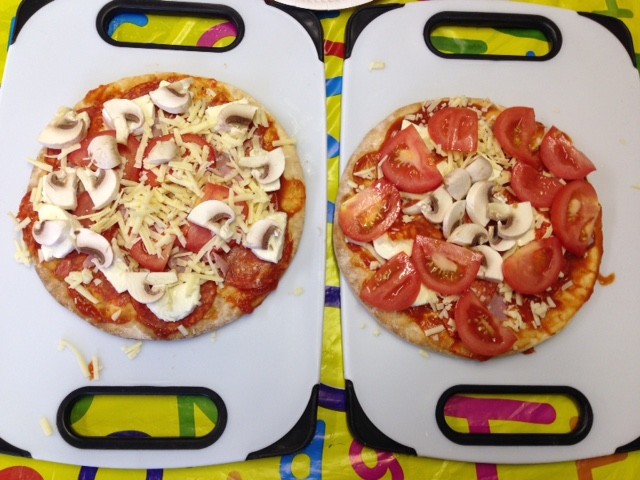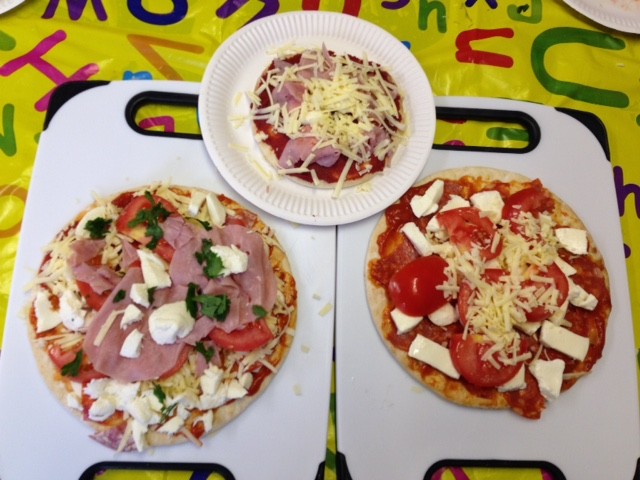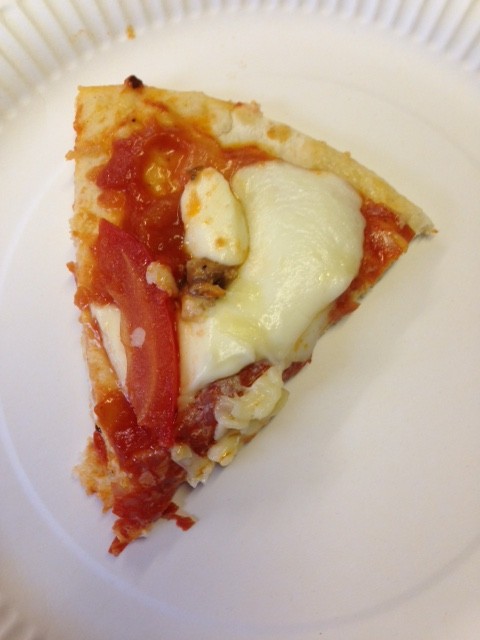 Letters Wednesday, 5 October
Which letter do you think we have been learning about today? We looked at lots of items, played games and discovered how to correctly form the letter. We talked about the letter name, the phoneme action and the phoneme. We also wrote our own prayer to celebrate the things we thought of beginning with our new letter. You can read it in our classroom.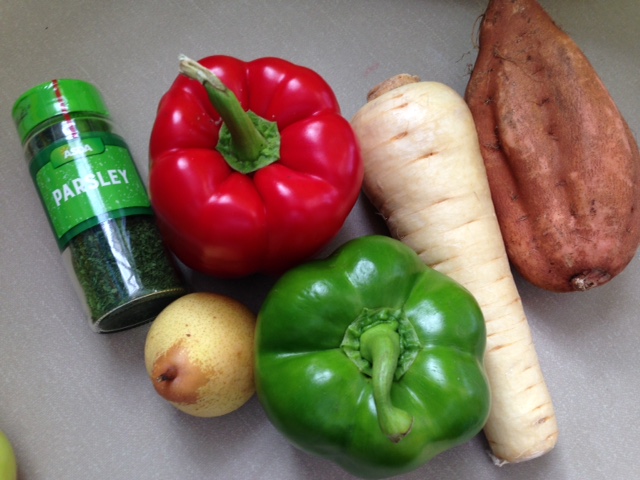 Vegetable soup Tuesday 4th October
Today we made something very special and healthy. We all tried our vegetable soup after it had cooled down. Why not ask your child what they thought and record their comments. We'd love to add what they say to their Learning Journeys.
Laptop Fun Friday 30th September
Today we started learning how to use the laptops. We met Scrap, the dog, who is helping us with our phase 2 phonics. Olivia, a special friend from Rainbows, also joined us today and even smiled for the school photographer.
Gruffalo Crumble Friday 23rd September
Today we made and tasted Gruffalo Crumble. We took some to Mrs Kirk to try as she is in charge of DT at our school.
St. Peter & St. Paul Church 22nd September
We visited St. Peter & St. Paul Church this morning. We walked from school and remembered to stay right away from the road. We all now know that we take our hats off before we go inside. We also looked at the beautiful lectern, pulpit and font. We really liked the stained glass window too. We will all know where to sit on Tuesday to celebrate Harvest.
The Gruffalo 19 September
Today we have been listening to the story "The Gruffalo." We have had a go at singing the song, retelling the story using puppets and props and made some fabulous shape pictures! We've even discovered a recipe for "Gruffalo Crumble" which we are hoping to make on Friday.
Paralympics 16 September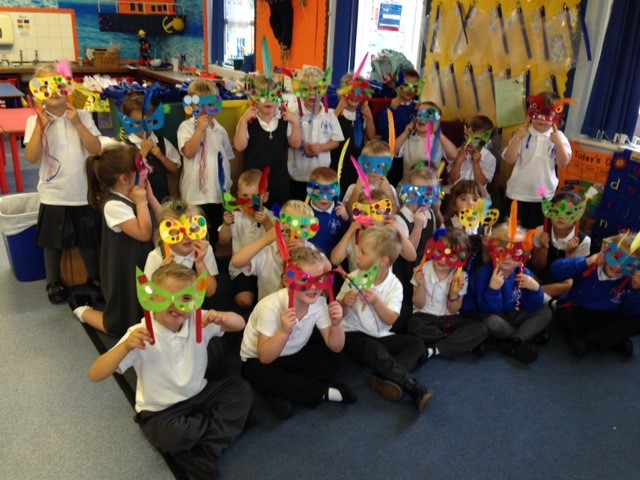 We've been keeping track of all the medals won in Rio and here are our finished masks to celebrate the athletes success. Aren't they fabulous? Perfect for the fantastic closing festivities taking place this weekend.
Our busy week 15 September
We've had a really busy week in Reception. We created a lifeboat, made a scarecrow, read stories, played counting games, built models, made amazing masks to celebrate the Paralympics, enjoyed biscuit week of the "Great Reception Bake Off" and that was in addition to our fabulous Roald Dahl day fun! We've also tried some new foods at snack and lunch time and joined in with our first whole school choral worship. It really has been a week full of firsts, including our very first full day on Wednesday.
Roald Dahl Day 13 September
We've all had lots of fun today to celebrate Roald Dahl Day. We can't wait to find out who found the golden ticket in their Wonka Bar!
Starting school 9 September
It may seem like an age since your little one started school and you received your little gift to help you through their first session. Can you believe it really was just the start of this week? We have been so busy in Reception and our superhero theme has been a real success. Do take a look at the display in our classroom on Monday.
This weekend our homework is to practice our class prayer. It is within your welcome booklet but we've also posted a picture oh here too. Have a fabulous weekend.