Welcome to Reception Class
On this page we will be sharing some of the fantastic things we do in class.
Welcome to our new Reception families If you have any questions please do not hesitate to ask.
Minibeast Mansion Tuesday 16th July
After yesterday's preparations we were ready to build our minibeast mansion with toad abode, hedgehog haven, butterfly feeders and busy bee homes. What do you think to our finished mansion?
Our Teacher is
Mrs Gould
Reception teacher, Mrs Gould, is best known for going to work to have fun and play!
She loves to sing and in her youth was an award winning dancer. These days 5-a-day.tv is her favourite way to "boogie".
Mrs Gould's first teaching post was way back in 1992. So she's even taught some of Burgh School's Parents!
Toy Story 4 Inspired Craft Tuesday 16th July
We've had fun making characters inspired by 'Toy Story 4's 'Forky.' Lots of children have been to see the film at the cinema over the last couple of weeks and they wanted to make their own version. Here's just a few of them!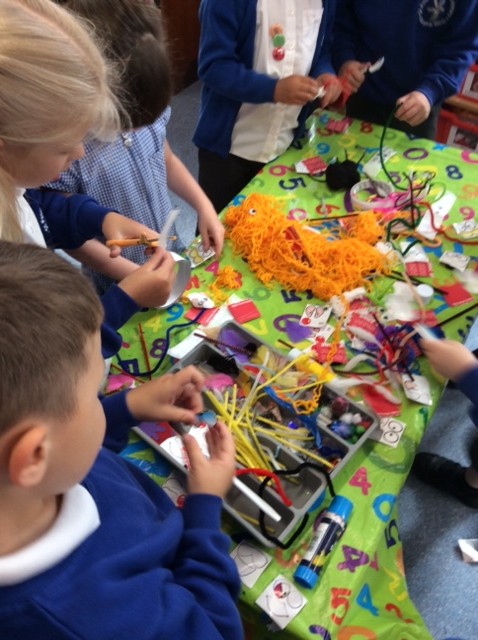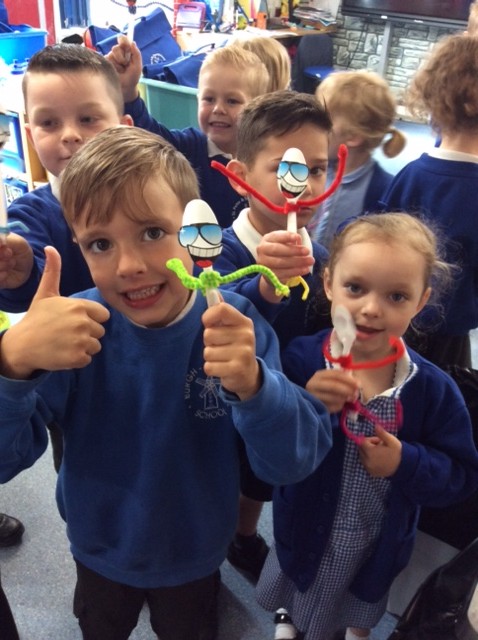 A Busy Day! Friday 12th July
You could book a holiday, have your tricycle washed, have an obstacle course designed to your specification, talk to our engineers about building a construction taller than them and that was just for starters!
Parachute Games Wednesday 10th July
We were problem solving today using the parachute. We sang 'Five Little Monkeys' and when one fell off and bumped his head we had to make the ball fall off the parachute, through the hole in the middle. Teamwork was very important today. We played the washing machine game, mushroom game and the opposites game when we swap places. We had lots of fun!
Prize Winners Monday 8th July
Our friend Jayne returned today to pick her winners for the police colouring competition from last week. She is pictured here with the prize winners. Everyone received a special sticker for their efforts. Thank you once again Jayne.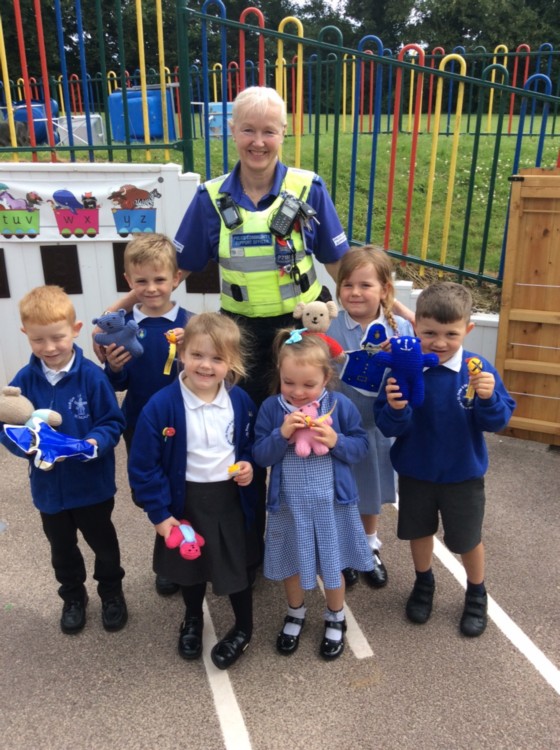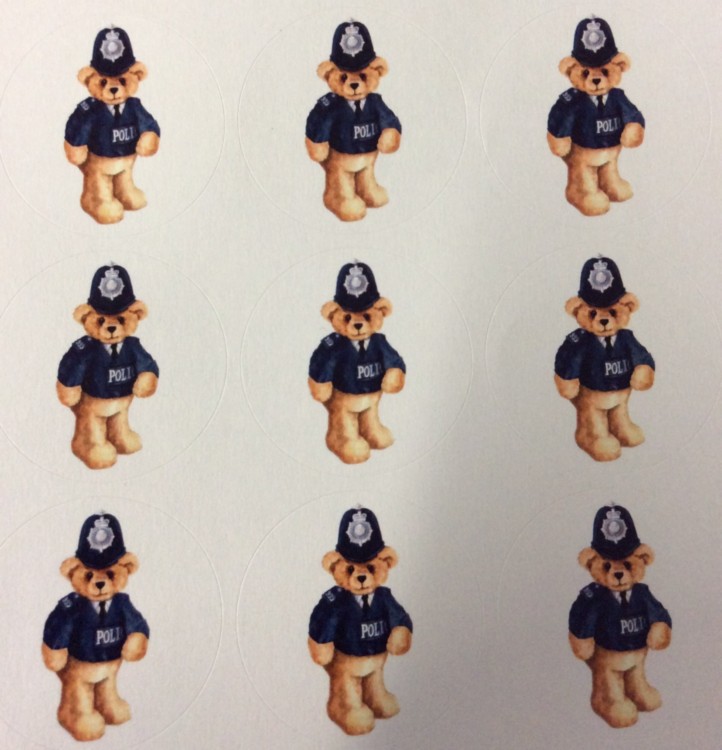 Pupil Of The Week Friday 5th July
The Reception Class were awarded the 'Pupil of the Week' certificate after such a brilliant police day yesterday. The certificate was awarded by Mr Hurdman and Father Terry in collective worship today. Well done everyone and a huge thank you to PCSO Jayne for making it possible.
The Police Thursday 4th July
We had an amazing day when PCSO Jayne came to visit us. We learnt so much about what the police do.
We looked at what is kept in the boot of the car and looked at the equipment that is used. We found out that a PCSO car is like a mini police station on wheels! We sat in the car and talked about how the police help to keep us safe.
We asked lots of interesting questions about the lights, the radio, the baton and the handcuffs. We enjoyed dressing up in the uniform, hiding behind the shield and much more. We really enjoyed saying hello to Nigel on the radio too!
Thank you so much Jayne for helping us to learn all about the police.
Mud Kitchen Fun Tuesday 2nd July
It's been a lot of fun in the mud kitchen today. Taking orders from our customers, designing menus, preparing and cooking the food before serving our creations and cleaning up afterwards has kept us very busy.
Pirate Day Thursday 27th June
Scrubbing the decks, hunting for treasure, climbing the rigging, repairing the ship, keeping fit, creating pirate inventions, designing whacky pirates, singing songs, listening to stories, making treasure maps and painting parrots were just a few of the many activities taking place in Reception today. It was enough to wear out even the strongest pirates!
Thank You Kaya & Shauna Monday 17th June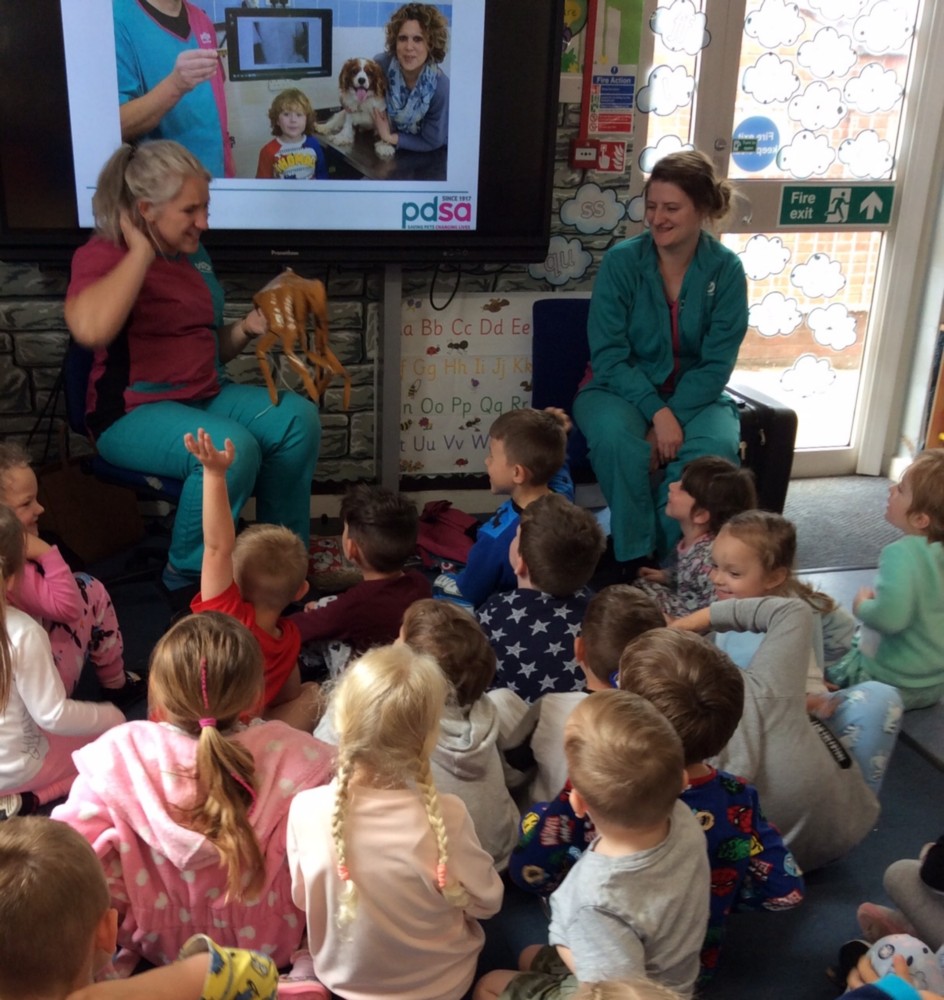 One of the six chosen charities being supported today is the PDSA. Did you know the PDSA help a pet every five seconds? Kaya and Shauna came to tell us all about the work that they do. We are working towards our Bronze Petwise Award and this introduction helped us to earn some points towards it as well as teaching us some facts. Please ask us about the five welfare needs.
Pyjamarama Obstacle Course Monday 17th June
Our teachers think we are amazing! Dressed in pyjamas, we climbed through hoops, dribbled a football, jumped over hurdles, balanced beanbags on spades, bats and tennis rackets, threw foam javelins and that was only part of one lap of our Pyjamarama Obstacle Course!
Thank you to all our sponsors. Don't forget to seal and return your special sponsor envelopes. Our school council and their six chosen charities thank you for all your support.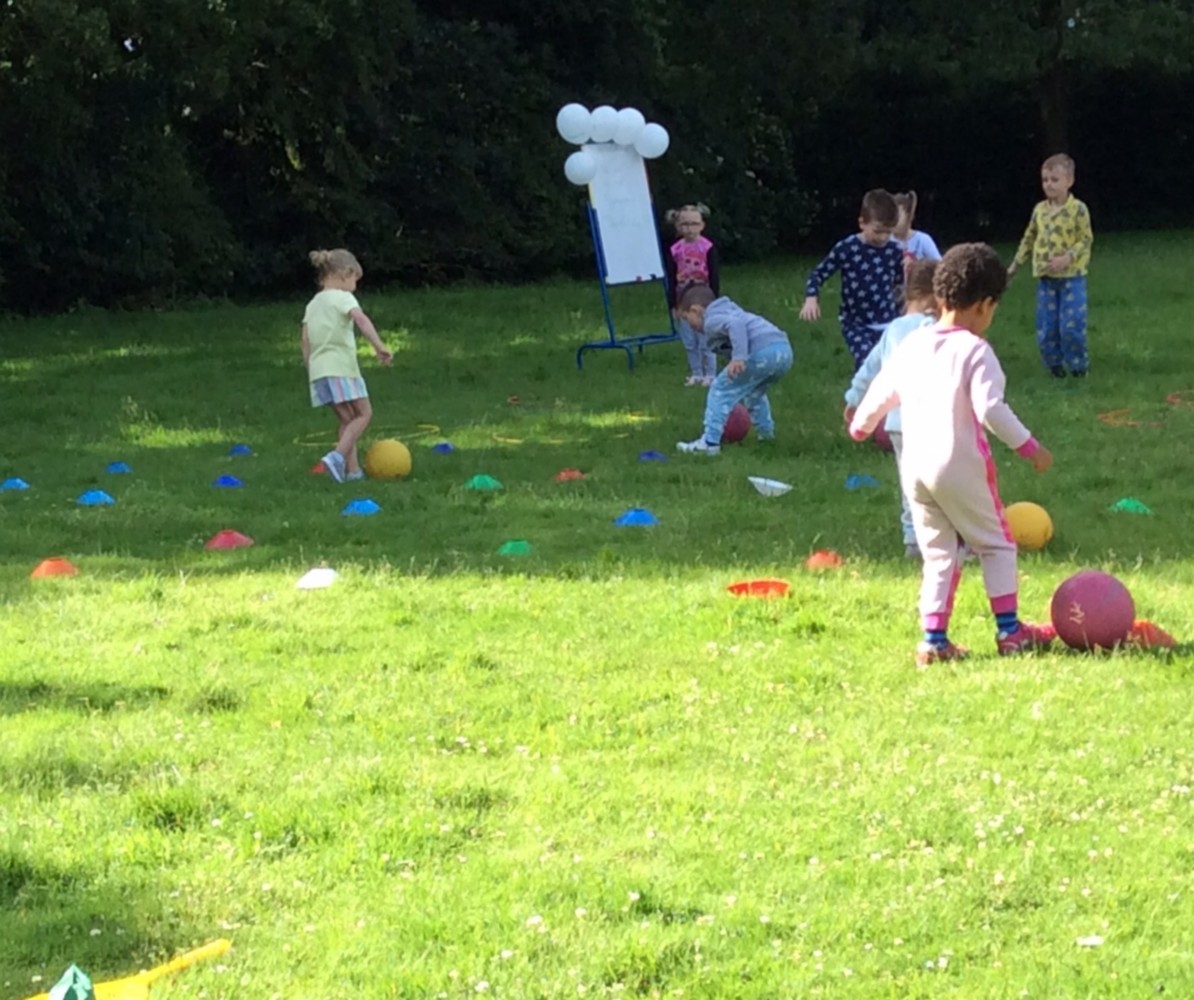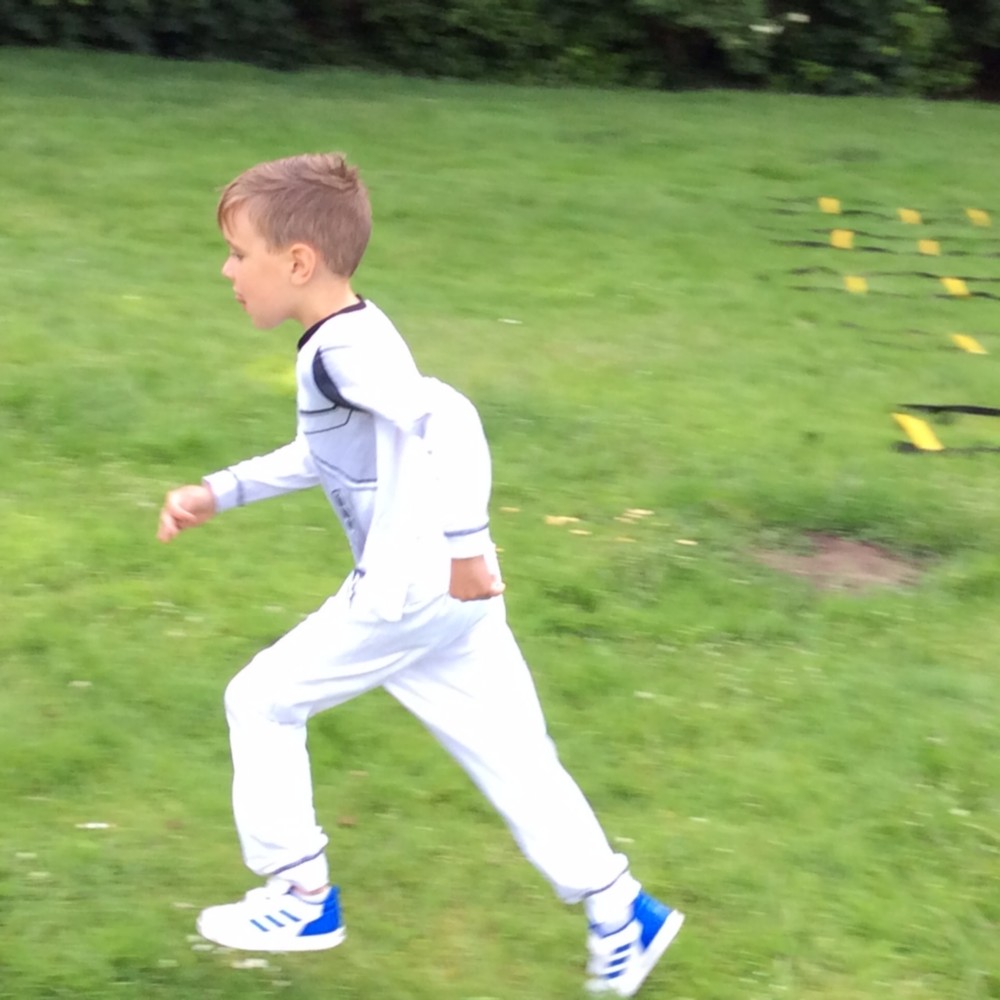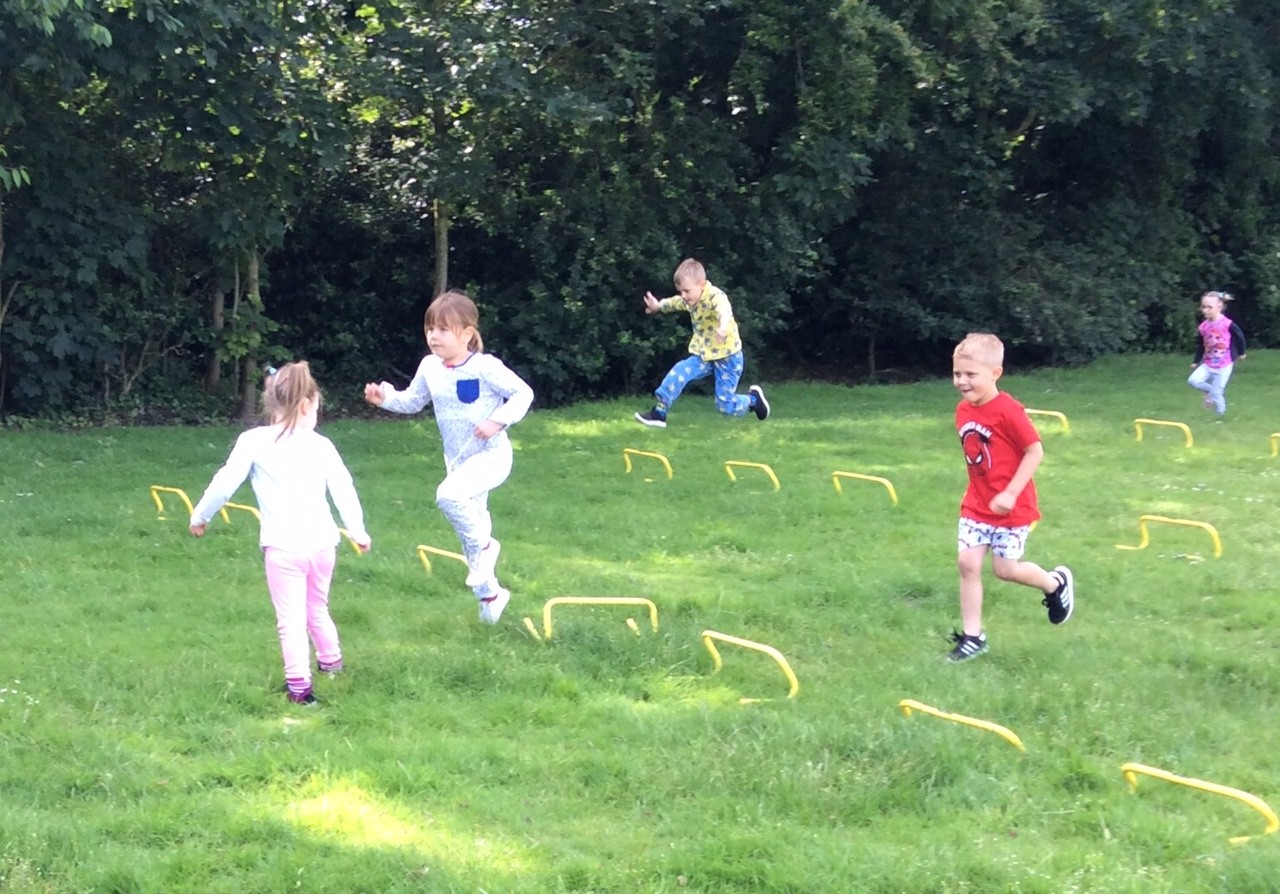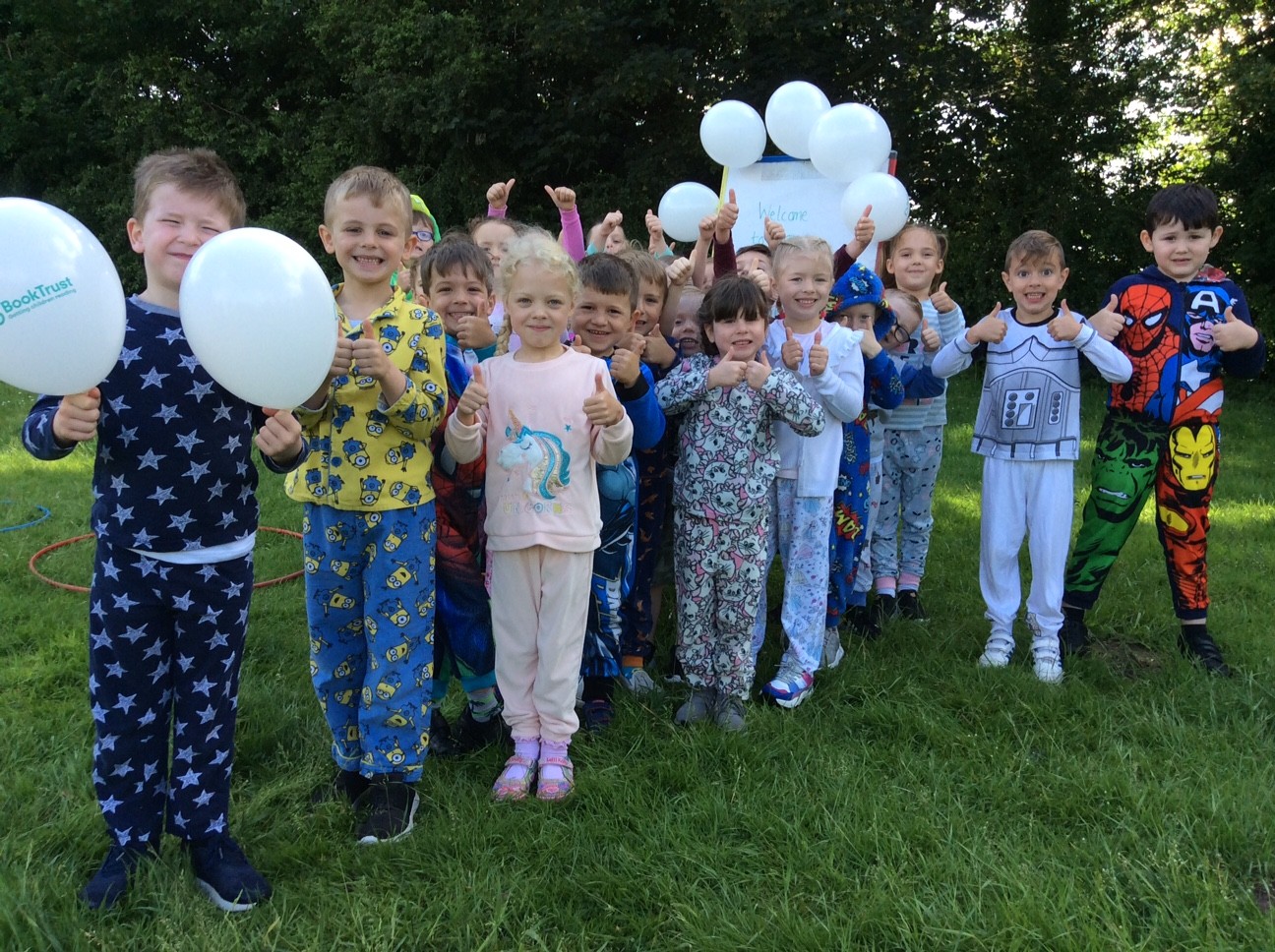 School Values - Courage Friday 14th June
We've shown that we have courage in Reception today. We tried the new balance ball boards and they are very tricky. We started with a guiding hand but showed real courage and perseverance by having a go independently too. These are just one of the obstacles in Monday's Pyjamarama Obstacle Course organised by the School Council.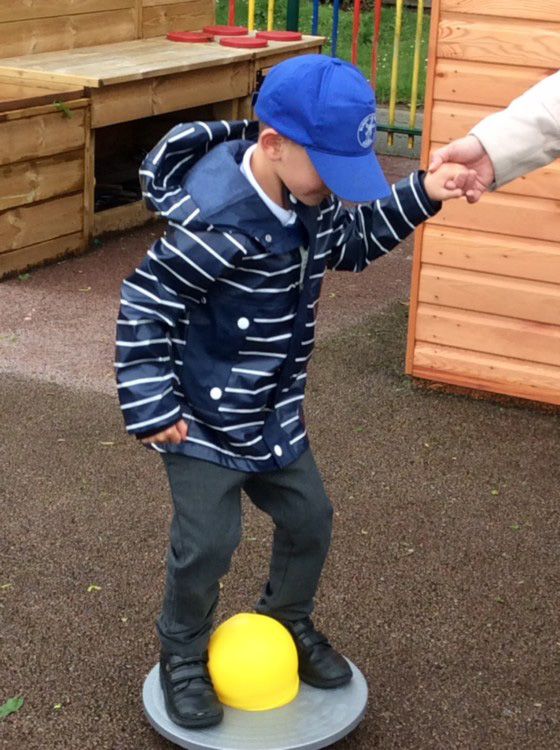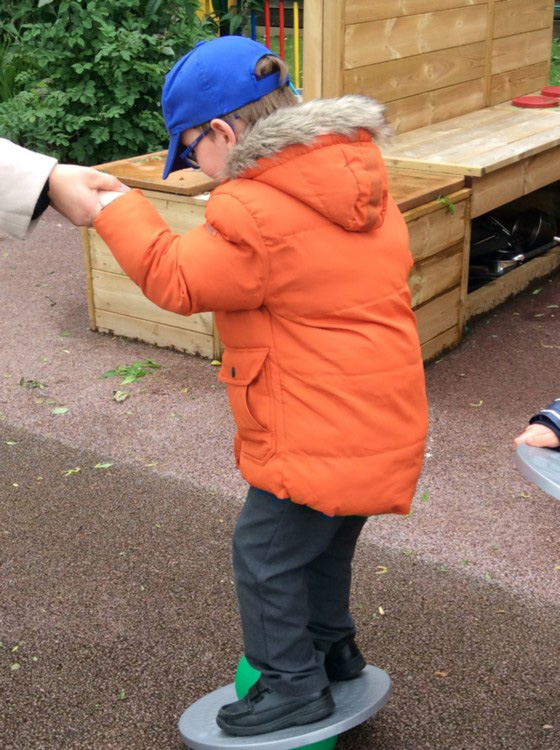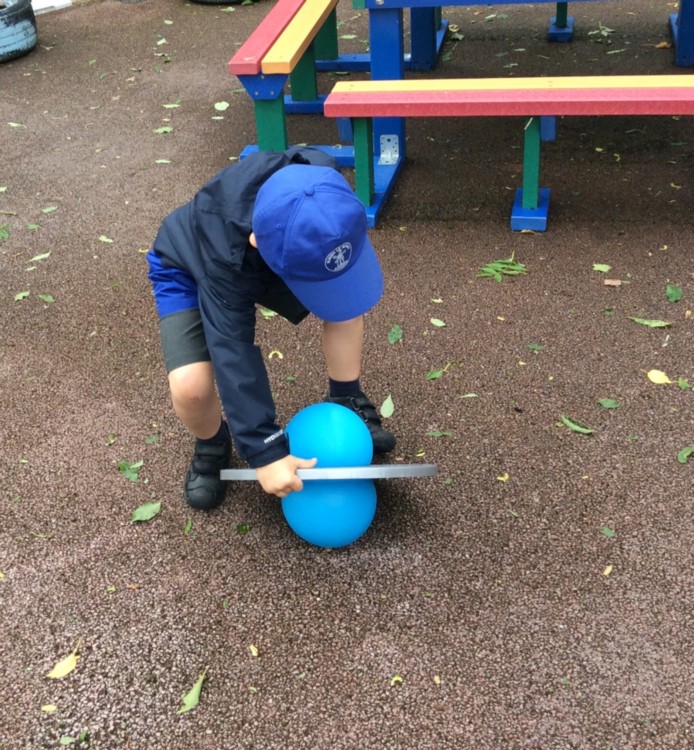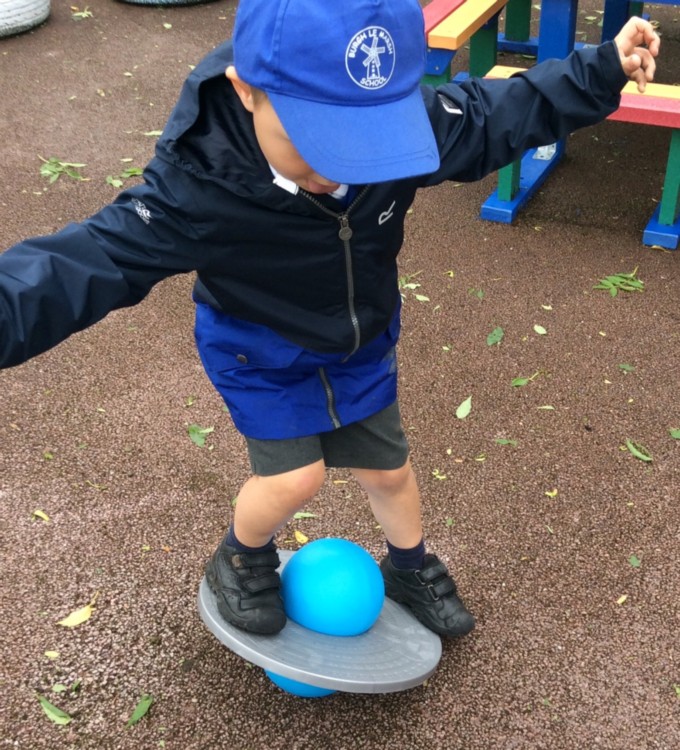 Counting, Balancing & Repeating Patterns Friday 14th June
We had fun playing new games and using a variety of resources to make repeating patterns today. Our listening and attention skills are amazing. We took turns wonderfully and enjoyed extending our challenges through child-initiated play. What a fabulous day.
Thank You Morrisons 10 June
The Reception children and team would like to say a huge thank you to Wm Morrisons Supermarkets plc for their generous donation to help to continue to improve our wonderful outdoor environment. We've had fun planting our seeds, using our tools and we are queueing up to do some weeding using our cool kneeling pads! We all really appreciate your support. Thank you Morrisons.
Celebrating World Ocean Day Friday 7th June
World Ocean Day takes place on Saturday 8th June, so we celebrated a day early at school. We read stories with a sea theme, listened to sounds of the wild from a wonderful borrowed book, and looked at images on the board. Some of us recreated the signs that divers make to communicate under water. Others wrote independent sentences and drew pictures of creatures we might find in our oceans. We looked at how we can help keep our oceans clean and we all celebrated how lucky we are to live as close to the sea as we do. Happy World Ocean Day from us all in Reception.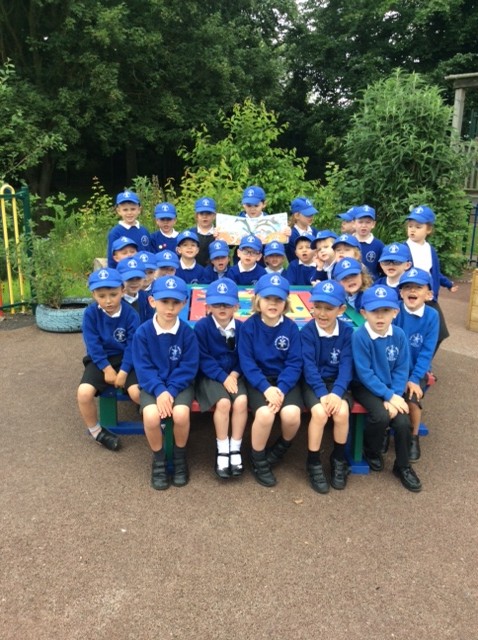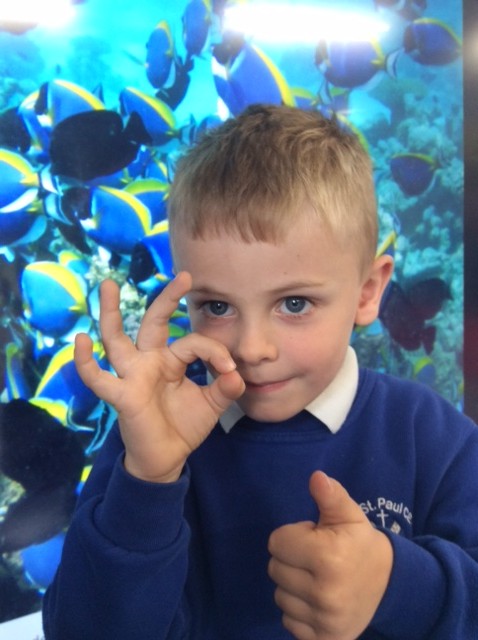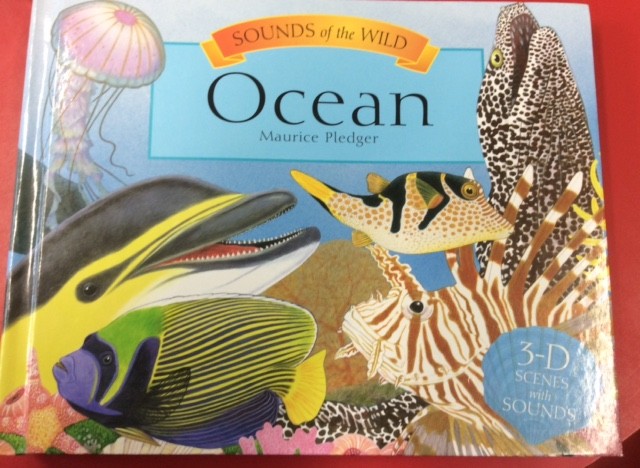 Climbing 16th May
We've all been having a wonderful time today using our outdoor climbing equipment for the first time. It's been brilliant observing the children working towards their Physical Development targets. We would like to say a big thank you to everyone who has helped set it up.
Amazing News! Thursday 7th March
We are thrilled to announce that all ten eggs have now hatched. We think we have five boys and five girls. The children all chose a name and they were put into a hat and pulled out today. The chicks are named Dixie, Rosie, Zoo Zoo, Raspberry, Grape, Limsie, Tiefler, Miss Chick, Bitzee and Dander. Don't forget to keep bringing contributions from the children and post it notes of what they have told you for their Egg/Chick Diary please.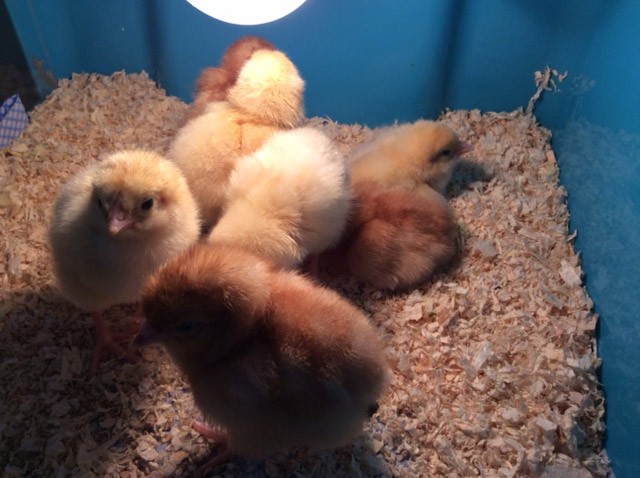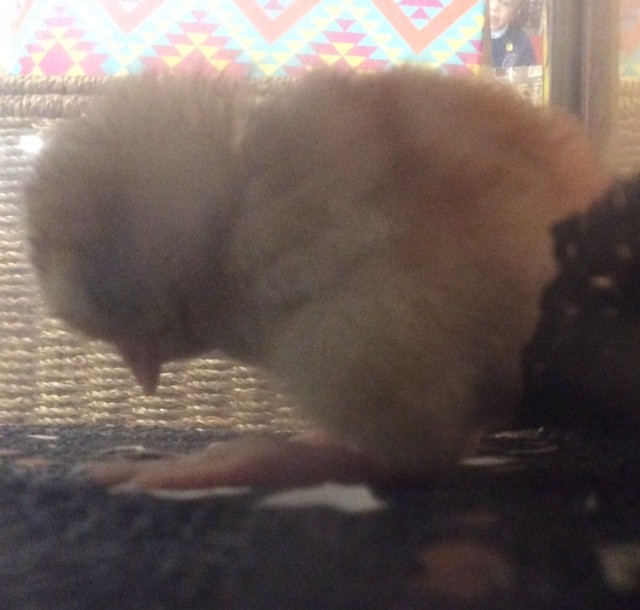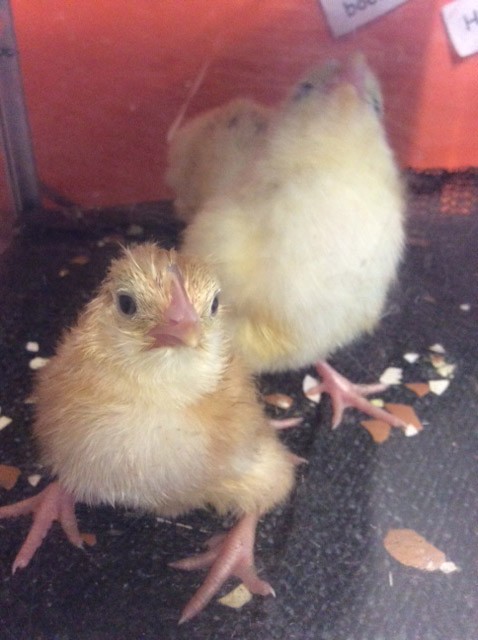 Chicks Wednesday 6th March
Overnight we have had four chicks born. We can tell who was born first by the fluffiness. Look carefully and you will see the youngest chick is still covered in dander. It looks like another egg is pipping so we really hope the children will witness the egg hatching today.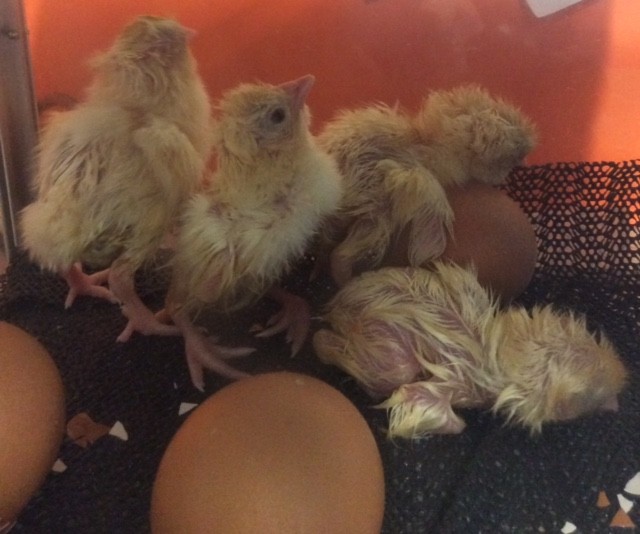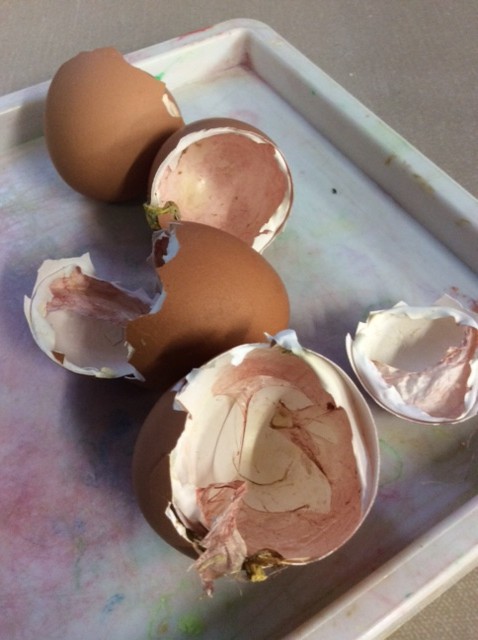 Look What's Arrived Monday 4th March
We have had a special delivery to Reception this morning. Ten 'Living Eggs' have settled into their incubator and we are hoping the first one will hatch by Wednesday. We will be keeping a special diary of the progress over the next week and a half so please keep checking back for updates.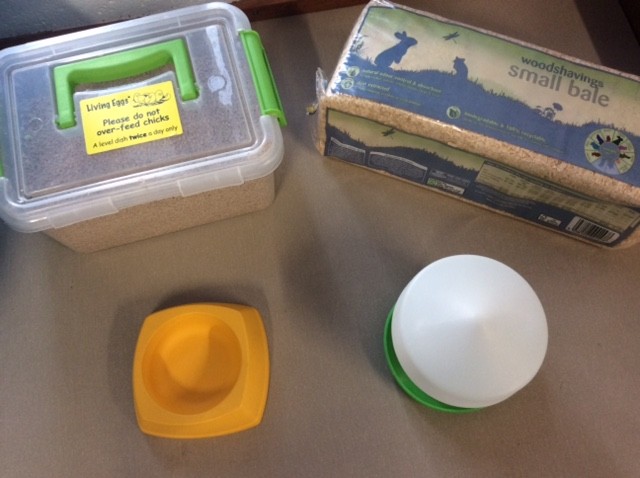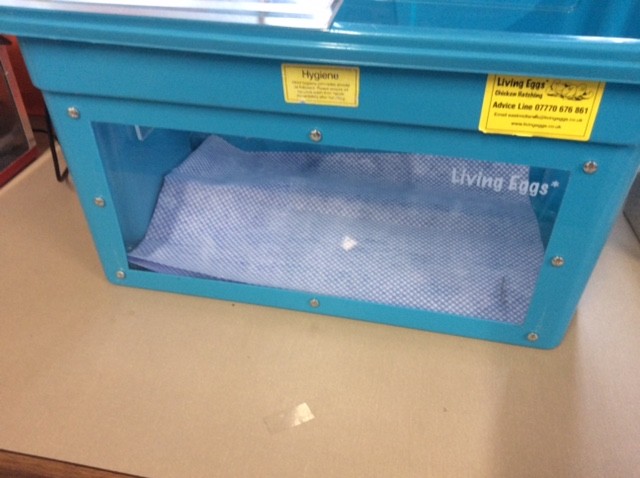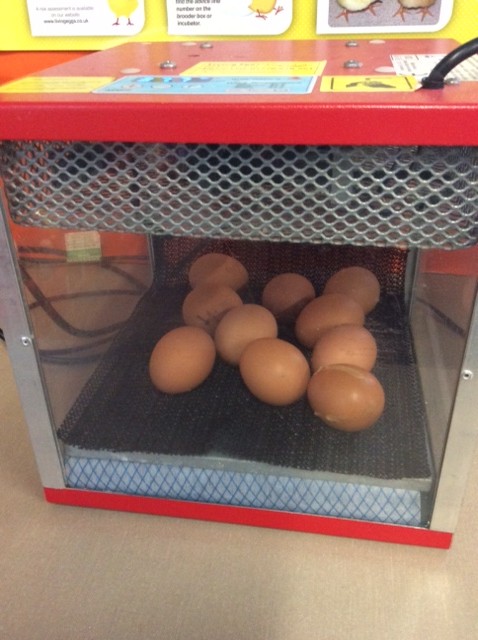 Families - Please don't forget to send post it notes in of all the things your child tells you. (If you have run out please let us know.) These will be added to the diaries along with any small pictures or captions your child draws/writes. Our diary pages are half the size of an A4 sheet of paper. Please clearly mark with your child's name. Thank you for your support.
Ice Investigation Friday 18th January
Our teachers filled a whole tuff spot with ice for us to investigate. We tried to break it! We found it would shatter if we dropped it from a height but we couldn't snap it. We attempted to make towers with it. Balancing it was very tricky. We decided ice cubes would be easier than ice cylinders to build with. We found out we could melt it if we held it in our warm hands but also discovered it stuck to our gloves and mittens. We also talked with our teachers about how the solid ice melts into the liquid water and by the end of the day, it had!
Investigation Station Friday 11th January
We found penguins in the 'Investigation Station' this week. We explored them and discovered they were wind-up toys with numbers on their backs. So we decided to make them a race track using masking tape. We used lots of problem solving skills to determine the best amount of turns on the winder and which lane was the one with most wins. Sometimes the penguins would leave their own lane or fall over. They would bump into each other too. No matter where numbers 1 and 5 raced they always seemed to finish 1st and 2nd or 2nd and 1st! We can't wait to see what there will be to investigate next week!
Merry Christmas 20th December 2018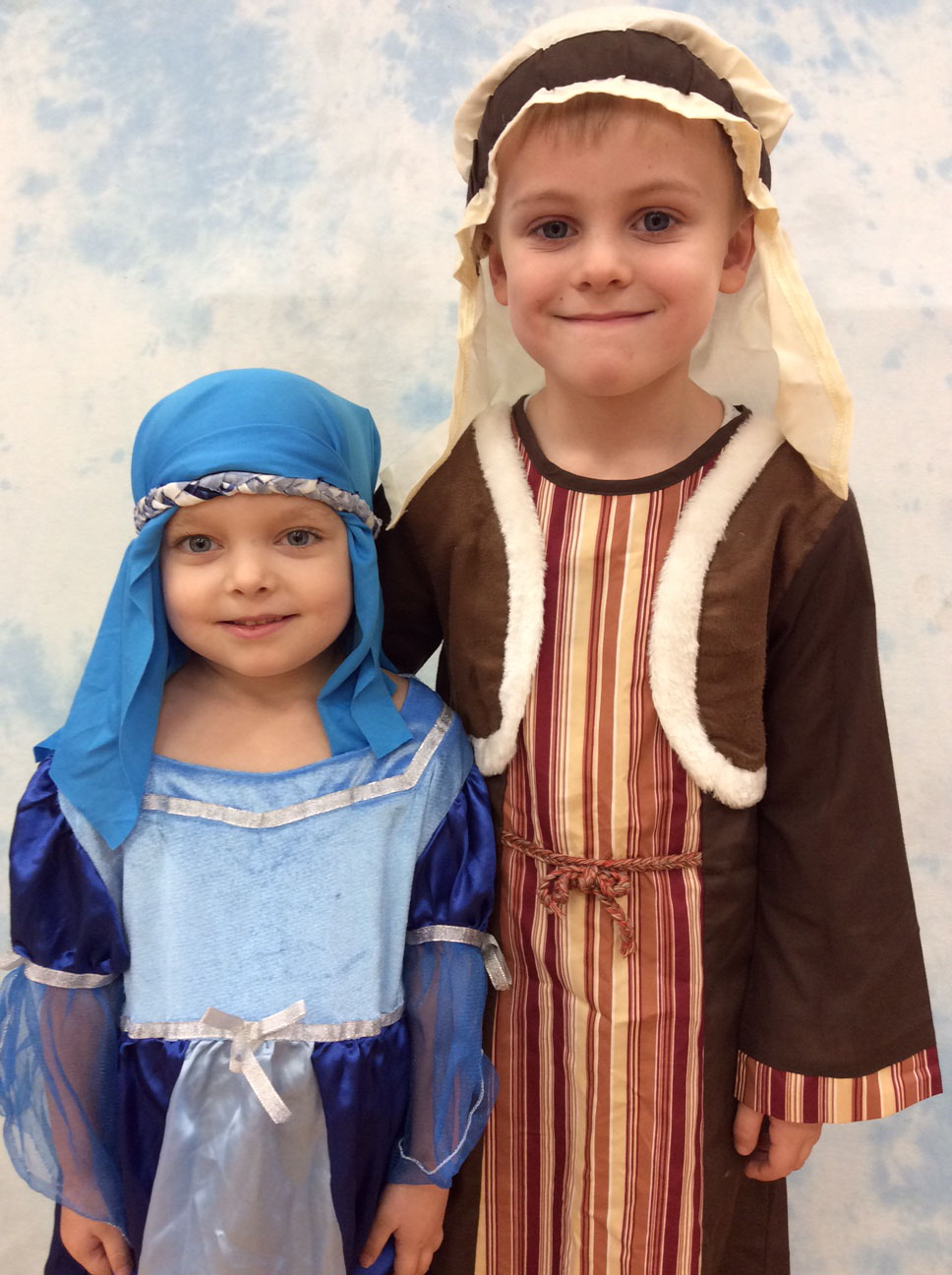 We hope you all enjoyed looking through the wonderful work your children brought home. Our particular favourites were the calendars and baubles. Holiday homework is to bring something in for your Learning Journey about how you celebrated Christmas. Please keep working on your phoneme and letter recognition too. See you all in January and don't forget, Father Terry will be asking you, "Who sang happy birthday to Jesus on Christmas Day?" Merry Christmas.
Panto & Picnic Tuesday 18th December
It's been a very exciting day. For some of us it was our first time on a coach and everyone had a fantastic time looking for the Church and the windmill. One of the children spotted his Dad driving a van and one saw their Nanny's house. Once at the theatre there was a little apprehension from some but it didn't last. As soon as the lights came up all the children were interacting with the characters, catching packets of sweets from the stage and were in fine voice for 'Baby Shark.' Thank you to everyone who made this special trip possible.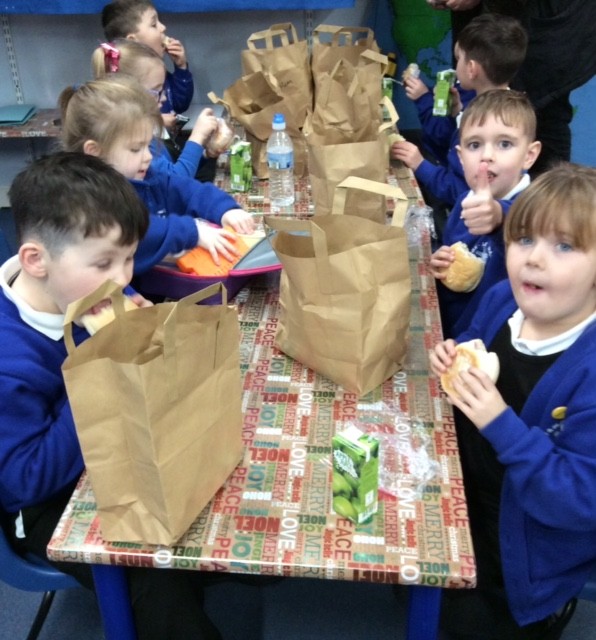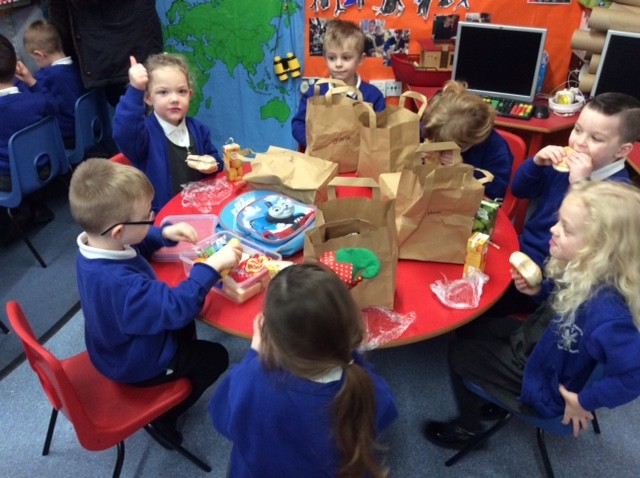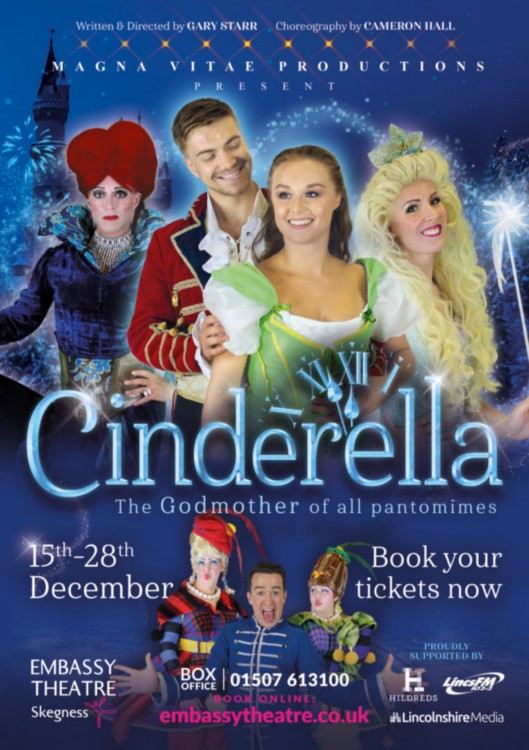 Making Snow! Friday 14th December 2018
We haven't had any real snow yet so we made our own! Everyone got to feel the texture. We decided it wasn't cold as real snow! The children used it afterwards to keep working on the formation of both letters and numbers.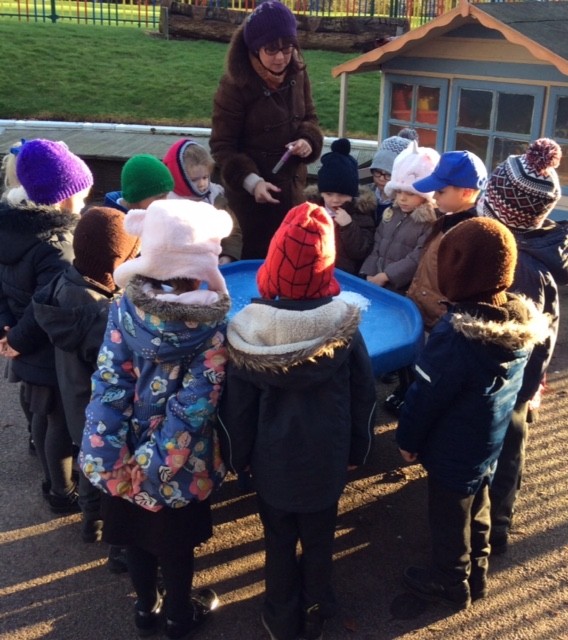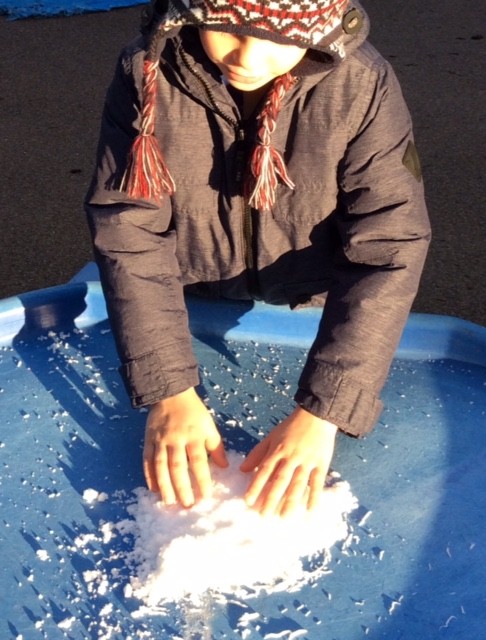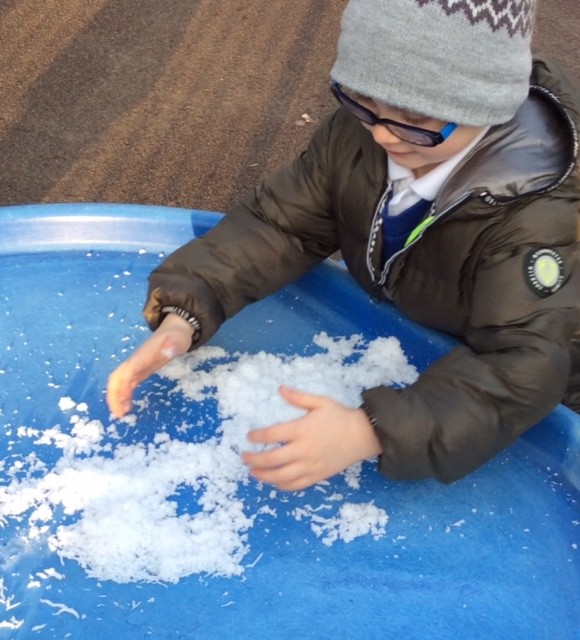 Amazing! Friday 7th December 2018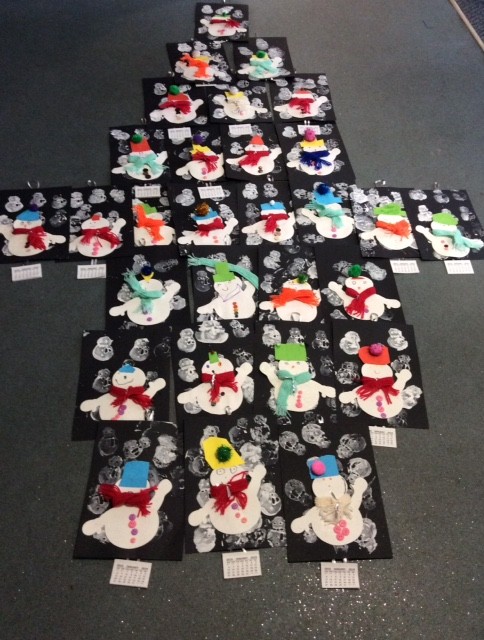 Our special snowman calendars will be coming home at the end of term. Aren't they amazing? A big thank you to Su Lonsdale for knitting all the scarves. Every calendar is unique and some of the ideas about what went on and where, were fabulous. Do ask the children about them over the holidays.
Our Nativity Sing A Long Dress Rehearsal Monday 10th December 2018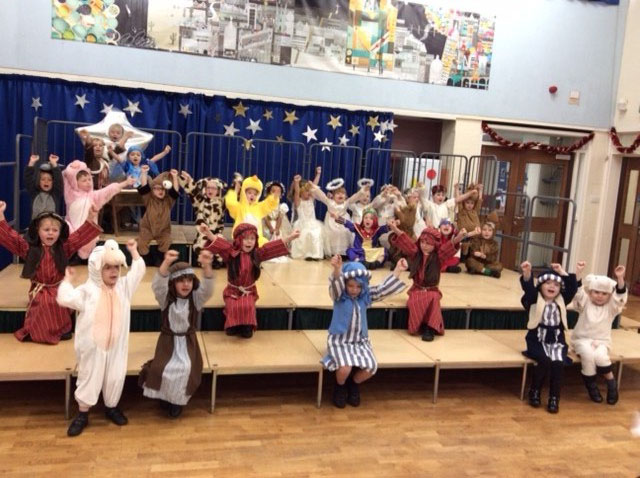 The children were all amazing during our dress rehearsal today. You will all be so proud of them tomorrow.
Christmas Arts Day Monday 3rd December 2018
It's been a very busy day in Reception. Here's just a taster of what the children have been making. Just wait until you see all their amazing creations coming home at the end of term.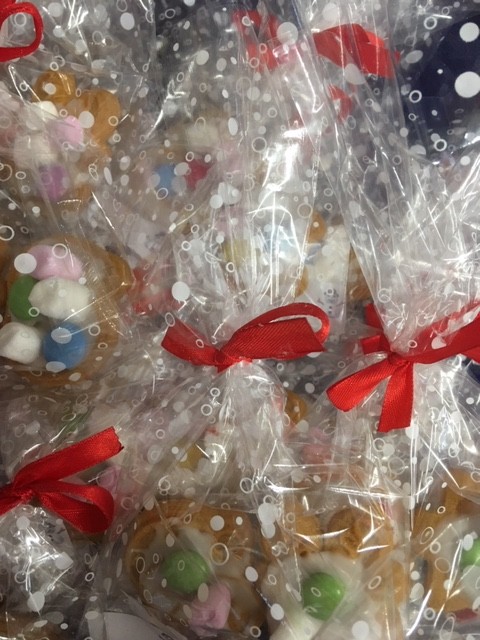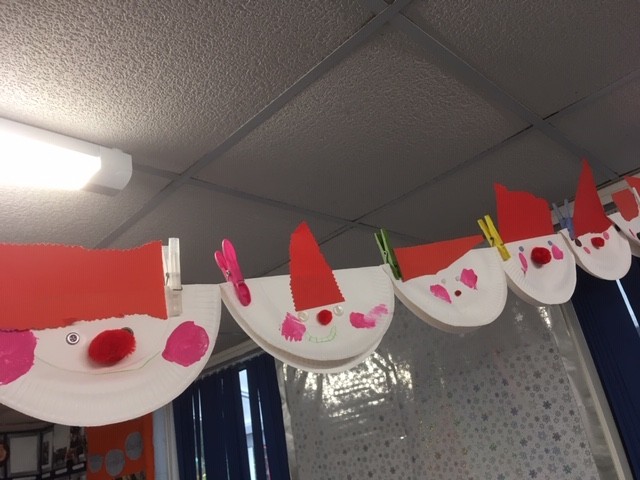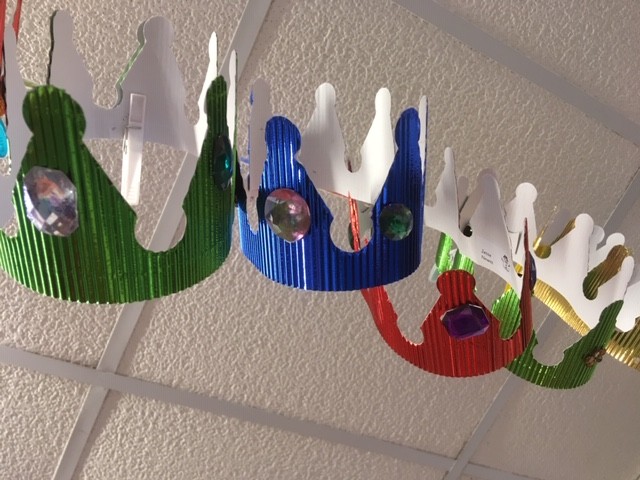 Bulbs Thursday 29th November 2018
A big thank you to Mrs Hextall for bringing us some bulbs donated by the Skegness Eco Centre. We used brushes to bore a hole to plant the bulbs. We talked about how the roots go downwards and the shoots go up before planting them. Everyone who was at school today got to plant two bulbs. We can't wait to see them flower in the Spring.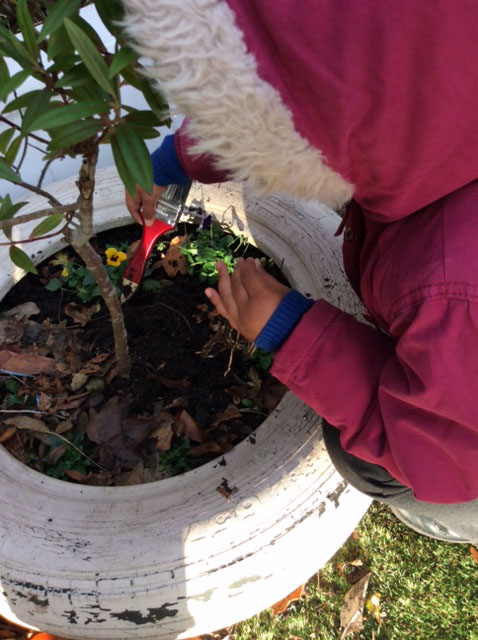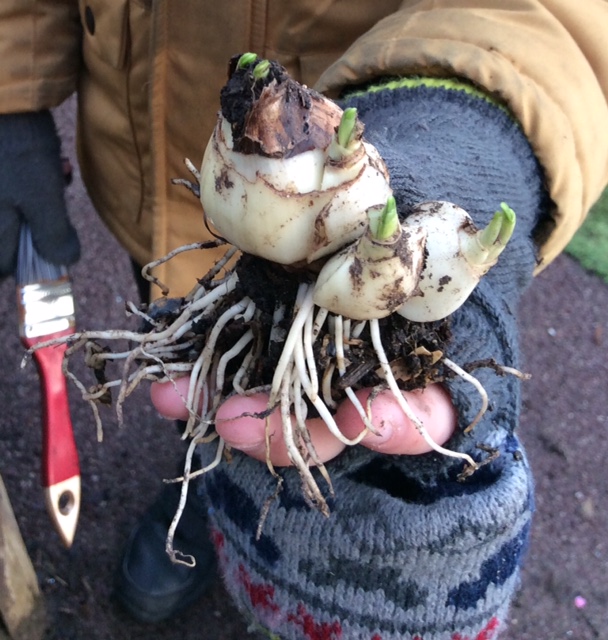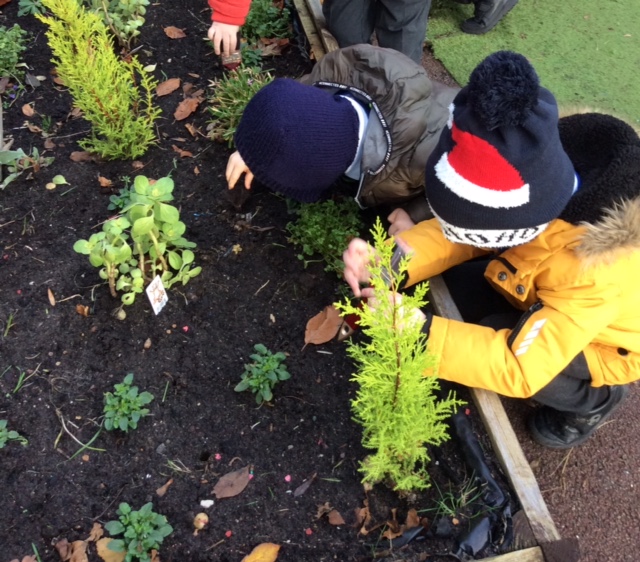 Making Playdough Tuesday 20th November 2018
We made playdough in our teams today. We followed the recipe, measured the ingredients and created the mixture. The fantastic part was that we could play with our creation straight away. We all took some home to show our families too.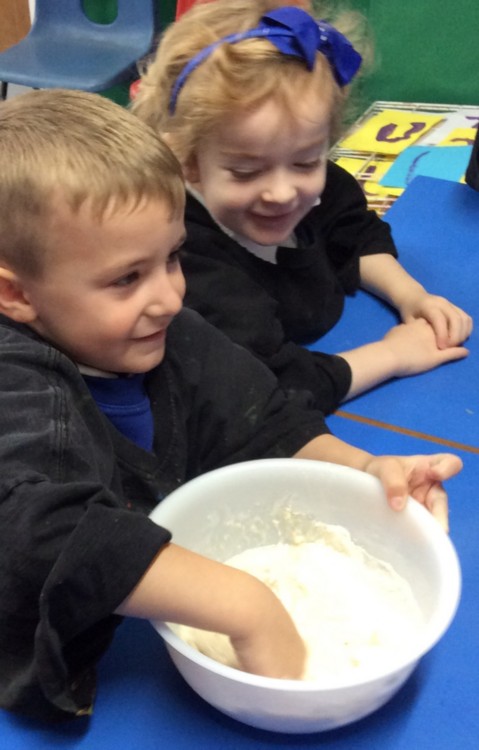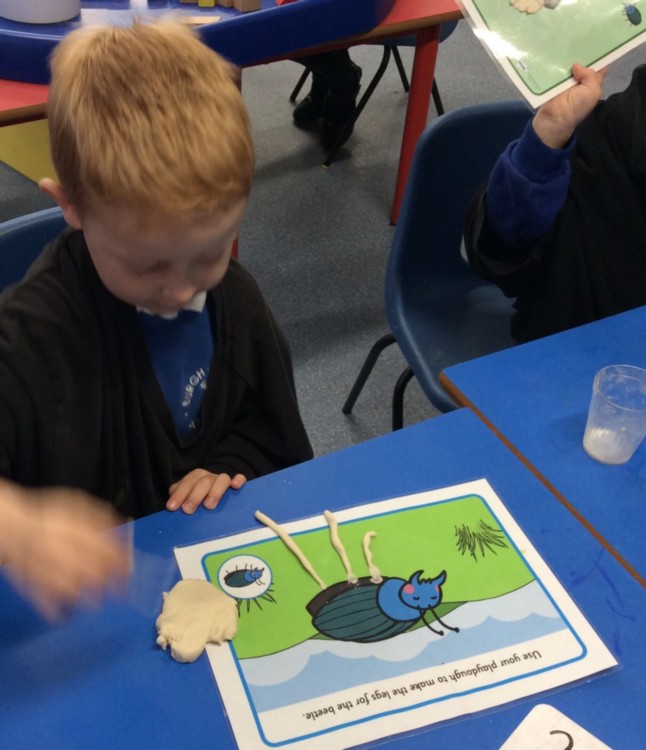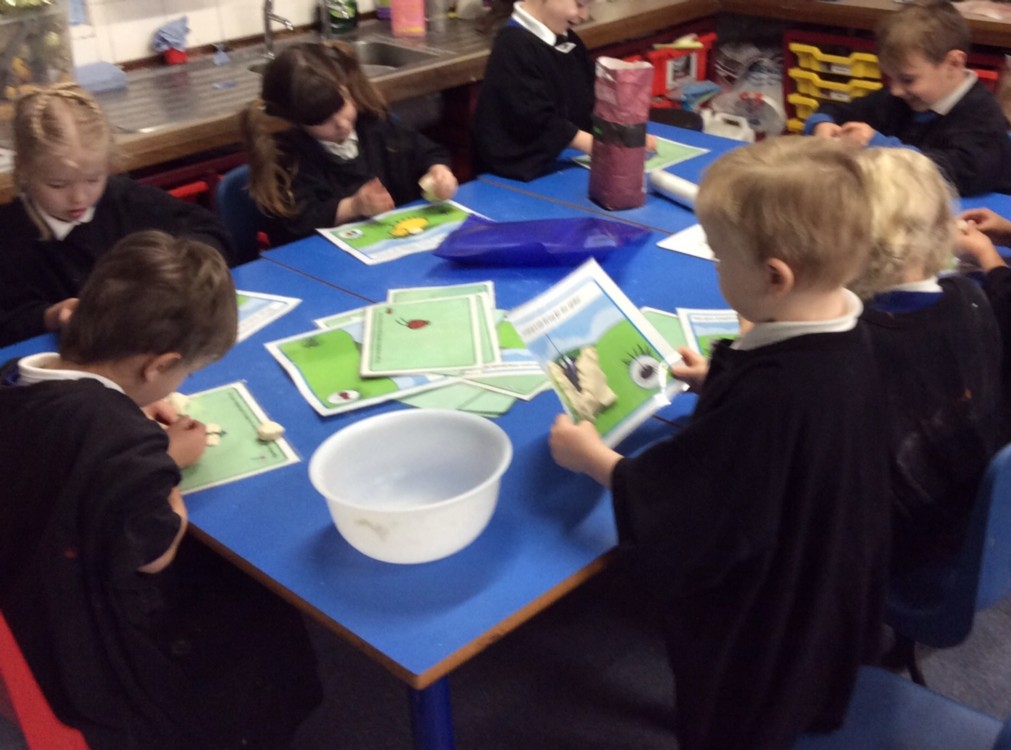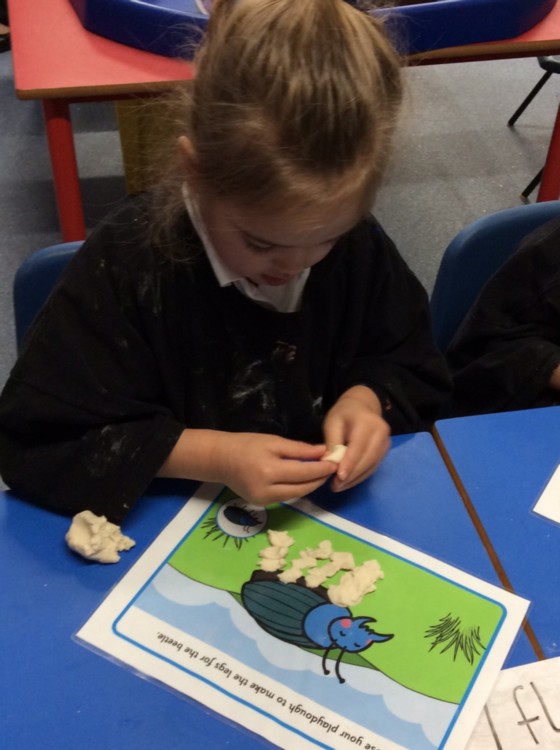 Nursery Rhyme Week 19th - 23rd November 2018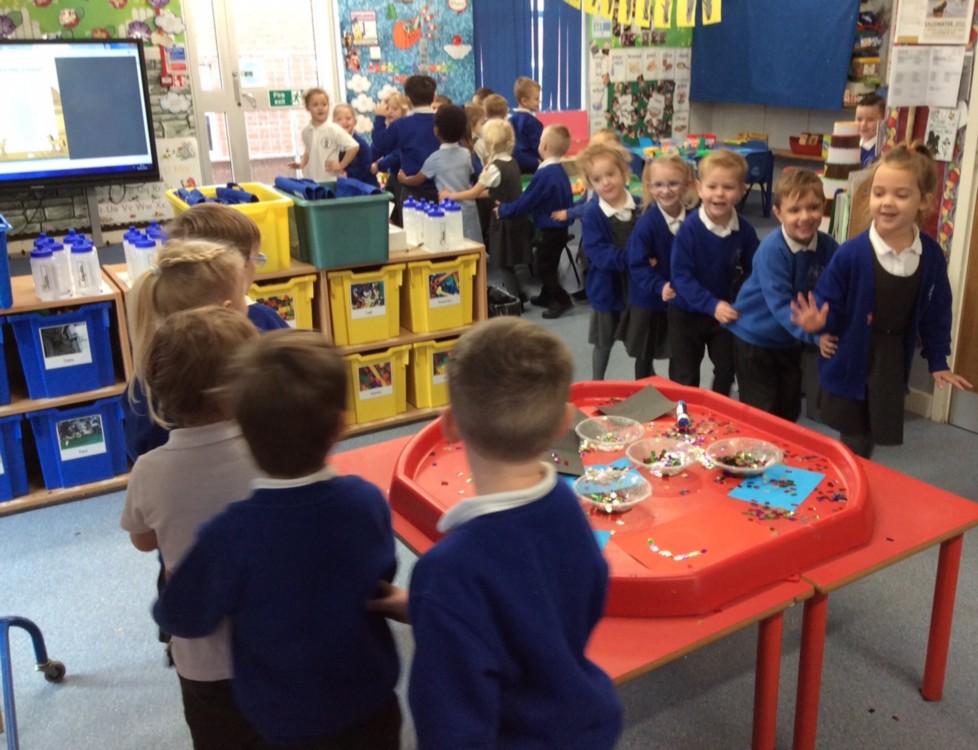 We've had an amazing week. We've shared, listened to and performed nursery rhymes that we knew and learnt different ones that our teachers remember from their childhoods. We've made props, sequenced rhyme cards, and used masks, puppets and our props in performances to each other. We've even made up alternate versions and verses to some of them too. At the end of our week we voted and decided that "Alice The Camel" is our favourite one. We are performing it in the photograph below.
Children In Need Friday 16th November 2018
We've had a non-uniform day to help raise money for Children In Need. There have been Pudsey themed activities added to our continuous provision and lots of fun and laughter. Laptop phonics was fantastic and the children are now able to navigate their way around 'Scrap's Phonics' videos and activities. Well done everyone and thank you for supporting this great cause.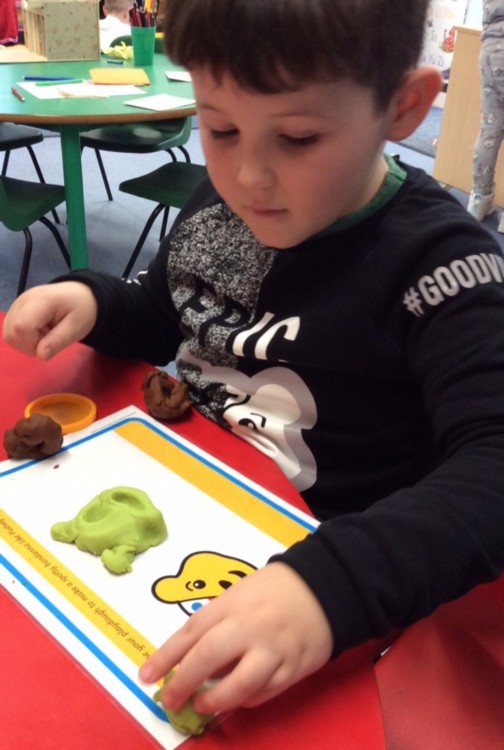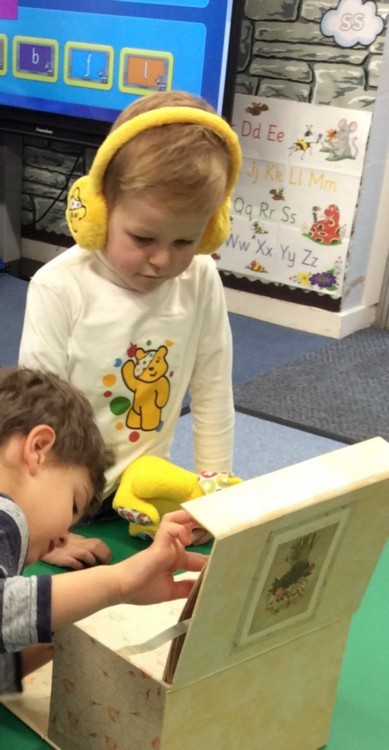 Diwali Sweets Wednesday 14th November 2018
It's been interesting learning about Diwali, the festival of light. We've used an e book for our guided reading to learn about how people around the world celebrate and watched a news report which showed some amazing fireworks. Then we made some special Diwali sweets.
We estimated, measured and weighed the ingredients (with a little help), put the sweets in the fridge to set and later in the day tasted them.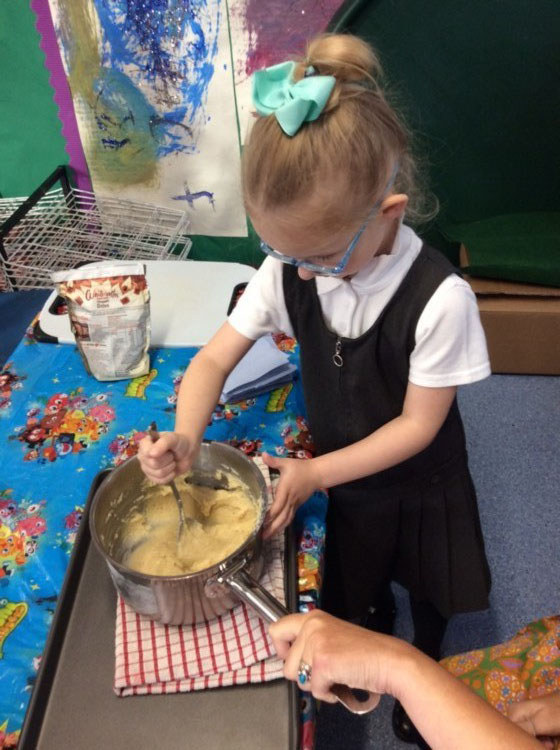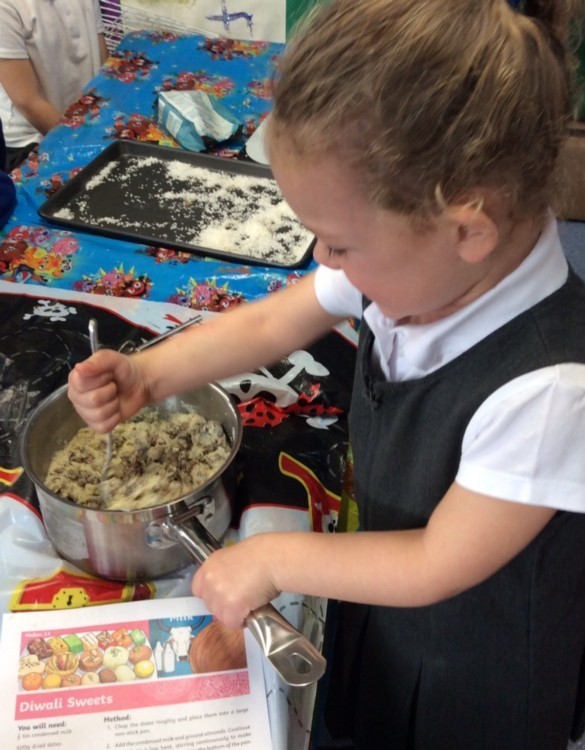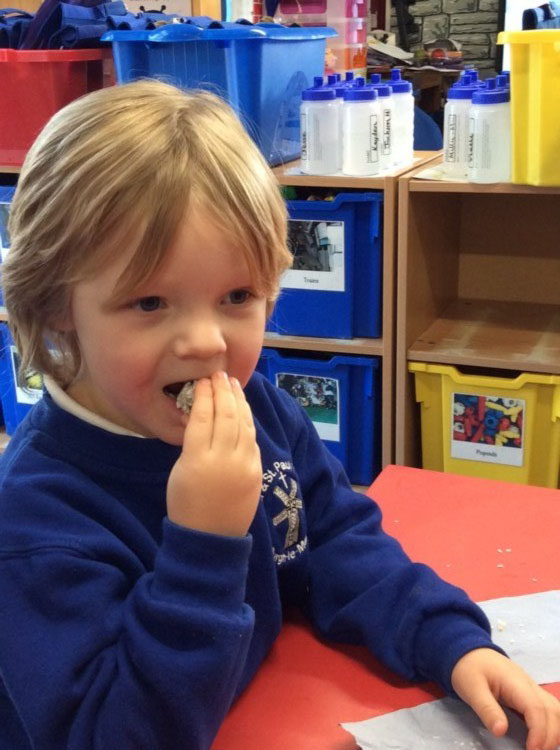 Child Initiated Number Fun Wednesday 7th November 2018
Practising number formation, counting the number of bricks after building a team tower, collecting leaves to count and compare, and estimating how many people will fit in the Lego boat (on it's way to Disneyland) were just a few of the activities observed this morning.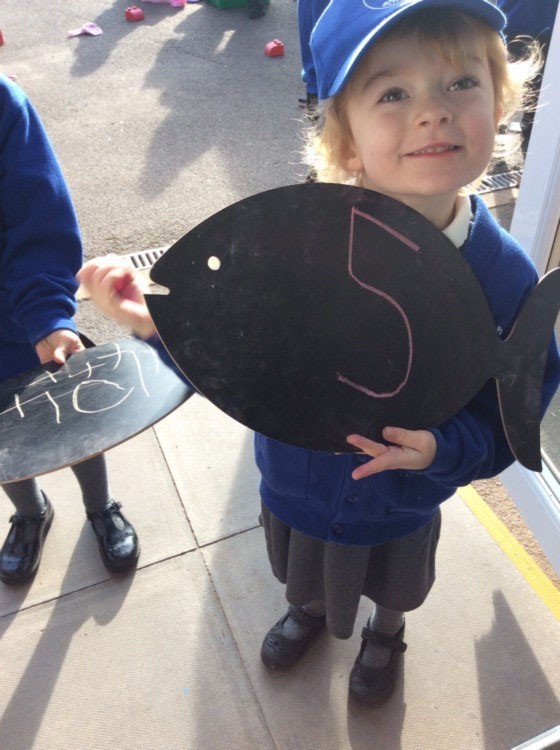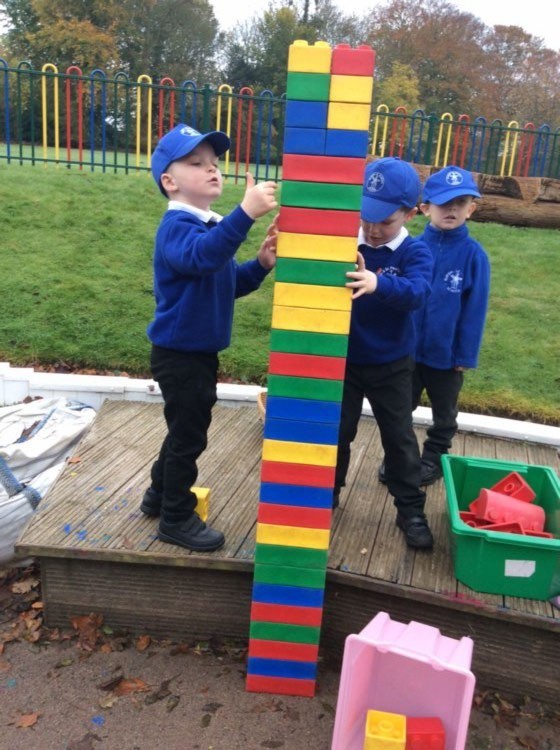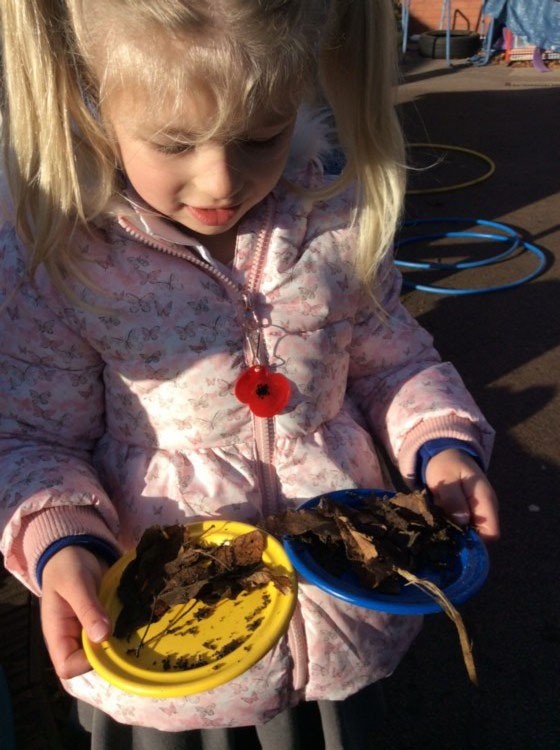 /div>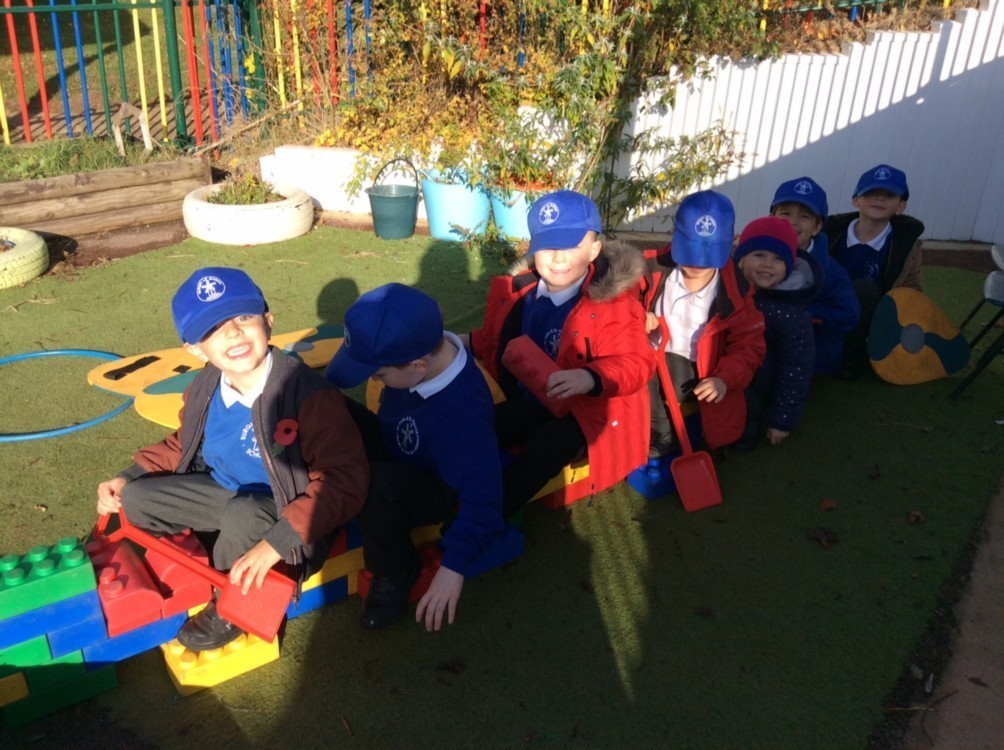 Making Eight Friday 2nd November 2018
We've counted marshmellows on to biscuits, found sets of eight objects from around the classroom, counted eight items from a larger group, completed puzzles and worked on different ways to make eight. Eric Eight, one of our Ten Town characters has encouraged us to match his sets of snowballs to find a total of eight and we've used eight eggs for addition (as well as alliteration) tasks with our teachers. Where you can see thumbs up, sideways or down, the children are self-evaluating their activities with the equivalent of our school traffic light system. Please ask the children to tell you more about this.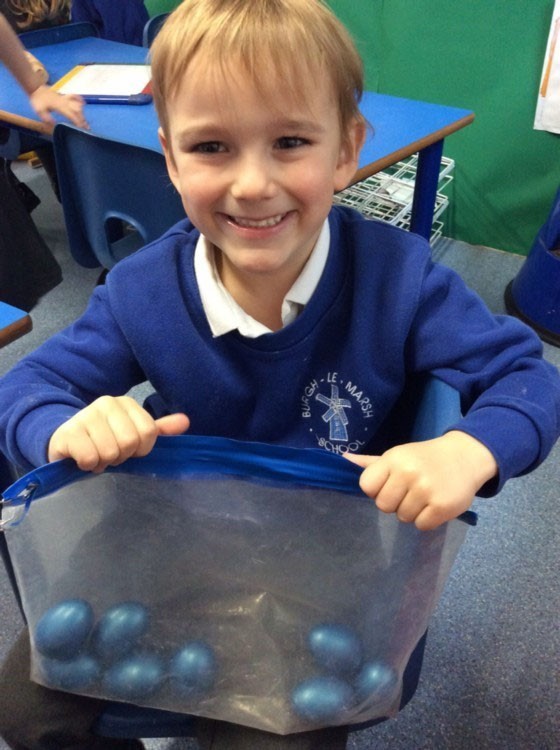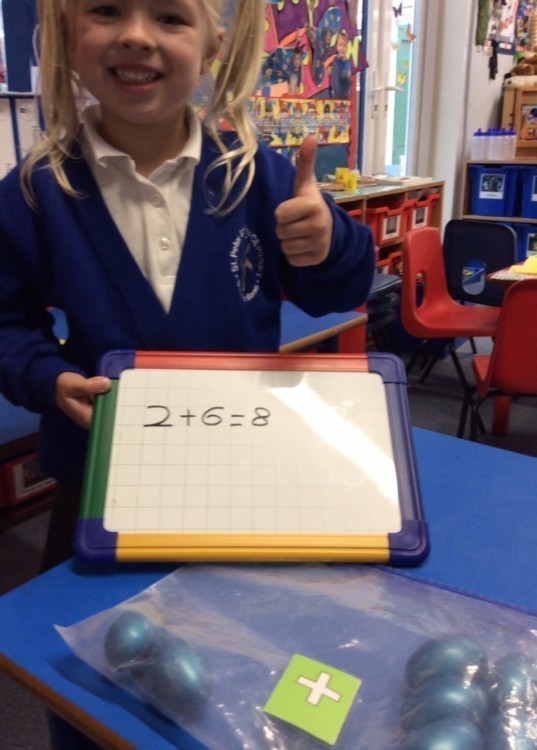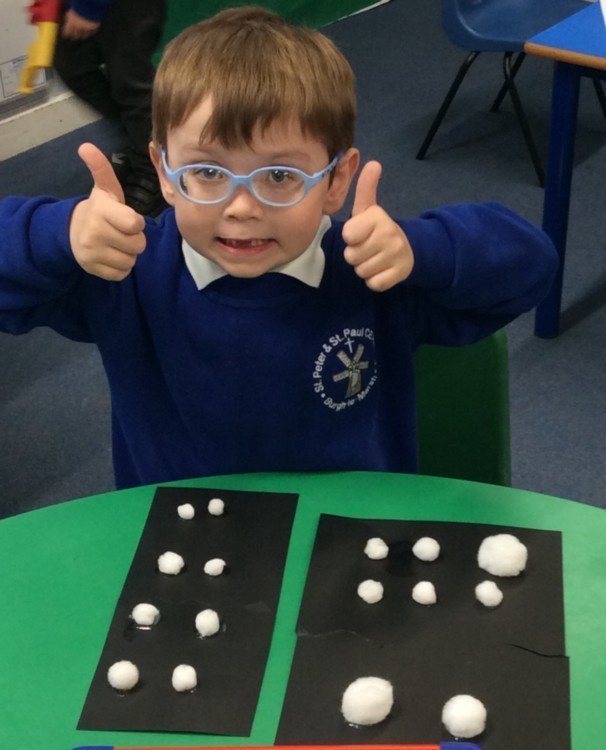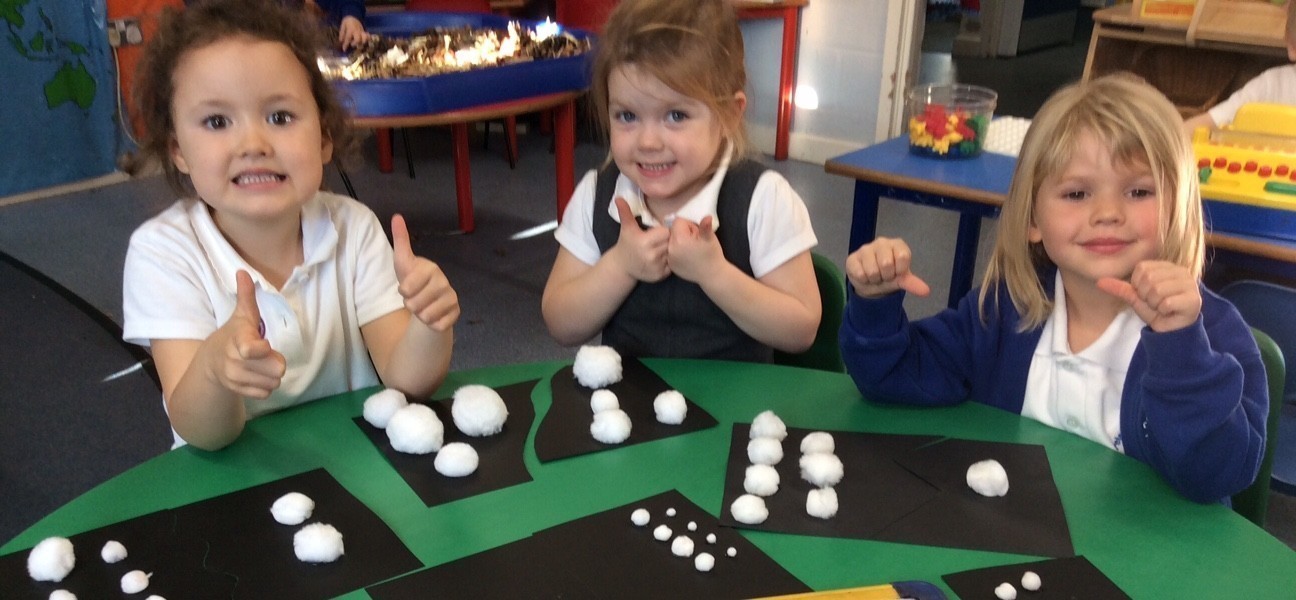 Recycling Tuesday 30th October 2018
We read a story about a magpie who discovered the gifts, he thought humans left him, were actually rubbish. The magpie learns how to recycle objects, just like we do in our recycling bins in Reception. Not only have we recycled natural objects found in our environment to make nests, we've also been playing games to discover what else can be recycled. Have you seen a fleece that's made from recycled plastic bottles? We have, as well as pencils and reusable cups too.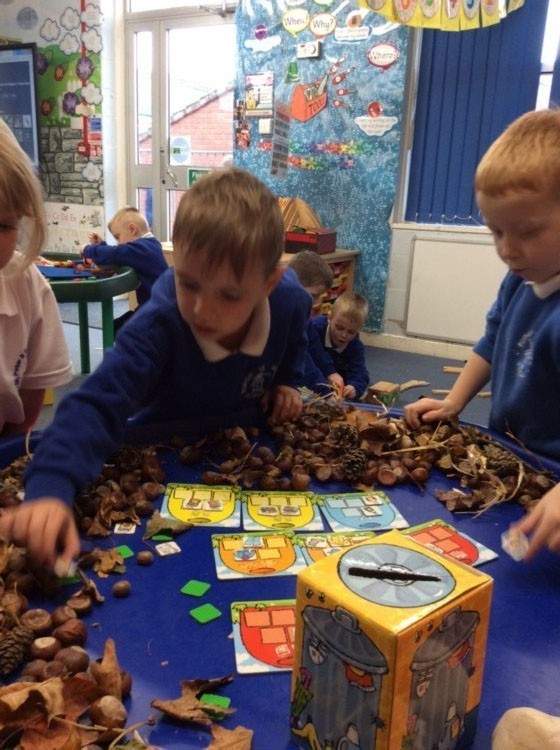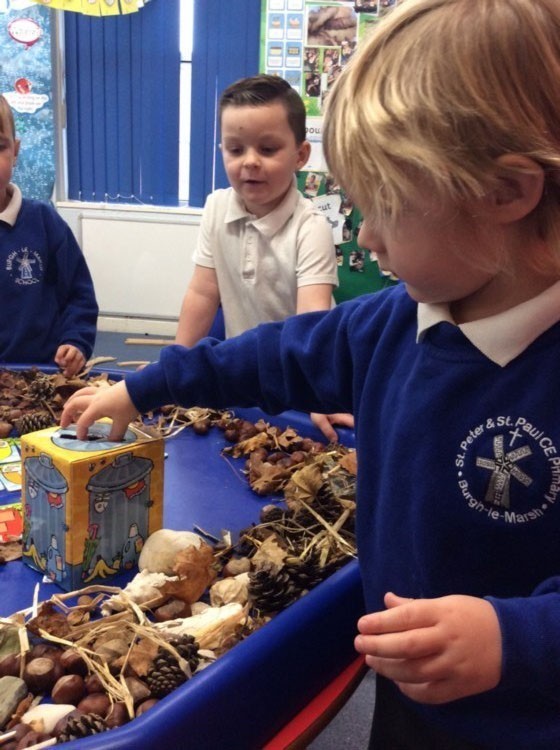 A Visit From Olaf Friday 19th October 2018
We've had lots of fun this term using technology in Reception. Today we had a visitor in the shape of Olaf! It was wonderful taking turns and trying to manoeuvre him with the remote control. There was a lot of giggling too, as we didn't expect him to talk to us!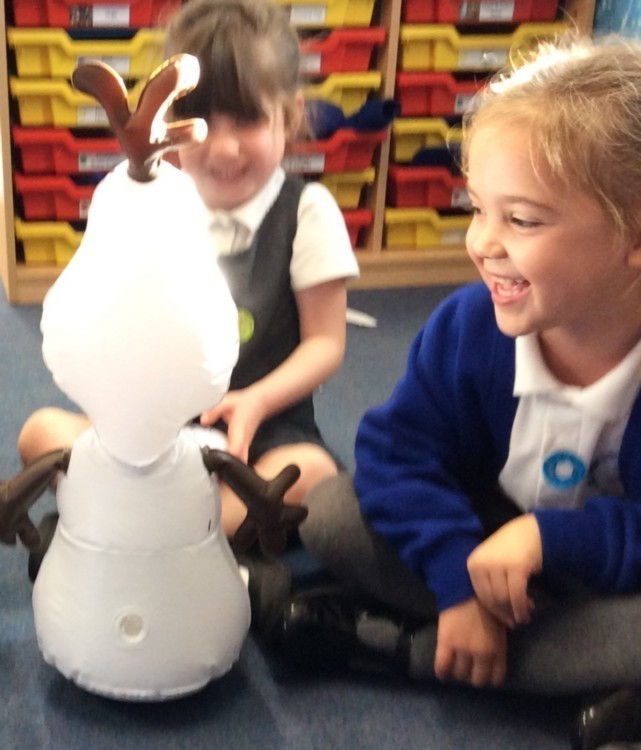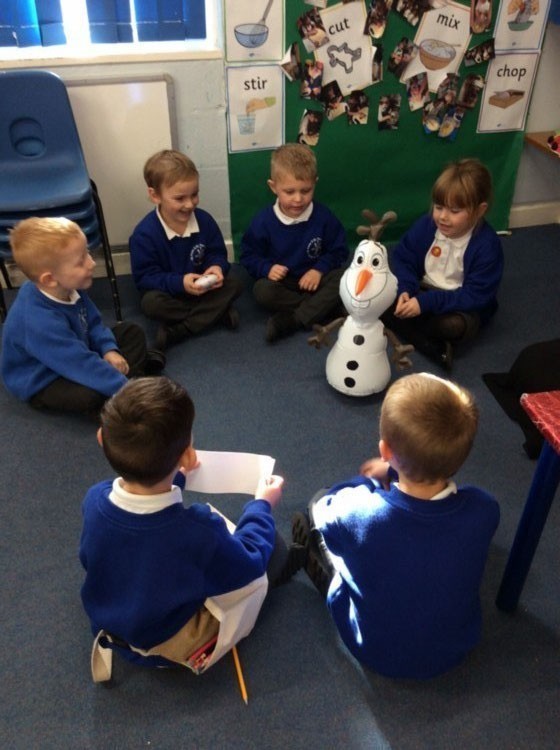 Term 2 Week 1
Guided Reading
This week our guided Reading book was entitled "Wheels." We told the story in teams, spotted the open sign (an Open/Closed sign featured in our ice cream parlour last term), took turns turning the pages, discussed with our talking partners a prediction for the ending, collected various sets of wheels and talked about words beginning with tri. The tricycle in the story reminded the children of both triangle and trigraph. We also spied some of the phonemes we've already covered and talked about the blurb.
Friday 14th September
We would like to welcome our new Reception children and their family and friends to our class website page.
On their first day of school our new families were given a gift (which included emergency tissues!) and last week the children received their gift from the BookTrust. Our very first piece of homework was to share our book with our families. The book does not need to be returned, it is yours to keep.
We've had an amazing and busy start to Reception. We hope your children have had lots to share already.
Have a wonderful weekend.