Welcome to Reception Class
On this page we will be sharing some of the fantastic things we do in class.
Welcome to our new Reception families If you have any questions please do not hesitate to ask.
Spring Walk On Shrove Tuesday Tuesday 25th February
We were all nature detectives this morning, spotting and observing the first signs of Spring. We hunted for twigs and branches, fallen from the trees, to make our 'Lent Promise Tree.' We also wrote shopping lists for pancakes and worked out how much Mr. Wolf's pancakes cost. This was in addition to matching the counters to the frying pan numbers and finding the right numbers to match the pancakes!
Lent Monday 24th February
It's Shrove Tuesday tomorrow, followed by Ash Wednesday, when we celebrate the start of Lent at Church. As there's so much we need to learn about Lent we started a little early in Reception. Lent is the Christian period leading up to Easter. People often give something up or make a promise to keep during Lent. Shrove Tuesday, which is also known as Pancake Day, is the last day before Lent begins. Traditionally it was a day to use up all the rich foods in the home. People would often mix the ingredients together to make pancakes. Today we warmed up our pancakes in the microwave, put our chosen toppings on and then tasted them. They were delicious. Only one child in the class didn't like his. Tomorrow morning we will be continuing with our Shrove Tuesday activities.
Planting Monday 24th February
We all made newspaper plant pots today, filled them with compost and added some cress seeds. We didn't water them so we could take them home to take care of them there. We talked about planting and shared some of the plants that had started to grow as part of the home challenge over the holiday. It was so interesting to hear the ideas that the children had and listen to their predictions, that will be setting up some additional investigations tomorrow.
Beebot Fun Thursday 13th February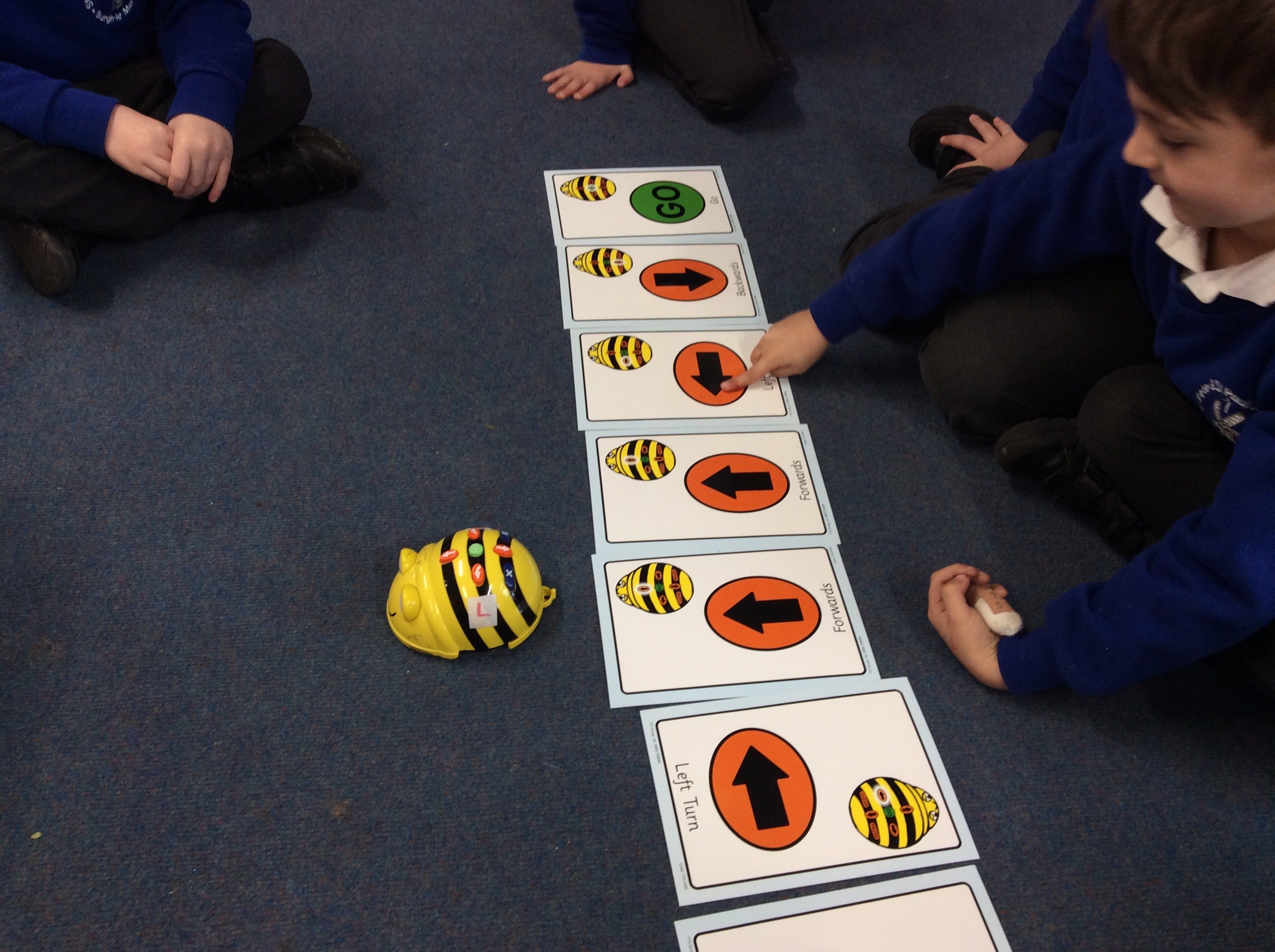 We have started coding today! We have used the beebots and learnt how to program them to go forwards, backwards, turn left, turn right and press go in order to make them carry out the code. We also discovered that it is very important to press clear before we start our own program or the beebot will remember the code from before! We counted how many times we gave each command and some of us tried to point to the cards as the beebot moved. We can't wait to try some more coding activities after half term.
Our New Digraph 12th February
Talking about our new digraph "ng" led on to making springs from pipe cleaners, as spring ends in "ng". The children decided they would like to make bracelets and necklaces. This is something they have done as an adult led activity in the Autumn Term, but this time they were discussing shapes, lengths and sizes, counting how many pieces of pasta had been used and comparing who had more or less pieces too. Pasta and pipe cleaner fun really demonstrated just how much learning is happening during child initiated play!
Bikeability Week 3rd - 6th February
We have had an amazing week learning to ride balance bikes and all about how to safely ride a bicycle. We know what the bell is for and how important helmets are too. It's been fantastic. Thank you so much to our instructor. We loved receiving our certificates are were very proud to tell our families all about it.
Chinese New Year Friday 24th January
We have been celebrating Chinese New Year in Reception this week. We've listened to stories, made dragons, dressed up as the emperor and talked all about the 'Year of the Rat.' We would like to say a big thank the Li family for providing us all with chopsticks to take home. Thank you Mr & Mrs Li 🥢
Polar Regions Homework Monday 20th January
Wow we have had such a wonderful time sharing homework today. Some truly fabulous creations and amazing facts. We all love learning new things here in Reception, including the teachers. The fact about pumpkins was new to us all! Do have a look at our cloakroom display to see even more.
Phonics Monday 20th January
We've all been very busy working on our phonemes too today. Here are just a few activities.
Remote Controlled Toys Wednesday 15th January
We borrowed Mrs. Gould's toys from home today. They have been hiding under her desk this week and we were very excited when they came out for us to play with. Olaf was our favourite because he could spin around in circles as well as going forwards and backwards. As well as working towards our technology early learning goal, we were using mathematical language. Here are just a few comments from the children today:
"I liked to boogie next to the dinosaur. He has flashing lights and music plays too!"
"Olaf is cool!"
"Olaf is taller than the dinosaur. They are only toys though. If they were real the dinosaur would be much bigger and taller than Olaf!"
"If we raced them who would win? I have a remote control car at home and he wins!"
"They need batteries to work. When the batteries stop they don't work anymore. My car doesn't work any more."
"Olaf is from Frozen. I went to see Frozen 2."
"Olaf begins with o, o, o. Dinosaur is d, d, d but you know dinosaurs have lots of names!"
"The dinosaur is small. Olaf is big."
Shape Sandwiches Tuesday 14th January
We've been watching King One and Tia Ten make sandwiches for the Ten Town banquet. We have been working on shapes and after playing their game, in which we made pictures using shape sandwiches, we decided to make our own real sandwiches. We planned the sandwich, deciding the shape it would be, the filling it would have, and then made it. They were delicious!
Jam Tarts Monday 13th January
Last week one of our new letters was J. We thought of lots of words which have j as their initial phoneme. When we thought of jam some of the children said they liked eating jam tarts. So today, after our phoneme recap, we have been making jam tarts. Mrs Holiday has been teaching us lots of different baking techniques. We made and baked them this morning and tested them this afternoon. Most of us really enjoyed the raspberry jam and a few even tried lemon curd too.
Winter! Thursday 9th January
We haven't got any real snow to make snow creations yet, so yesterday, with Miss Bullion's help, we made a snowman using polystyrene cups! He is now part of our winter display in our cloakroom. We had an idea to make our own snow creatures too so that is just one of the many tasks we've been doing today! What do you think?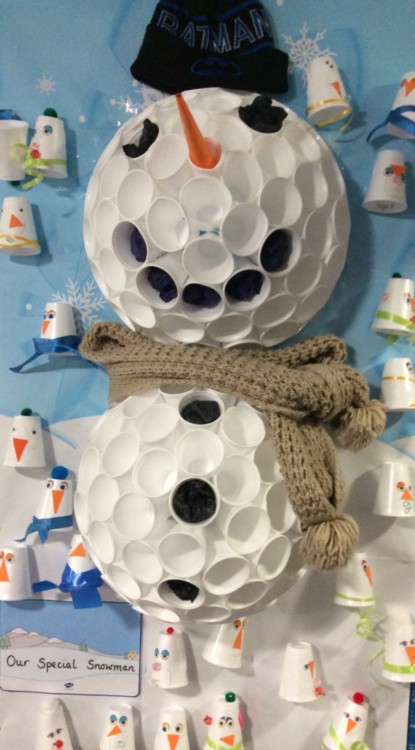 Ice Investigations Wednesday 8th January
Leading on from yesterday's story, "The Runaway Iceberg," we wondered if we could melt real ice. So today, we tried. We discovered that ice is solid but when it melts it becomes a liquid - water! We had a lot of fun trying to melt the ice. We constructed ice towers, played transportation games, tried to deconstruct the large pieces, counted how many pieces we could hold in one hand without dropping them, and then we tried to melt the ice cylinders ourselves.
Comments included:
"You need to keep it warm!"
"Hold it tighter in both hands."
"Rub it on your warmest hand - look it is melting even faster!"
"Put it in your knees, that is what to do when your hands get cold."
"It's freezing!"
"If it was a sunny day it would melt."
"It melts when you put it in drink."
"My coat is all wet. It's dripping down me."
"We could put it under the hand dryer!"
We also discovered that the ice inside our classroom melted before the ice outside. Here a just a few photographs.
Welcome Back Monday 6th January
What an extremely busy first day back! We've really enjoyed sharing Tapestry moments from the break, and will continue to do so throughout this week.
Sticklebrick creations inspired by holiday adventures have been amazing today. We particularly liked the metal detector and spade models!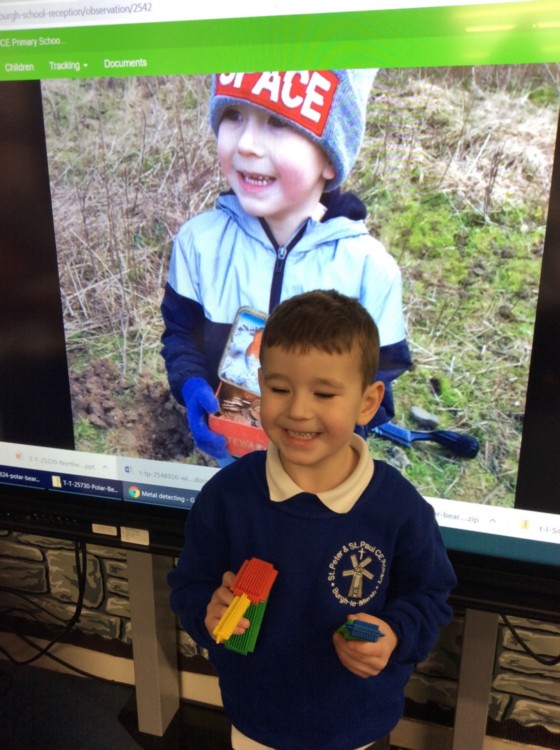 We recapped on Ten Town's Tia Ten character (as we had so many poorly children at the end of last term) and moved on to her first TV show. We played her measuring game and the number bond cracking eggs game too.
Colour mixing was fabulous fun. Please ask us what happened when we added white or black to the colour green. We then used our created colours to paint the clay leaves that we made last term. They are to go into our 'Reading Forest' and we made some flower name bunting too.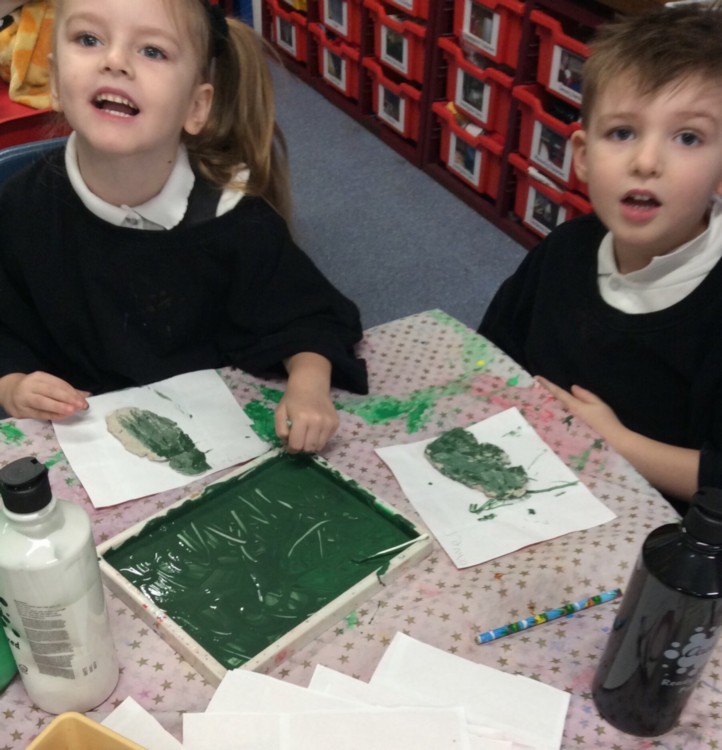 That wasn't all though, so please ask us about our day.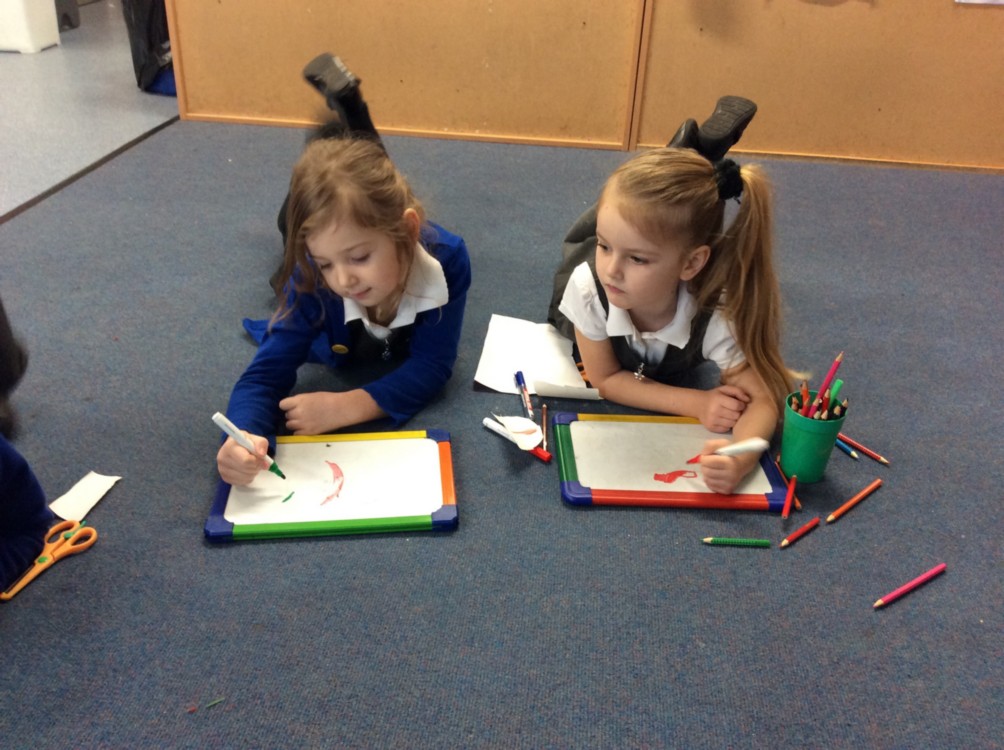 Welcome back and Happy New Year to you all.
Merry Christmas Thursday 19th December
Have a wonderful holiday. See you all on Monday 6th January 2020!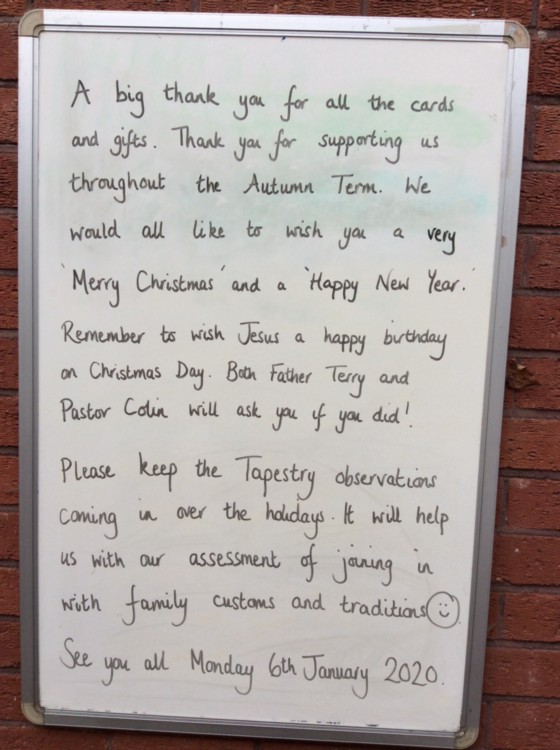 Reception Party Day Wednesday 18th December
Our day started with a puppet show from the Burgh Baptist Team and the Year Six helpers. They were fantastic. Our favourite puppet was the shepherd as he was wearing the same costumes as our shepherds in our nativity. Even more exciting - they sang one of our songs too, 'A Band Of Angels.'
There was a lot of child initiated play this morning as part of our party day. Fruit shops, railway adventures, holidays to exotic places - the imagination was amazing. The children's creativity was wonderful too. Story telling using the Olaf costume and melting snowmen. We've taken a couple of the children's wintry ideas and added them to our winter planning for next term. Watch this space.
This afternoon we joined up with Year One and Year Two for a fantastic party in the hall, with games, fun, prizes and lots of dancing! We really enjoyed the corners game and musical statues.
Panto & Picnic Tuesday 17th December
We've had an amazing day. Thank you to everyone who made our trip possible.
It's A Cold, Cold Day! Monday 16th December
We've wrapped up warm to play outside, but thankfully Olaf didn't melt inside because it was only a costume! Don't worry if you didn't get a turn today, Olaf will be out until the end of term. We've really shown our teachers how we can take turns beautifully and wait patiently. We've even helped each other to put the costume on and suggested to each other to look in the mirror to be able to see how to do the costume up at the front. Even our work outs and brain boosters had the word freeze in them! We've been recapping our phonemes and learning all about the number ten today too.
Christmas Jumper Day Friday 13th December
We've had so much fun today. Laptops, library, colour by numbers, making decorations, retelling the Christmas story with props, learning about zero and all whilst wearing our Christmas jumpers to support 'Save The Children.'
Congratulations to our class prize winner for his jumper design. We also received a round of applause from the whole school when our class received a 'Pupil Of the Week' Certificate in assembly this morning. It has been a day full of learning, fun and laughter. Take a look at just a few activities from today.
Exciting News Tuesday 10th December
Today we received a letter from Suzy Senior, the author of one of our favourite books, "Octopants." She had seen our wonderful underpants designs here on our website. We would like to thank Suzy for taking the time to contact us. It was a wonderful and very exciting surprise to receive a letter In the post from her. In answer to the question asked, we love all the fish, the eels, the seahorse and the jellyfish. We would all like to wish Suzy and her family a very Merry Christmas too.
Our Nativity Monday 9th December
We are all so proud of our Nativity superstars today. We can't wait to see the photographs your families add of you to Tapestry. Well done everyone. A big thank you, in advance, to everyone who washed the outfit and put it in a new carrier bag. Much appreciated by us all and ready for next year! Thank you once again for coming to see the show.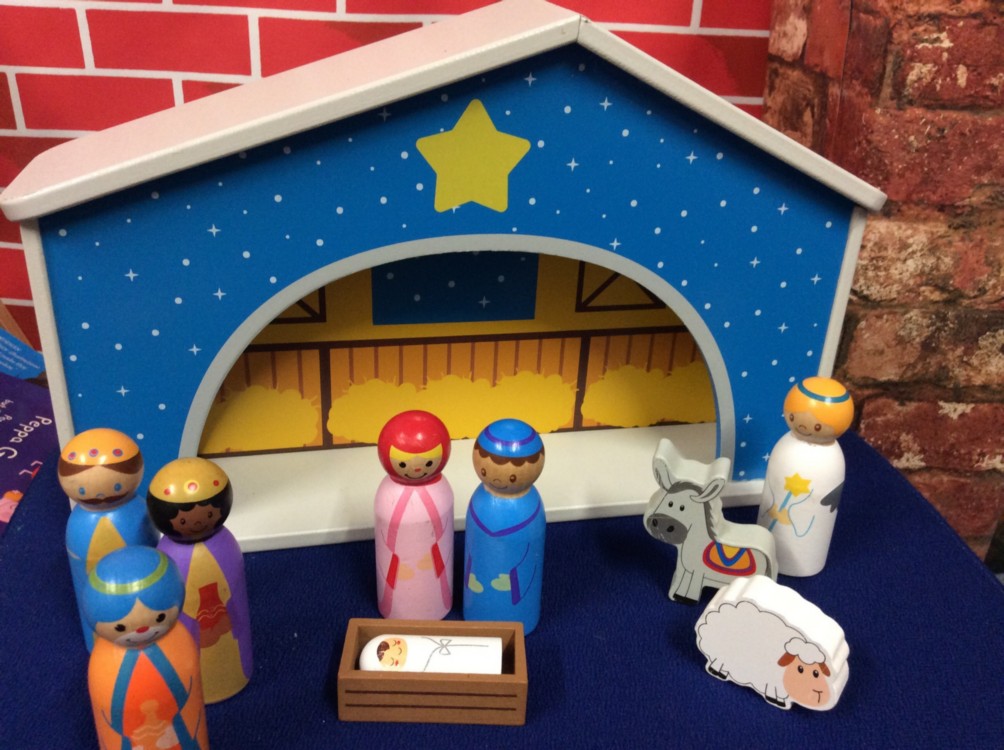 Nativity Sing A Long Friday 6th December
Just in case you would like to practise one of the songs the children have chosen for you, here are the words and a video. Please come to the main office Reception for the performance. Thank you.
A Busy Morning Thursday 5th December
It's been a very busy morning in Reception. We loved hearing from three members of the Skegness Embassy Theatre pantomime cast. We are very excited about going on a trip to see the production soon.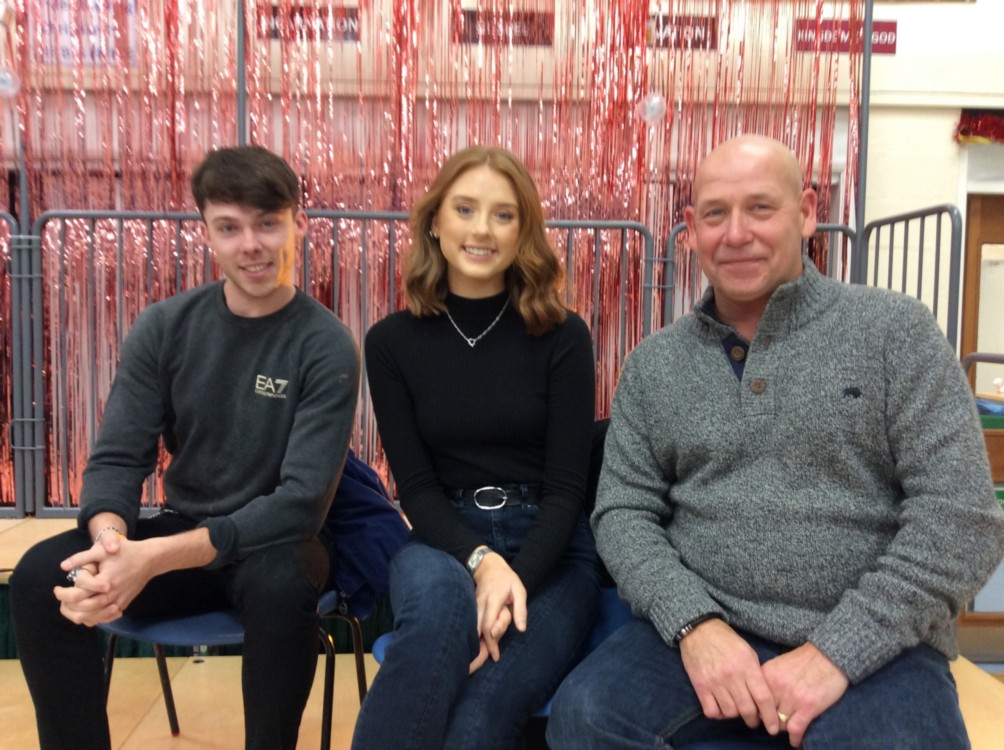 We then went to Burgh Library. On the way we learnt about holly and ivy, we counted the chimes of the Church clock and we talked about road safety. At the library we had a tour, did some colouring, played with the toys, read stories and listened to Jim read a very special Christmas story whilst we had a drink and a biscuit. We all had a wonderful trip. Thank you to everyone who made this possible today.
Reindeer Counting Wednesday 4th December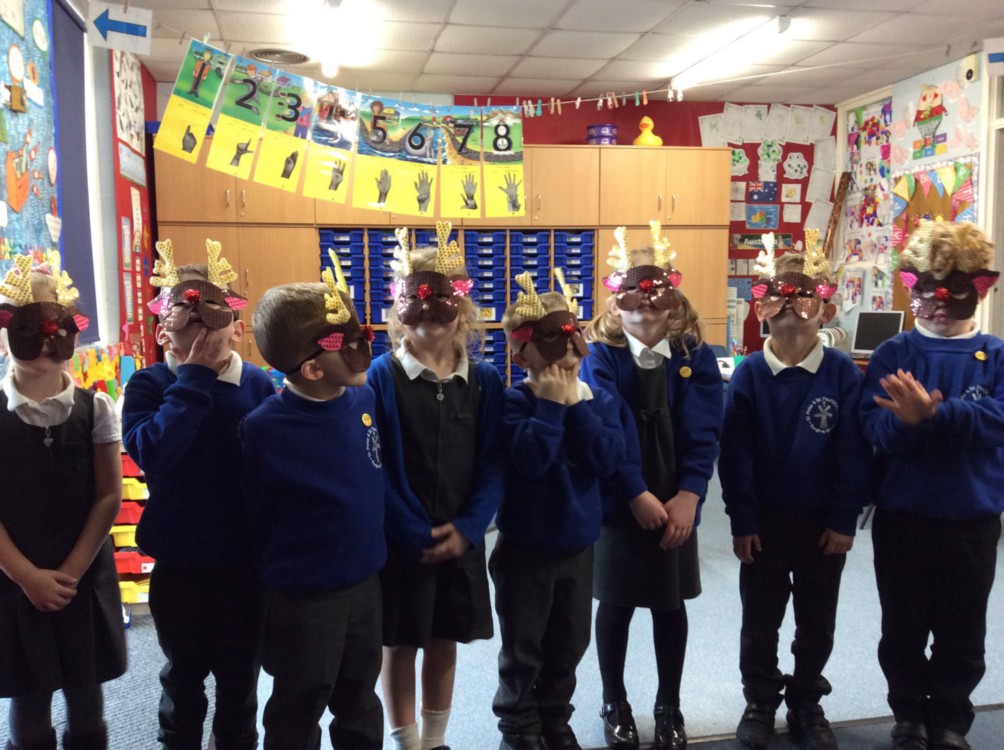 We've been counting forwards, backwards, finding one more and one less to our special number, number eight. The reindeers helped us! Eric Eight, the snowman from Ten Town has been helping us to find sets of eight and discover if he has more or less than eight in his game. We've also been working on counting sets of eight, forming the number and printing sets of eight snowmen. Some of us even used pipe cleaners to make a number eight.
It's Beginning To Look A Lot Like Christmas! Tuesday 3rd December
We took our 'Nativity sing a long' to the stage today. It's a real achievement as the children have retold the story in their own words. They can't wait to share it with you next week. We've also been continuing with our Christmas activities. Today we've been sharing a tub of chocolates to put one in each of our knitted mini Santa sacks. Thanks once again to Su Lonsdale for providing the materials and knitting them for the children. We've had lots of fun starting to transform our reading forest into a cosy Christmas scene, with a roaring fire and Nativity scene. Such a wonderful area to share a story or few!
Christmas Arts Day Monday 2nd December
It's been a very busy morning in Reception and across the whole school. Here's just a few photos to help you discuss the day with your child. A big thank you to Mrs Lonsdale for knitting the scarves and Mrs Stevens for making the bows. Thank you to our volunteers who came in to help us. All the goodies will come home in time for Christmas.
Phoneme Fun! Monday 25th November
After recapping our letter names, phoneme actions and phonemes this morning, we looked at our Octopants/Aliens Love Underpants display! We could see the aliens with capital letters had climbed into the underwear that we had designed when working on the letter u. We then looked at our new letter R. We had lots of fun being blindfolded and rotated before trying to place a red nose on Rudolph the reindeer. We also tasted biscuits that were in the shape of gingerbread men. Did you know, If you turn them over and upside down they also look like reindeer?
Active Science Monday 25th November
We had lots of fun learning about animals and their babies today with our Active Science expert today. We thought you'd like to see a few photographs to assist your children to tell you all about it. Everyone received two team points for fantastic participation and wonderful learning. The last photograph is blurry as everyone remembered to be active all the way through the game. Well done Reception.
Children In Need Friday 15th November
Wow! Thank you for supporting our non-uniform day in aid of BBC Children In Need. We've had lots of Pudsey themed fun today. We've coloured by numbers, created Pudsey & Blush from recycled materials, had a go at spot to spots and counted Children In Need items. Guided reading included finding some of our tricky words in "Pudsey's Great Fundraiser." We also had a go at writing the word Pudsey in guided writing. We all enjoyed the 'Pudsey Says' game too. As well as all of that we've had phonics, a dough disco, using songs from the "Got It Covered" album and laptop time.
Unfortunately we ran out of time for Pudsey yoga, but if you search for BBC Children In Need on You Tube you will find Pudsey doing some child style yoga.
Homework this weekend is to write, photograph, draw or create something for our Children In Need display please. Thank you.
A Massive Thank You Thursday 14th November
We would like to say a massive thank you to the PFTA for all our new toys. We've had a fabulous time constructing some of them this week. Using real tools was very exciting! We can't wait to build, use and play with even more. Thank you to everyone who's works so hard to raise the money to provide us with such wonderful new resources. The children are thoroughly enjoying them.
Remembrance Day Monday 11th November
We would like to thank everyone for their support with purchasing poppy merchandise. We all observed the two minutes silence at 11am. The children have been learning about both red and purple poppies and we've loved sharing their homework. Our display is coming on nicely. Thank you.
Fantastic Fireworks Tuesday 5th November
We've continued with our new letter f today. Alongside the fuzzy felt fun, farm play, the foam numbers and the fabulous frogs, we've worked on the f phoneme by making an extended phoneme (sound) f down the straw. This has resulted in fantastic firework pictures. We've also used pretend sparklers to practice our letter formation of the letter f. Some of us tried to write our names in the air with them too!
Fabulous F Monday 4th November
Our new letter today is f. We've been working on the phoneme action, phoneme, letter name and formation. How many activities can you spy that have our new phoneme in? It's been a fantastic morning!
Our First School Disco Friday 1st November
Ready for the disco. We are all very excited! Thank you to everyone who made this event possible. A big thank you to the volunteers who helped Reception too.
Freddie Four's Fourth Adventure Tuesday 29th October
Freddie Four has visited Australia on his fourth adventure. We've had lots of fun learning about Aboriginal dream stories and art, Australian animals, and instruments! Keep an eye on Tapestry for our didgeridoo photos! We are still adding to our display.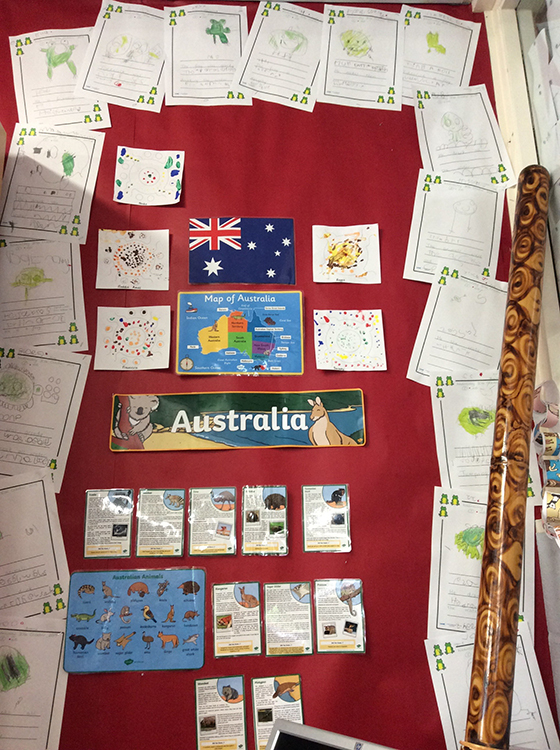 Freddie Four Thursday 17th October
Did you know Freddie Four's favourite food is pizza? We've made paper plate pizzas, shape pizzas and even the real thing, all whilst learning about the letter p. Some of our ingredients and fruit that we've tasted at snack times his week also began with the letter p. We've also had fun painting with pegs and pom-poms and playing with pasta and pipe cleaners. Please ask us about the phoneme action and phoneme too!
We've also been on adventures around the world with Freddie Four. France, Italy and Peru are the three countries we've shared with him so far and he is off on his travels again. We've seen the Eiffel Tower in Paris, pizzas and opera in Italy and panpipes and llamas in Peru! We will find out where his fourth location is after the half term holiday!
Baking Superhero Biscuits Thursday 10th October
We have all helped to make superhero biscuits today.
We've mixed, stirred, melted, combined and measured the ingredients. We've talked about how ingredients starts with the phoneme 'i' and about the shape of our biscuits. We think 'Thelma Three' would really enjoy them as they have three sides! Our favourite part - trying them of course! Here's the recipe if you'd like to try it at home too. We didn't use the vanilla extract.
Thank You BookTrust Tuesday 8th October
We've all received a free gift from the BookTrust today. We love sharing stories here, so this is a truly fabulous gift. After sharing the story, why not enter the fantastic prize draw too. It's in the he form of an online survey. Thank you so much to the BookTrust for your generosity.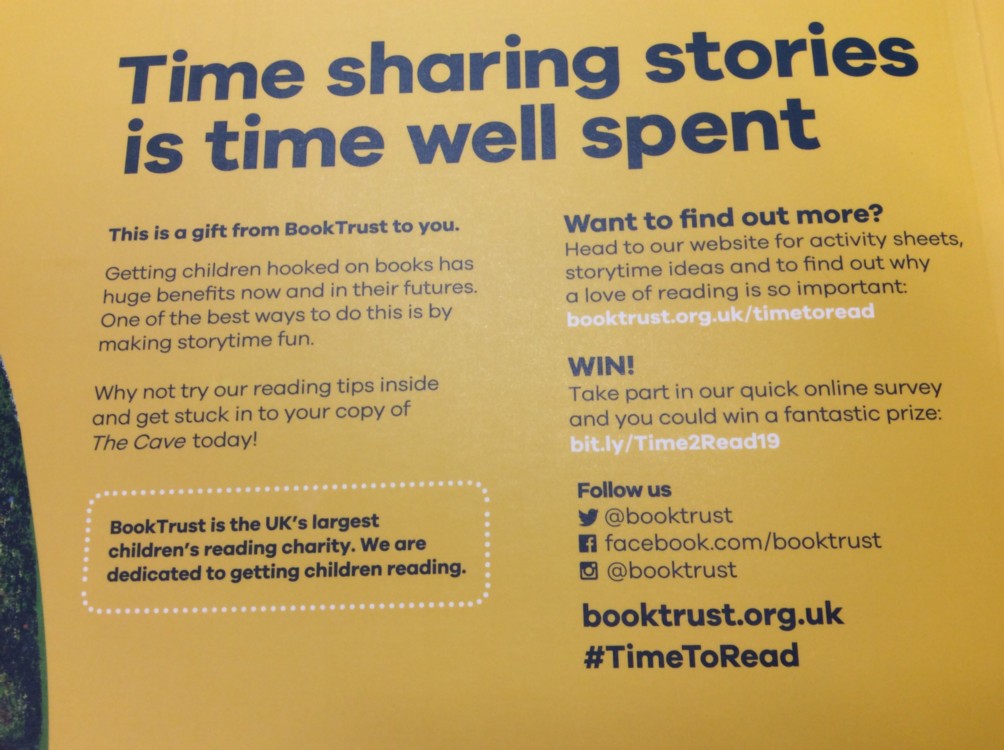 "Super Me" PE Monday 7th October
We had a fabulous special PE lesson today. Here are just a few photos to inspire your child to tell you all about it.
Visiting St. Peter & St. Paul Church Thursday 3rd & Friday 4th October
On Thursday we did a pre visit to Church in preparation for our Harvest Thanksgiving Service on Friday. On both occasions we were extremely proud of the Reception children. Their singing was fabulous and they joined in with clapping every class after their performances. Well done Reception.
NSPCC 30th September
Every hour on the hour, we 'dropped our books and boogied' in aid of the NSPCC event today. 5 a day tv, Jump Start Jonny, Mr. Hurdman's assembly boogie, Baby Shark at lunchtime, and a conga at the end of the day we're just a few of the highlights! Every child in Reception, who was in school today completed every hour's boogie, so you can now return your sponsor forms. Thank you so much for your support.
Making Playdough Friday 27th September
We all had a go at making playdough today.
Here's the recipe:
Ingredients:
2 cups of plain flour
1 cup of salt
1 cup of cold water
1 tablespoon of oil Optional - food colouring/flavouring scent
It doesn't matter which size cup you use, as long it is the same size throughout.
Method:
Combine the plain flour and salt.
Add the water and optional food colouring/flavouring scent along with the oil.
Mix until all the ingredients are combined,
Knead well. If the consistency is a little wet, add more plain flour.
The children enjoyed the communication in their team groups and the adults really enjoyed listening to their comments as the stages of creation were followed. They all took turns whilst following instructions and worked as a team. Just look at the concentration and fun. Here are just a few comments.
"Oooo it's sticky and squishy."
"You have to mix it with your hands."
"It is a big bowl so we all fitted in it to do mixing!"
"It feels like something else (when you are mixing it), not playdough."
"I played with it and shared it with my friends."
Dough Disco Friday 27th September
Following on from making play dough this morning, we had a dough disco this afternoon. Although we think we have just had a lot of fun, we've actually enjoyed strengthening our hands and finger muscles, which is great preparation for writing! If you'd like to know more about dough disco Shonette Bason-Wood is the expert and she can be found on You Tube.
Balancing Tuesday 24th September
We've been working hard in PE with Charlotte this week. We've balanced on different parts of our body and counted points of balance. Travelling around the room included hop scotch, side stepping, strolling, striding and running. Standing on one leg was a challenge for some of us. Ask us about Charlotte's trick to help us stay on one leg for longer!
Autumn Scavenger Hunt Monday 23rd September
On our special trip to find Autumn items we had lots of fun exploring, discovering and finding out about the horse chestnut tree and why the leaves change colour. Tomorrow we will be using our findings to make and create!
A Busy Day Wednesday 18th September
We've been extremely busy in Reception today. Cooking meals, booking holidays, playing games, balancing and travelling around the hall in PE, and learning how to turn the pages of a giant book on the Promethean board are just a few of the activities that occurred today! Don't forget to check our board outside the classroom for hints of what we've been doing on a daily basis.