Welcome to Reception Class
On this page we will be sharing some of the fantastic things we do in class.
Welcome to our new Reception families If you have any questions please do not hesitate to ask.
Our Teacher is
Mrs Gould
Reception teacher, Mrs Gould, is best known for going to work to have fun and play!
She loves to sing and in her youth was an award winning dancer. These days 5-a-day.tv is her favourite way to "boogie".
Mrs Gould's first teaching post was way back in 1992. So she's even taught some of Burgh School's Parents!
A Massive Thank You Thursday 14th November
We would like to say a massive thank you to the PFTA for all our new toys. We've had a fabulous time constructing some of them this week. Using real tools was very exciting! We can't wait to build, use and play with even more. Thank you to everyone who's works so hard to raise the money to provide us with such wonderful new resources. The children are thoroughly enjoying them.
Remembrance Day Monday 11th November
We would like to thank everyone for their support with purchasing poppy merchandise. We all observed the two minutes silence at 11am. The children have been learning about both red and purple poppies and we've loved sharing their homework. Our display is coming on nicely. Thank you.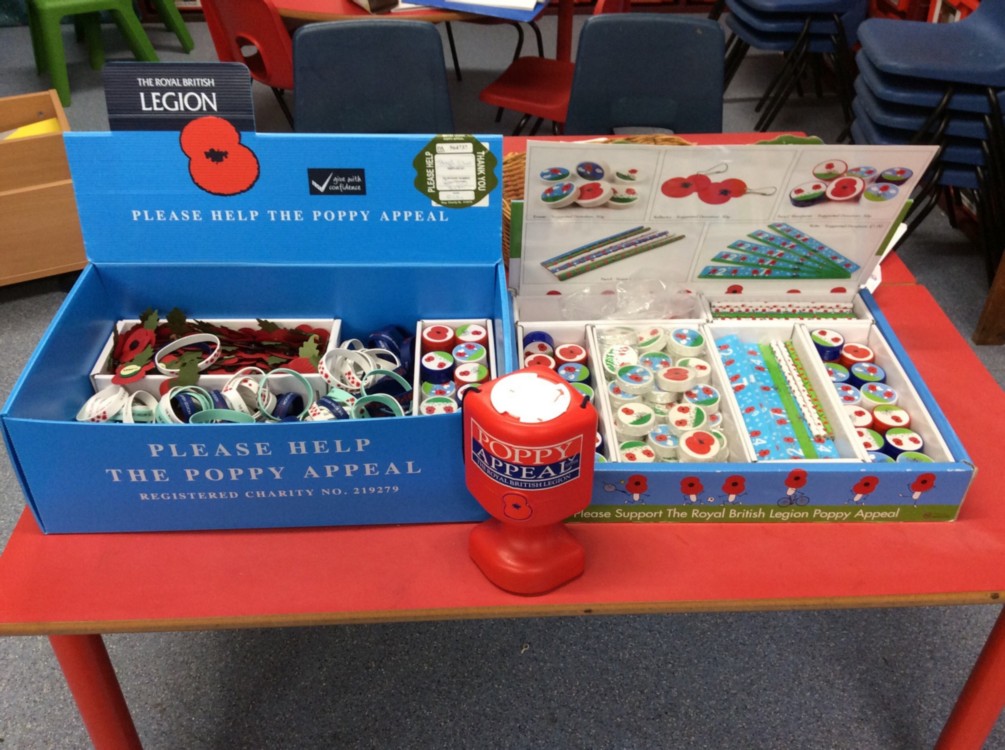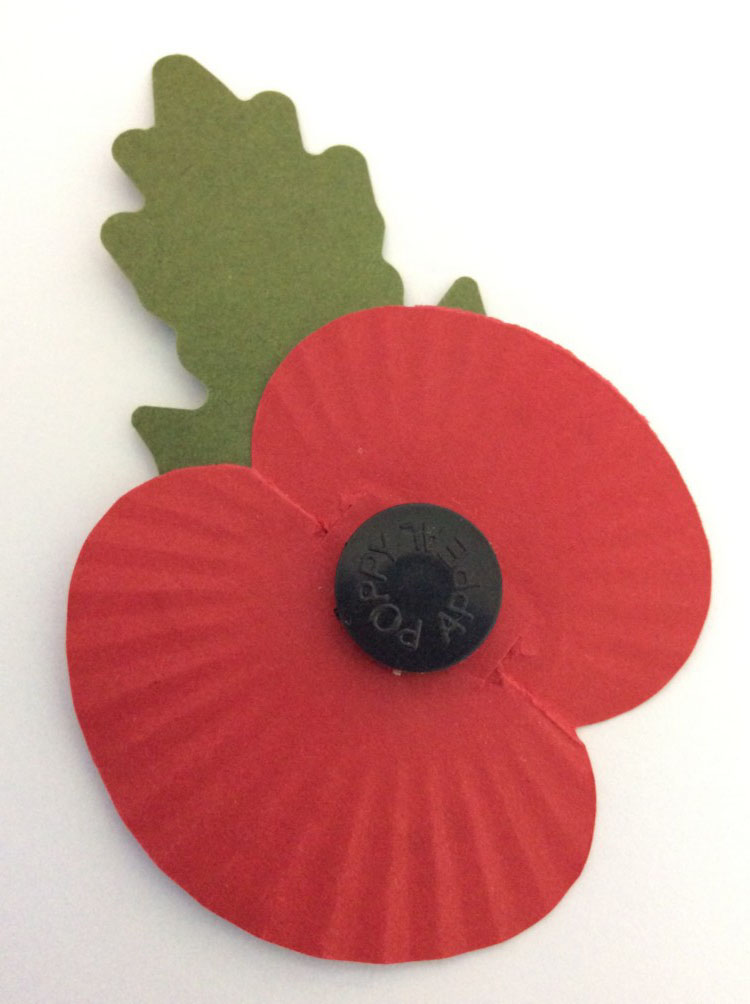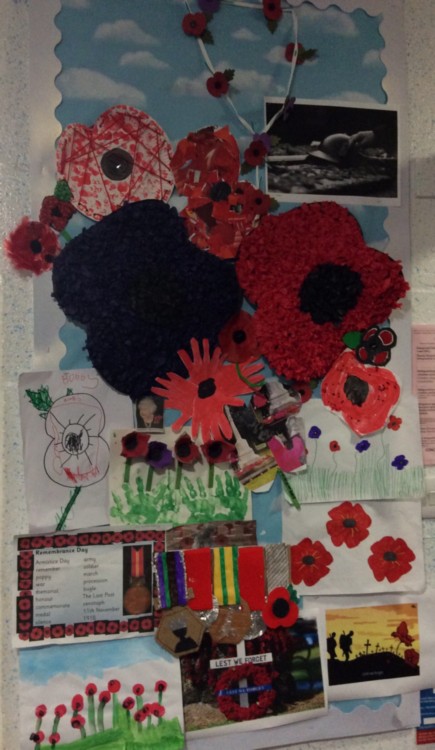 Fantastic Fireworks Tuesday 5th November
We've continued with our new letter f today. Alongside the fuzzy felt fun, farm play, the foam numbers and the fabulous frogs, we've worked on the f phoneme by making an extended phoneme (sound) f down the straw. This has resulted in fantastic firework pictures. We've also used pretend sparklers to practice our letter formation of the letter f. Some of us tried to write our names in the air with them too!
Fabulous F Monday 4th November
Our new letter today is f. We've been working on the phoneme action, phoneme, letter name and formation. How many activities can you spy that have our new phoneme in? It's been a fantastic morning!
Our First School Disco Friday 1st November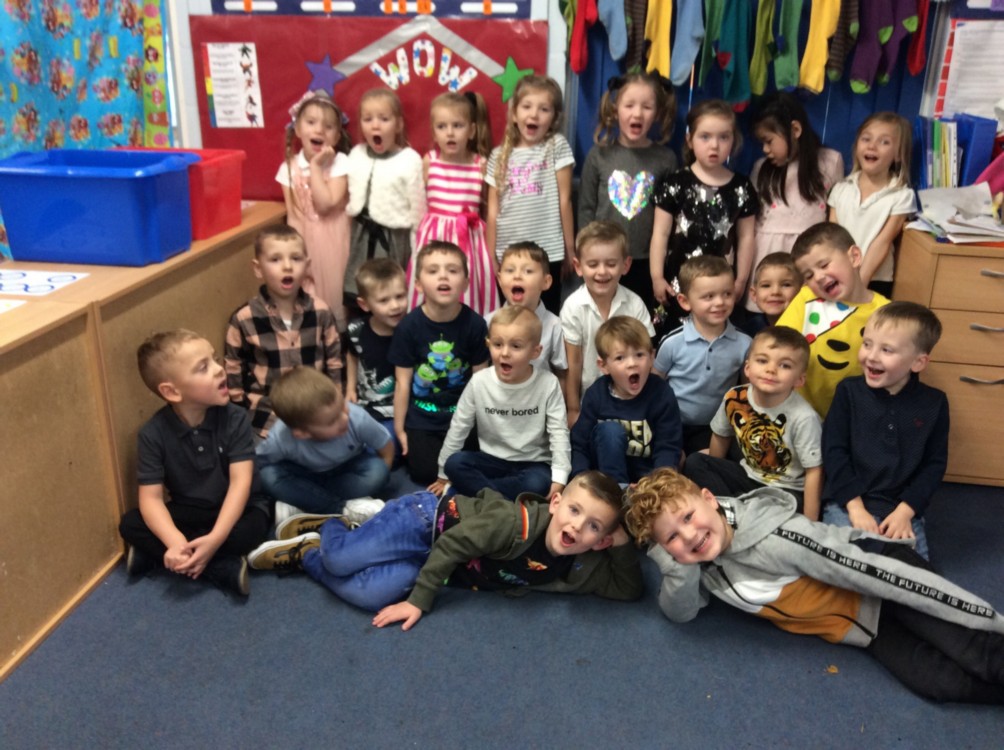 Ready for the disco. We are all very excited! Thank you to everyone who made this event possible. A big thank you to the volunteers who helped Reception too.
Freddie Four's Fourth Adventure Tuesday 29th October
Freddie Four has visited Australia on his fourth adventure. We've had lots of fun learning about Aboriginal dream stories and art, Australian animals, and instruments! Keep an eye on Tapestry for our didgeridoo photos! We are still adding to our display.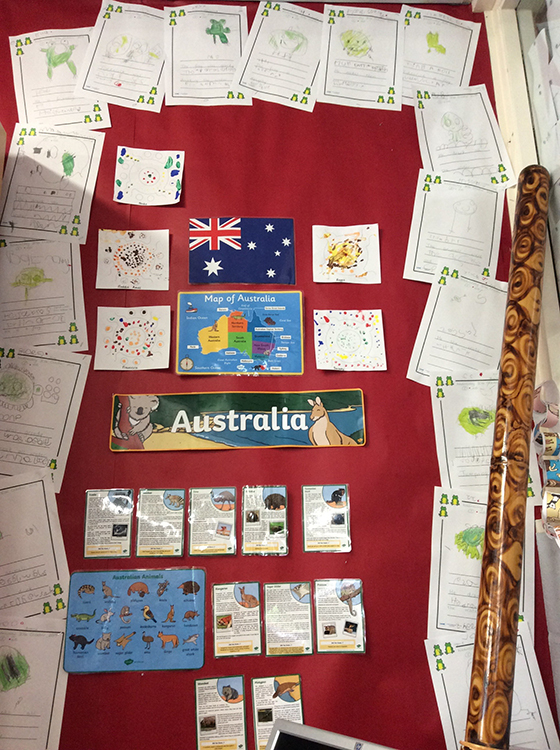 Freddie Four Thursday 17th October
Did you know Freddie Four's favourite food is pizza? We've made paper plate pizzas, shape pizzas and even the real thing, all whilst learning about the letter p. Some of our ingredients and fruit that we've tasted at snack times his week also began with the letter p. We've also had fun painting with pegs and pom-poms and playing with pasta and pipe cleaners. Please ask us about the phoneme action and phoneme too!
We've also been on adventures around the world with Freddie Four. France, Italy and Peru are the three countries we've shared with him so far and he is off on his travels again. We've seen the Eiffel Tower in Paris, pizzas and opera in Italy and panpipes and llamas in Peru! We will find out where his fourth location is after the half term holiday!
Baking Superhero Biscuits Thursday 10th October
We have all helped to make superhero biscuits today.
We've mixed, stirred, melted, combined and measured the ingredients. We've talked about how ingredients starts with the phoneme 'i' and about the shape of our biscuits. We think 'Thelma Three' would really enjoy them as they have three sides! Our favourite part - trying them of course! Here's the recipe if you'd like to try it at home too. We didn't use the vanilla extract.
Thank You BookTrust Tuesday 8th October
We've all received a free gift from the BookTrust today. We love sharing stories here, so this is a truly fabulous gift. After sharing the story, why not enter the fantastic prize draw too. It's in the he form of an online survey. Thank you so much to the BookTrust for your generosity.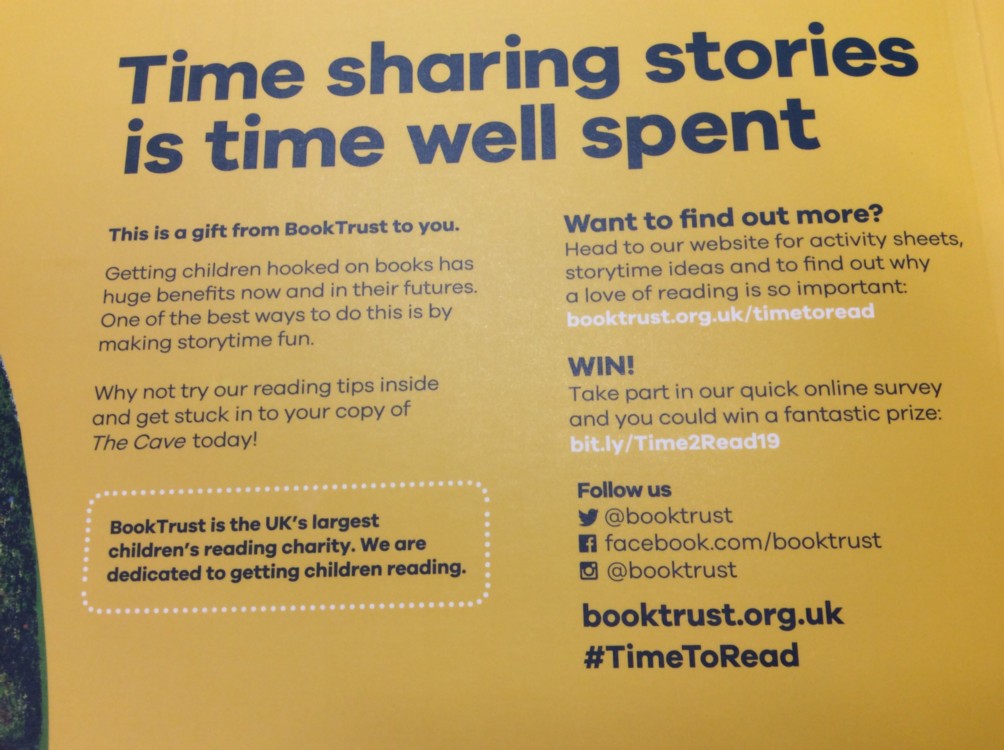 "Super Me" PE Monday 7th October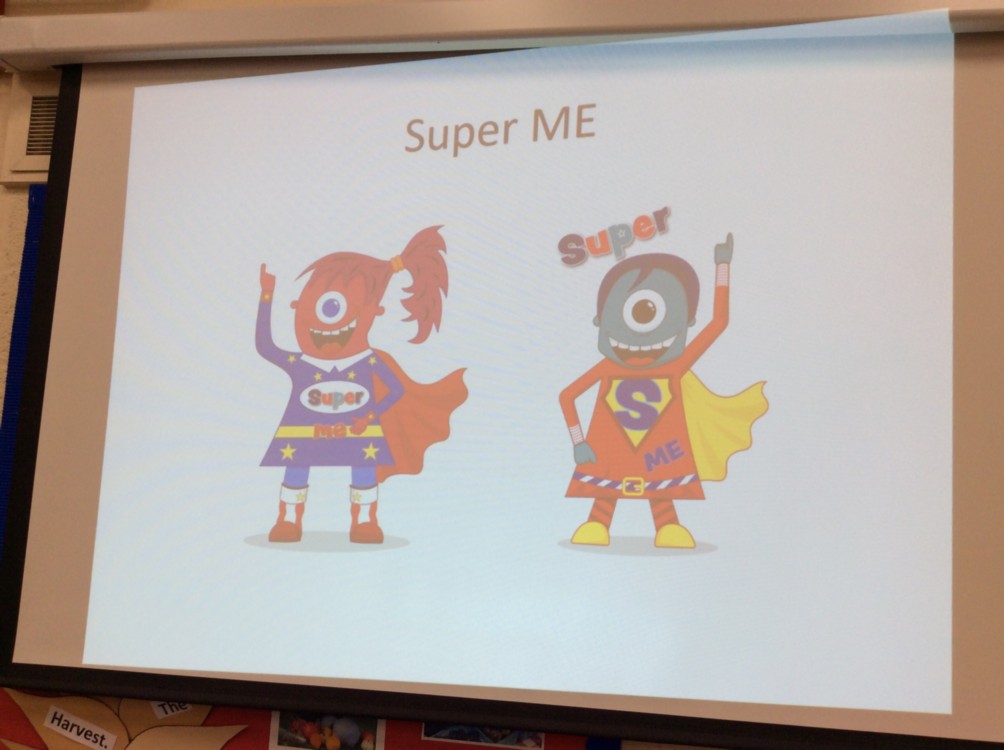 We had a fabulous special PE lesson today. Here are just a few photos to inspire your child to tell you all about it.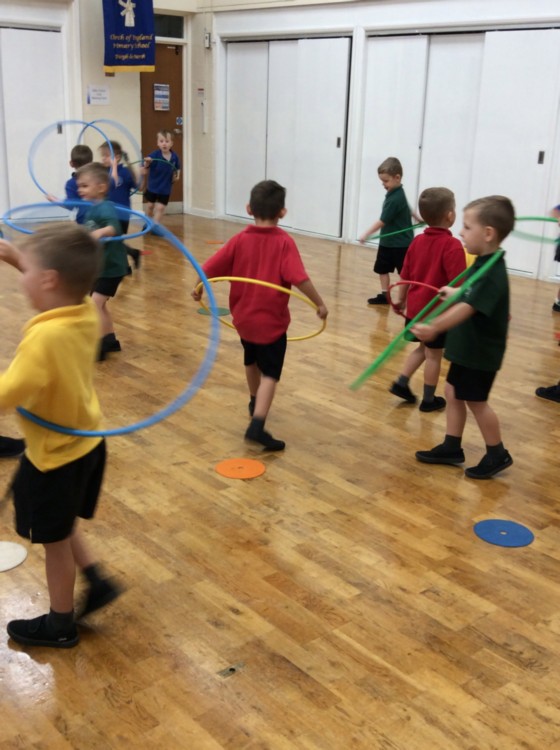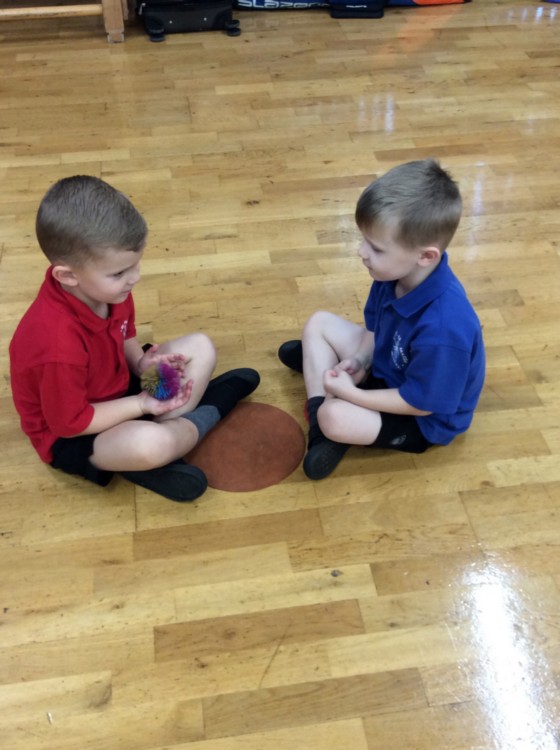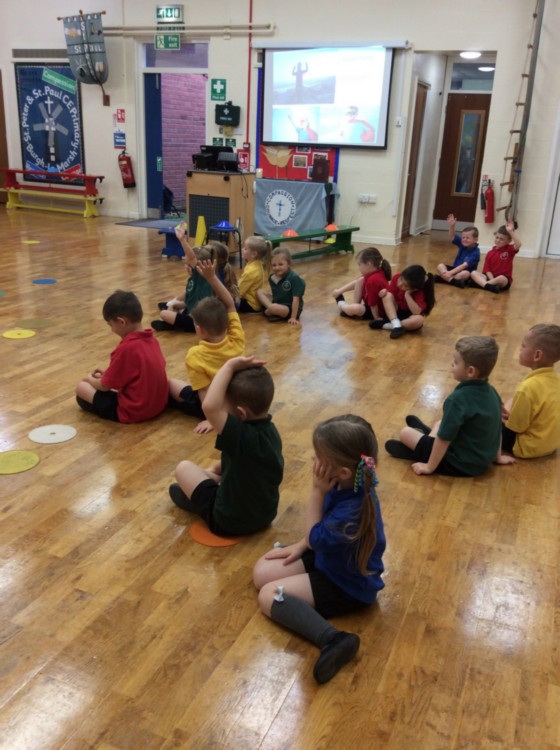 Visiting St. Peter & St. Paul Church Thursday 3rd & Friday 4th October
On Thursday we did a pre visit to Church in preparation for our Harvest Thanksgiving Service on Friday. On both occasions we were extremely proud of the Reception children. Their singing was fabulous and they joined in with clapping every class after their performances. Well done Reception.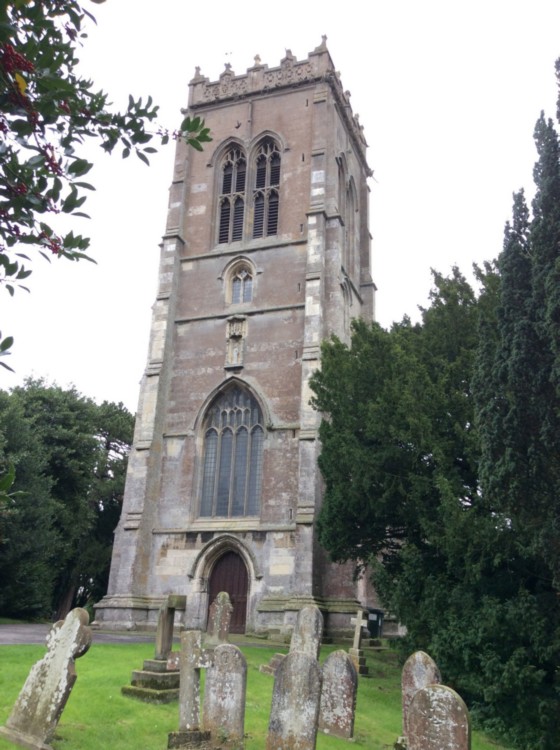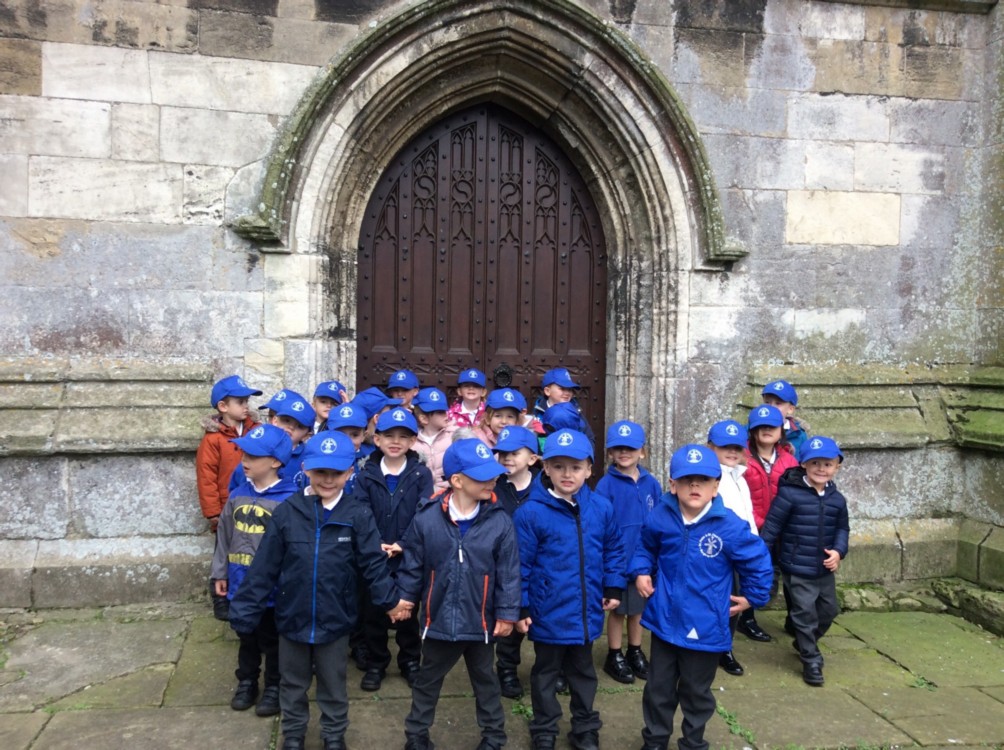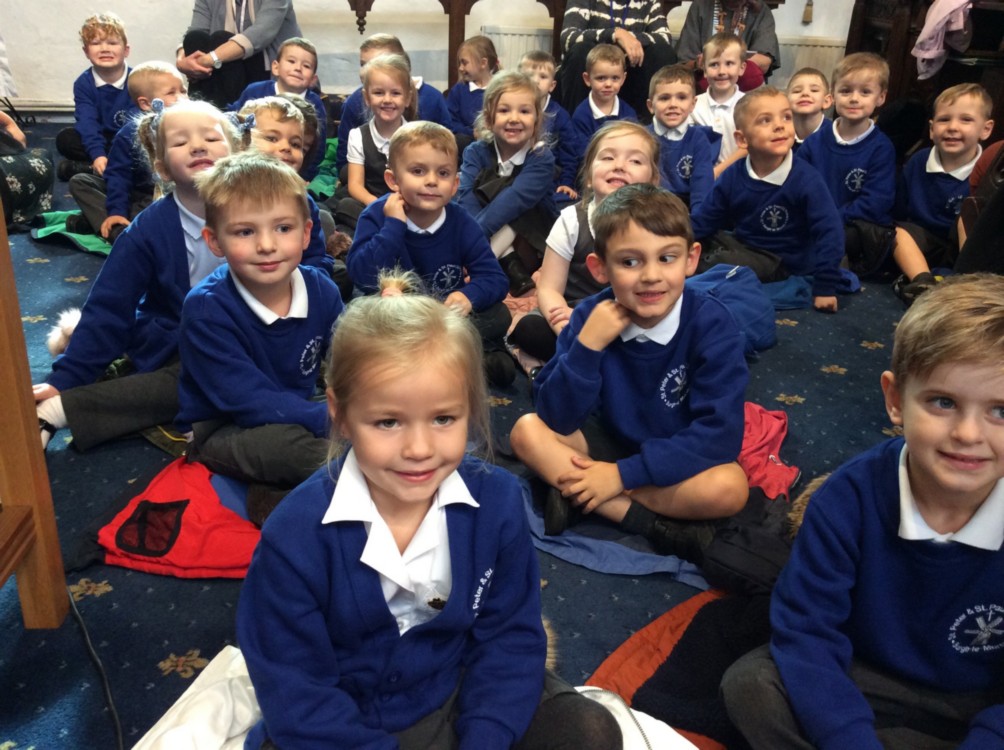 NSPCC 30th September
Every hour on the hour, we 'dropped our books and boogied' in aid of the NSPCC event today. 5 a day tv, Jump Start Jonny, Mr. Hurdman's assembly boogie, Baby Shark at lunchtime, and a conga at the end of the day we're just a few of the highlights! Every child in Reception, who was in school today completed every hour's boogie, so you can now return your sponsor forms. Thank you so much for your support.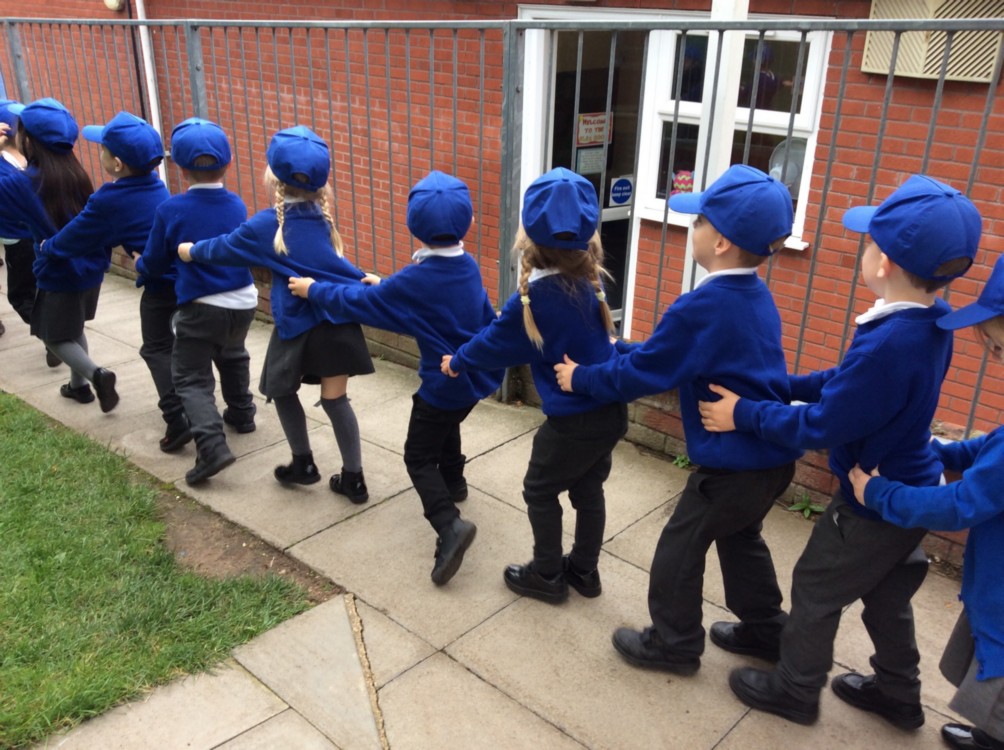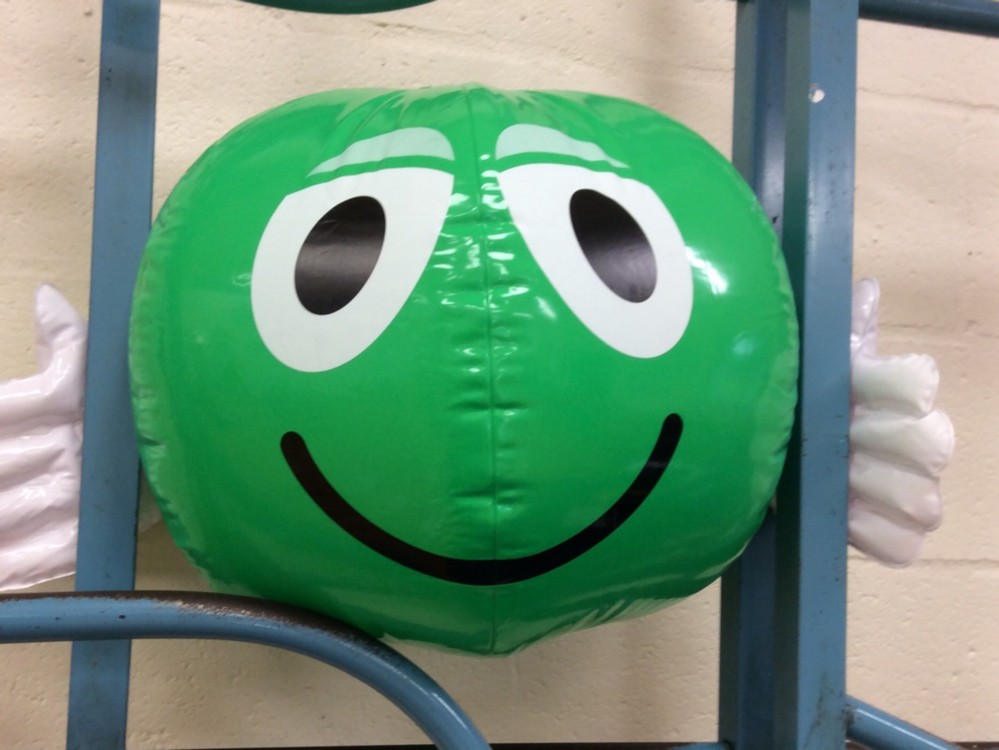 Making Playdough Friday 27th September
We all had a go at making playdough today.
Here's the recipe:
Ingredients:
2 cups of plain flour
1 cup of salt
1 cup of cold water
1 tablespoon of oil Optional - food colouring/flavouring scent
It doesn't matter which size cup you use, as long it is the same size throughout.
Method:
Combine the plain flour and salt.
Add the water and optional food colouring/flavouring scent along with the oil.
Mix until all the ingredients are combined,
Knead well. If the consistency is a little wet, add more plain flour.
The children enjoyed the communication in their team groups and the adults really enjoyed listening to their comments as the stages of creation were followed. They all took turns whilst following instructions and worked as a team. Just look at the concentration and fun. Here are just a few comments.
"Oooo it's sticky and squishy."
"You have to mix it with your hands."
"It is a big bowl so we all fitted in it to do mixing!"
"It feels like something else (when you are mixing it), not playdough."
"I played with it and shared it with my friends."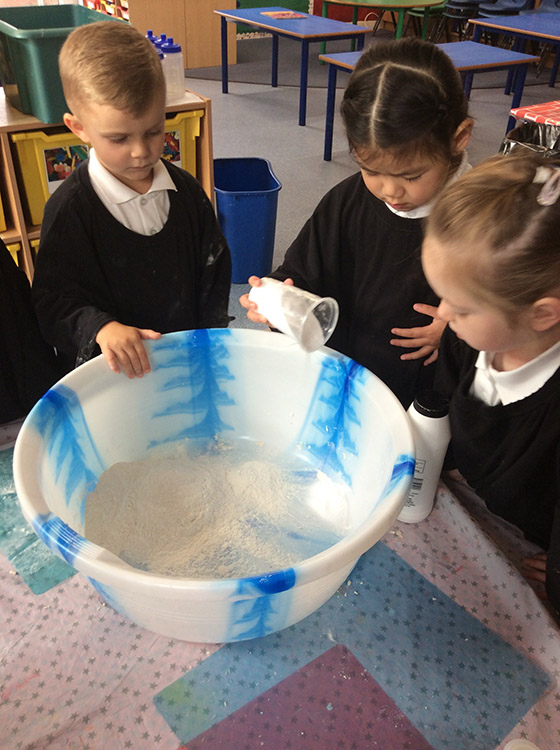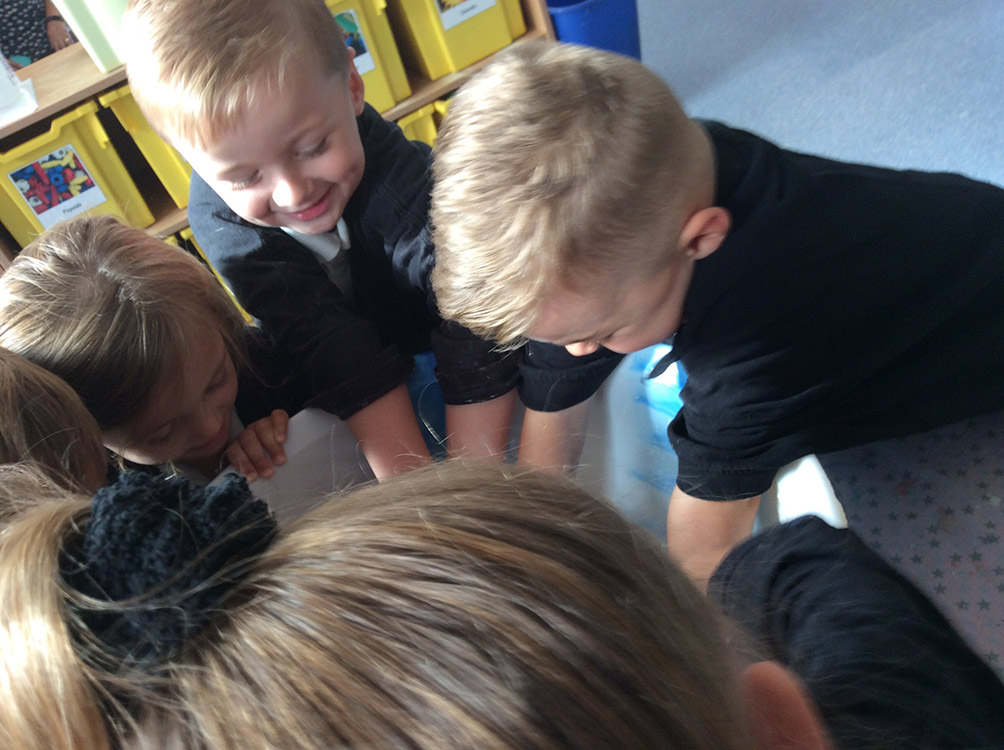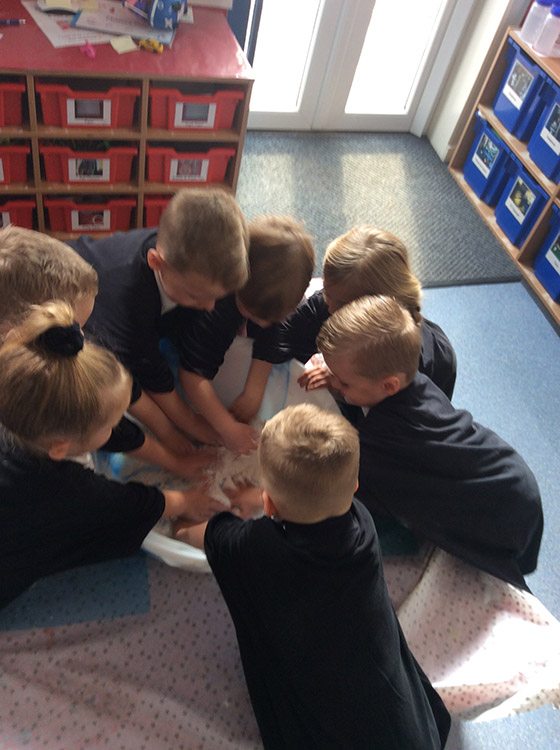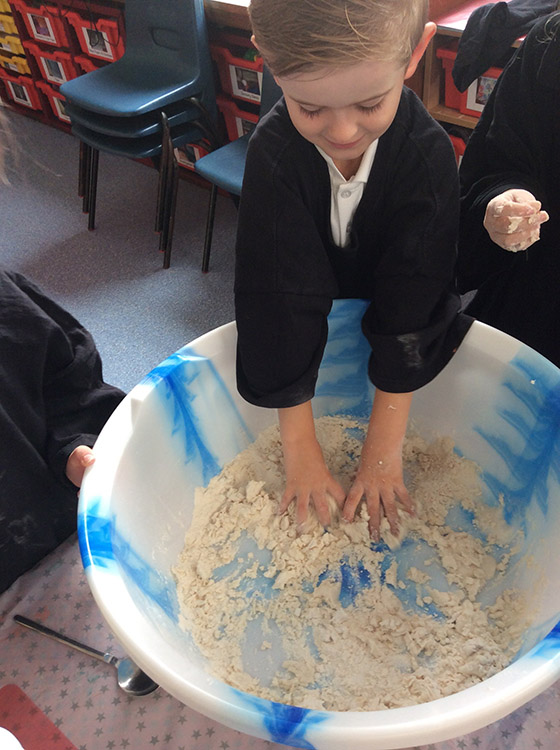 Dough Disco Friday 27th September
Following on from making play dough this morning, we had a dough disco this afternoon. Although we think we have just had a lot of fun, we've actually enjoyed strengthening our hands and finger muscles, which is great preparation for writing! If you'd like to know more about dough disco Shonette Bason-Wood is the expert and she can be found on You Tube.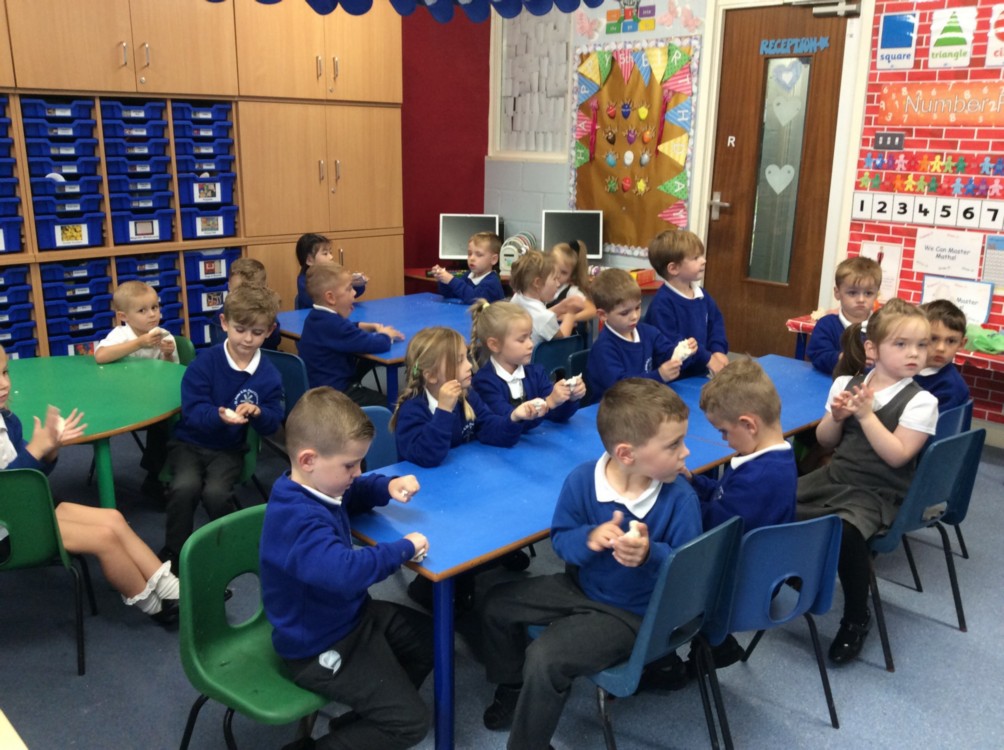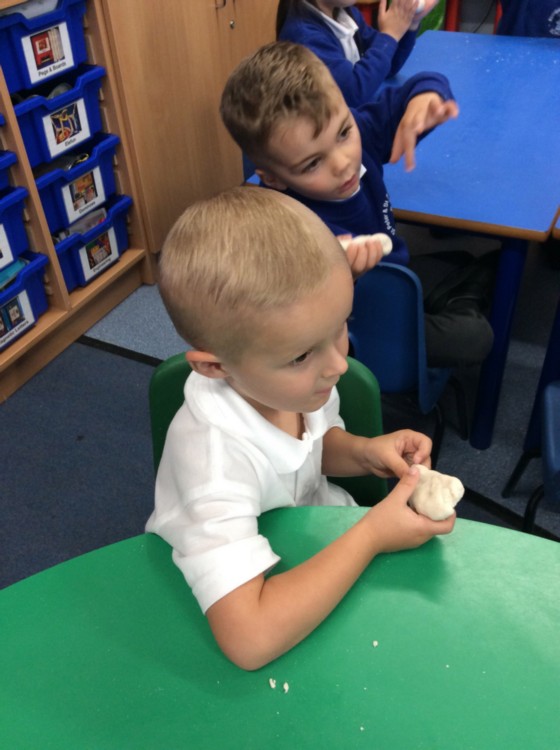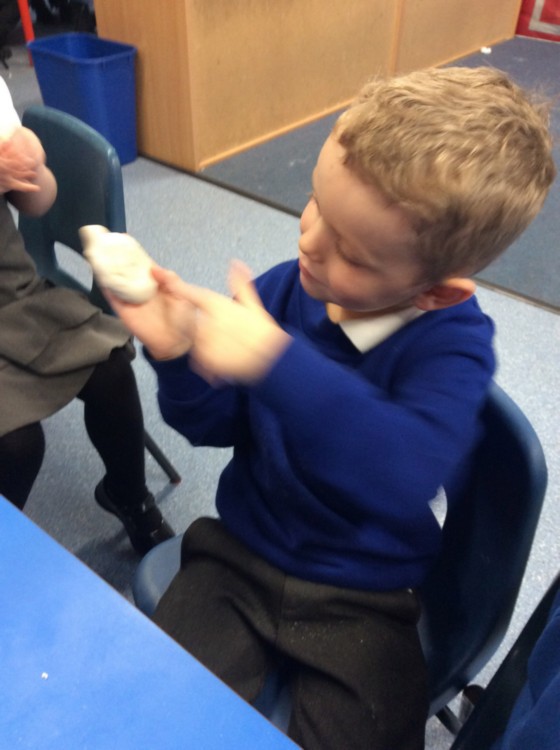 Balancing Tuesday 24th September
We've been working hard in PE with Charlotte this week. We've balanced on different parts of our body and counted points of balance. Travelling around the room included hop scotch, side stepping, strolling, striding and running. Standing on one leg was a challenge for some of us. Ask us about Charlotte's trick to help us stay on one leg for longer!
Autumn Scavenger Hunt Monday 23rd September
On our special trip to find Autumn items we had lots of fun exploring, discovering and finding out about the horse chestnut tree and why the leaves change colour. Tomorrow we will be using our findings to make and create!
A Busy Day Wednesday 18th September
We've been extremely busy in Reception today. Cooking meals, booking holidays, playing games, balancing and travelling around the hall in PE, and learning how to turn the pages of a giant book on the Promethean board are just a few of the activities that occurred today! Don't forget to check our board outside the classroom for hints of what we've been doing on a daily basis.