Welcome to Reception Class
Ronald the Rhino Thursday 9th November
Our story this week has been "Ronald the Rhino." We have had a wonderful time celebrating uniqueness. We've talked about what makes us special, feelings and much more. We have enjoyed learning songs about the Javan Rhino, Ronald and retold his story using both props and masks. Some of us have chosen to try to draw the characters, using the step by step guides independently. Others have helped with a collage. Having a go at colour by numbers has been great fun and has really cemented our knowledge of our numbers to four. We've all enjoyed mark-making to write what we think the characters are feeling in different scenes from the story. Please take a look at our display next time you are in our classroom.
What Is It? Wednesday 8th November
A box and a tube became all sorts of vehicles this week. Spaceships, trains, rockets and buses to name but a few. The TARDIS also made an appearance! By far the favourite though was Freddie Four's boat that has been taking him across the world. We've received digital postcards from France 🇫🇷 , Peru 🇵🇪 and Italy 🇮🇹 so far - we can't wait to see where he will go next.
Tricky Concepts In PE Tuesday 7th November
We really needed to use our brain power in PE today. We were set challenges to travel from one side of the hall to the other, using just three foot prints. We were not allowed to step on the floor and used our balancing skills to retrieve the previous footprint to put in front again, to reach our destination. Although it was really tricky some of our class managed to get all the way across and then tried it using only two footprints! Some balancing combined with ball skills completed the session with Charlotte today.
Freddie Four's Travel Agents Monday 6th November
We've been making vehicles to transport us on our holidays booked at Freddie Four's travel agency. There's been a lot of learning going on. Looking in brochures, finding out information from Freddie Four's postcards, filling in booking forms and we even had a letter sent to thank us for a wonderful holiday! Today's favourite destinations Disneyland, Paris and Lapland.
Our First School Disco Friday 3rd November
We are all very, very excited!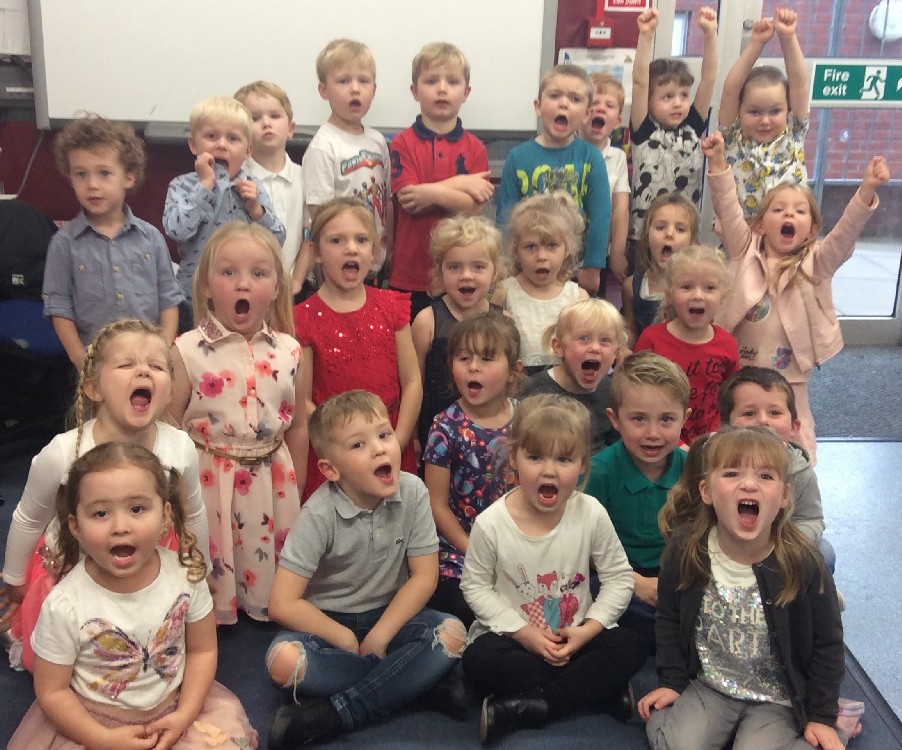 Fireworks Thursday 2nd November
We've been looking at the letters e and f today. We made glittery e shapes that looked like swirling, twirling fireworks and we used sparkly straws to write the letter f in the air! We also used our pretend sparklers to try and write our names and made up some action games using the words whizz, pop and bang! We had an amazing time when trying to keep up with all the actions. You can see it's of us giggling or concentrating in the super quick action game. We've all brought our special sparkly straws home to keep.
Edible Sparklers! Wednesday 1st November
We've had fun today melting chocolate, dipping breadsticks into the liquid chocolate and then adding popping candy and hundreds and thousands to make edible sparklers. Although we liked making them, we really enjoyed eating them. We listened to a story called "Sparks In The Sky," yesterday and will be doing lots more follow up including firework safety over the next couple of days.
New Term Tuesday 31st October
Welcome back everyone. It really looks like you have all had a very busy holiday. We can't wait to share even more homework tomorrow. Thank you for all the travel brochures. Freddie Four's Travel Agency is already looking fabulous. The booking forms have been very popular! In PE with Charlotte today we were working in pairs. We had some very tricky tasks to complete and we did very well. Here are a few photographs to help remind the children what we were doing.
Butterfly Release 27 October
To give our butterflies the best chance of survival, they needed to be released during half term week. Here are a few photographs to capture the occasion. After enjoying some sugar water on fresh flowers, they made their way to the nearby buddleja bush. Just look at the amazing details on their beautiful wings.
Metamorphosis Saturday 21st October
Look what has happened today!
Pupils of the Week
Reception joined Friday 'Celebration' Worship today, just in time to receive this whole-class 'Pupil of the Week' certificate!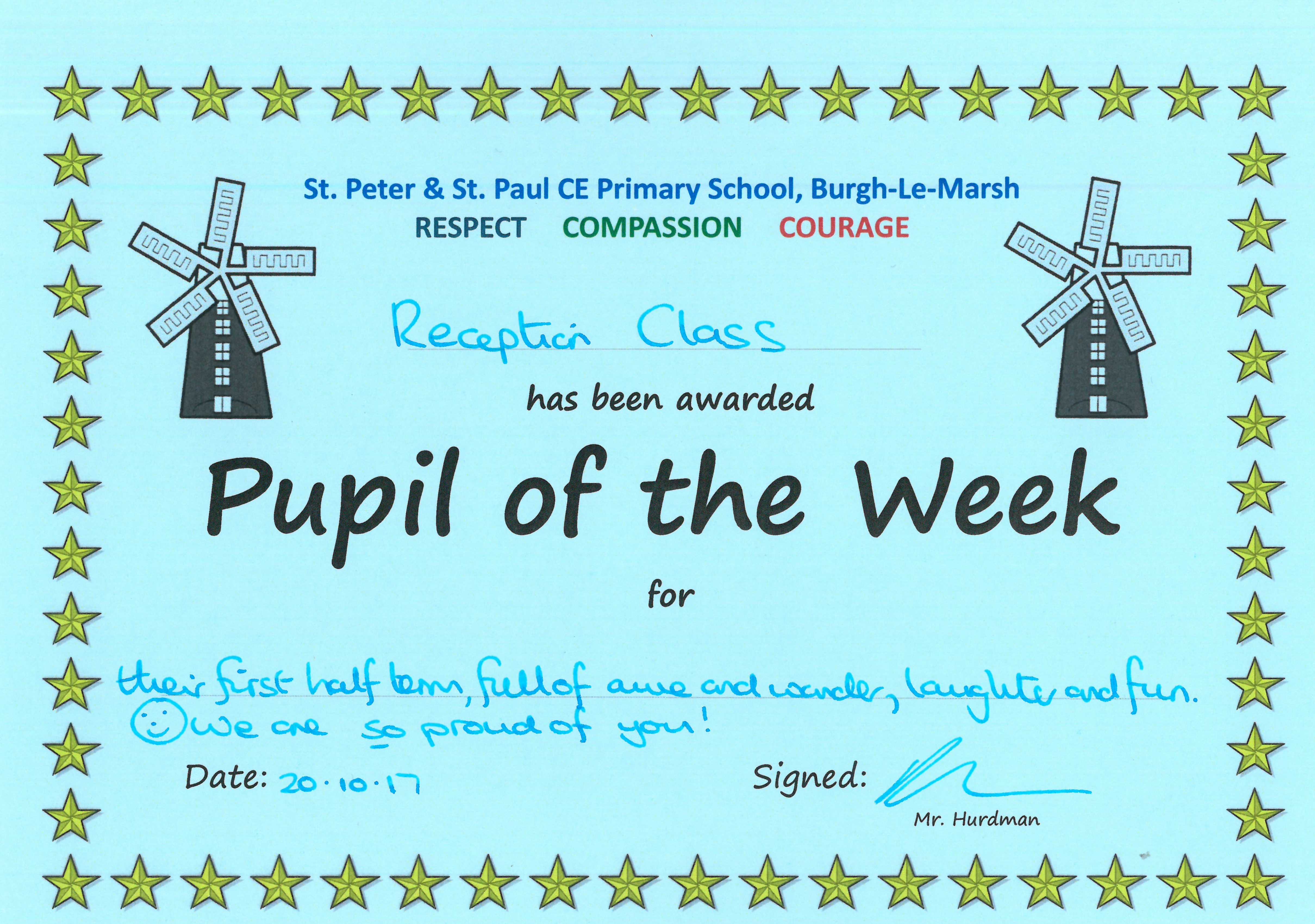 Parachute Fun Friday 20th October 2017
Taking turns, listening out for our team colours and finding the section of colour to match our team, were just a few of the things we needed to think about today!
Freddie's Visit 19 October
Freddie loves finding sets of four so we've helped him this week. We've also made his favourite food pizza. Each team made a pizza so that by the end of the morning Freddie had four of them! We all enjoyed helping to eat them.
There's A Special Visitor In Reception Monday 16th October
Freddie Four arrived today. He's come all the way from Ten Town to spend the week with Reception. He has a special backpack and inside it there were, four magnifying glasses, four compasses, four maps and four telescopes. Freddie Four has brought his boat, his oar and a special number four with a rhyme to help us form the number correctly. "Down, across, oar in the water!" This week we will be finding sets of four for Freddie Four and cooking him his favourite meal, four pizzas!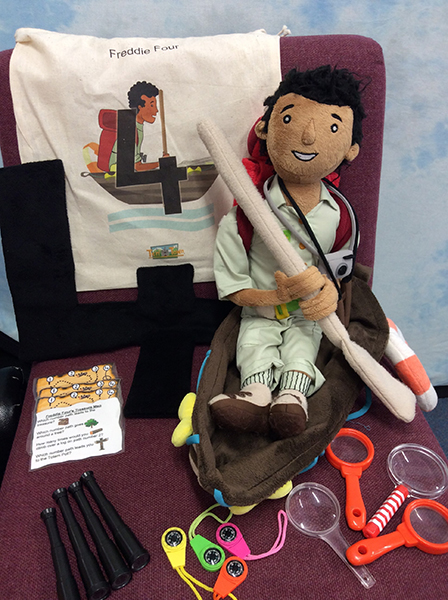 Laptop Fun Friday 13th October
We love using the laptops. We are learning how to use the trackpad in order to navigate around our special maths games. We really like using the headphones, as it means we can all hear what our own games are saying.
Transitional Art Thursday 12th October
After a fabulous Autumn sound walk we had fun creating some masterpieces in our teams! We all had different ideas. Please ask us about our artwork made from the treasures we collected and our artificial flowers.
Autumn Leaves! Thursday 12th October
Just couldn't resist sharing some of the adult initiated fun on our Autumnal Walk. The awe and wonder of safely practising our multiskills, throwing up in the air technique, with the dry leaves made everyone smile.
Outdoor Environment Fun Wednesday 11th October
It's been amazing outside today. The stories that have been told, the music we've heard, the games being played, the mark-making opportunities created and the sharing we've witnessed have all been amazing. There's been so much learning going on through play today, we thought we'd share a few photographs with you all.
Bumblebear Biscuits Wednesday 11th October
Inspired by our lovely gift from the Booktrust (every child in Reception received a copy at the start of the week), we made Bumblebear biscuits today. They included Norman's favourite ingredient. Can you remember what that is?
Caterpillar Update Tuesday 10th October
Our caterpillars are no longer caterpillars. We watched them climbing to the top of their home and making a J shape and over the weekend all five of them have each become a chrysalis. Mrs Gould very carefully removed the lid and put them into the Chrysalis Station. After a quick photograph, as a couple were still wobbling, she put them into the butterfly net. We can't wait to see what happens next!
Superhero Day Thursday 5th October
This is what greeted the children when they came to school today! Just wait until you see the transformation!
Wow! Thank you to all our wonderful volunteers who have made today possible. You can see just how much fun we have already had! It's only lunchtime!
More Superheroes! Thursday 5th October
This afternoon we played games, put together our jigsaws and enjoyed another book by our featured author. "Superworm" by Julia Donaldson was evaluated by the class majority as a thumbs up, but it didn't outshine Sue Hendra's "Supertato" from this morning. In our book bags tonight we brought home the biscuit we decorated, the gift of a superhero mask, a letter, our jigsaw and we carried our own "Supertato!" It would be lovely to add your child's feedback about their day to their learning journey. Don't forget you can pop any contributions from home into your child's named pocket on the 'Family & Friends Learning Journey Contributions' wall in our classroom. A big thank you once again to all the wonderful volunteers who so kindly gave us their time to make our day so special.
Autumn Suncatchers Thursday 28th September
Earlier in the week we went on an adventure to collect some autumnal leaves. Today we transformed our treasures into autumn suncatchers. They really do look pretty. We hope you like them too.
Caterpillar Update Thursday 28th September
We are keeping a close eye on the progress of our caterpillars. We think they have grown much bigger today. What do you think? We have been mark-making to offer suggestions to be able to give them names. Meet Skyla, Lola, Harry, CeeCee and Harley. Keep checking our website page for more news!
Gruffalo Crumble Wednesday 27th September
We didn't all enjoy the finished product, but most of us did. To see how we made it please take a look at our display in the Reception cloakroom. Rest assured there definitely wasn't a Gruffalo amongst our ingredients!
Interesting Ingredients Wednesday 27th September
The ingredients are ready. All five begin with the letter b! Bananas, biscuits, blueberries, butter and brown sugar. Can you guess what we are making today?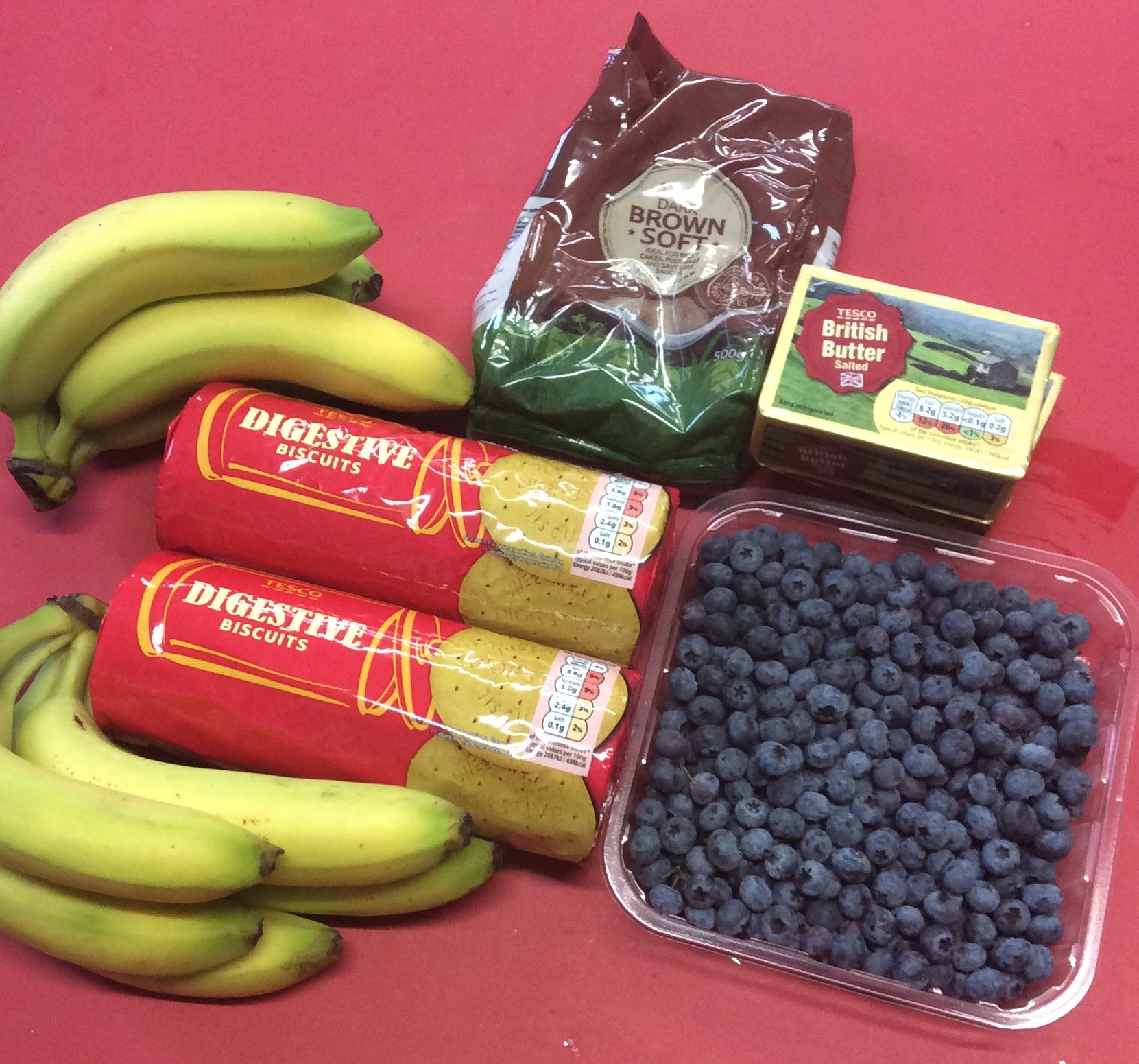 PE With Charlotte Tuesday 26th September
We've been working on our balancing skills with
Charlotte today. We were all worn out by the end of the session and could feel our hearts beating much quicker than they usually do! After a cool down and changing back into our uniforms they were back to normal.
'The Gruffalo' by Julia Donaldson Monday 18th September
Much of this week's learning is based around 'The Gruffalo.' Today we listened to the story and worked out which colours we would need to paint the main character. We remembered that "the Gruffalo's fur was brown, the poisonous wart on his nose was green, the white things in his mouth were not teeth, he had bright orange eyes and purple prickles!" Our paintings will be on display when they are dry.
Our First Full Day Friday 15th September
We really have had a busy day, but the biggest difference was we all stayed for lunch! There were even some clean plate stickers awarded. Well done Reception on your first full day at Burgh School.
Busy, Busy! Thursday 14th September 2017
Our last half day session has been extremely busy. We've been looking for items that begin with the letter s, searching for superheroes, using scissors, sharing and saying silly sentences! Tomorrow will be our first full day and we are all staying for lunch.
Superhero Fun 13th September
We have had lots of fun starting our superhero topic. Families, can you spot your own superhero? If you can't, we may not have received permission to feature them on the website yet. Please check with Mrs Gould if you can't see your little one and would like to see them featured.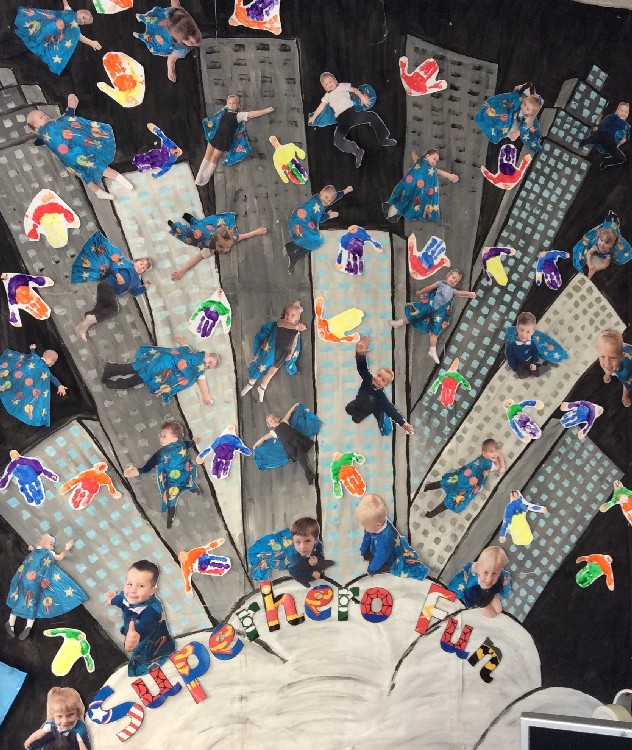 Such A Beautiful Morning Tuesday 12th September
We've had a very busy morning and the sun has been shining. Look at just a few of the activities we have chosen to use in our outside environment.
Exploring Our Environment Monday 11th September
In between the showers and heavy rain today, we had lots of fun exploring and discovering some of the resources in Reception.
Reception 2017 - 2018 5 September
Welcome to Reception. Here are just a few of the activities we have explored today. We've received a special certificate that includes our school core values. It is for you to keep. See you tomorrow for more learning, exploring, discovery and fun!