Welcome to Year 3
Writing Letter 19 May
We have been learning to write letters, including e mails, for different purposes. We wrote letters to Miss Smith suggesting ideas for a class treat when we get 50 reward stars! Here are a couple of our letters.
Timelines 12 May
We are starting a new history topic in Year 3, learning about the Stone, Bronze and Iron Ages. We have been thinking about the events during this period of history and have completed timelines to help us to understand the chronological order.
Fossils 5 May
We have been learning about how fossils are formed this week. We all had a go at making a replica fossil using plasticine, plaster and a selection of natural materials.
St. George 28 April
Year 3 have really enjoyed finding out about St. George this week. We have made fact files about St. George, written the story about him slaying the dragon and even written a recipe for the baking of Victoria sponge cakes we made. With Mrs. Arnold we used our skills of paper curling to make dragons breathing fire! Call in and have a look at our display if you get a chance!
3d Art 21 April
Year 3 are doing some 3d work in Art this term. This week we have made pictures using paper curling techniques. They are on display in our cloakroom. Here are a few photos of our work.
Gibraltar Point 31 March
We have been writing recounts of our recent trip to Gibraltar Point. We would like to share some work that we are particularly proud of with you on our class page. We hope you enjoy reading our work.

Gibraltar Point Trip 24 March
Today Year 3 have been on a trip to Gibraltar Point as part of their geography studies. We found out about how coastlines are formed and changed over time. Here are some pictures of what we got up to.
Op Art 17 March
In our last few art lessons we have been looking at the work of artists who worked in the Op Art style. Their pictures look like optical illusions and we have created our own Op Art images inspired by their work. Here are just a few of our pictures.
Rocks and Fossils 7 March
Today, Year 3 had a fantastic time investigating rocks and fossils. We got to look at and touch different rocks and impress our visitor, Ady with our knowledge.
We went inside the inflatable dome to look at the how the earth is formed and we watched a video clip about volcanoes.
Down at the Doctor's 3 March
Poetry inspired by the clouds 24 February
Caythorpe PGL 10 February
Last Friday Year 3 had an amazing day at the PGL activity centre at Caythorpe. Lots of us tried new and challenging activities during the day. We have been writing about our day this week and the adults took loads of pictures so we will soon be putting up a display in the classroom. When it is finished why not pop in and have a look? Here are a few photos of what we got up to.
Chinese New Year 27 January
Today we have been helping our friend Isaac celebrate Chinese New Year. Do you know that it is the year of the rooster? We acted out the story of the great race held to choose the animals for the Chinese zodiac. Isaac played the part of the Jade Emperor and he also shared some Chinese writing that he had done at home. We had a go at some too.
A Starry Night 20 January
We are using our painting skills in Art this term and thinking about shades of colours. We used Vincent Van Gogh's painting called A Starry Night as inspiration for our own paintings, using shades of blue for the night sky. We then added the moon and stars to finish off our pictures- with lolly sticks!!
Friction 13 January
We have been continuing our work on forces in science this week by investigating friction. We tried to move some jelly cubes from one bowl to another- with chopsticks!! We all managed that eventually, but then it got trickier. Miss Leetham asked for some olive oil to be added to the bowl and then we had to repeat the activity. How do you think that went? Ask one of the children if they can tell you. We also looked at the effect of friction on moving objects by sliding different surfaces down a ramp.
Diwali celebration 16 December
To complete our studies about Diwali we held a celebration in our classroom today. A friend from the Year 5 class, who has recently celebrated the festival at home with her family, came to join us to tell us about what happens at a Diwali party. Miss Leetham has taken some photographs to share with you, we hope you like them.
Christmas Arts Day 6 December
Year 3 had a good time during Christmas Arts Day making lots of different things with our fantastic helpers!
Diwali Preparations 2 December
Year 3 had a super time preparing for their Diwali celebration next week by making and painting their own Divas.
Competition Winners 25 November
Winners of the Year 3 competition to design a Christmas card for Father Terry and the parish church to send to all local residents of Burgh-le-Marsh.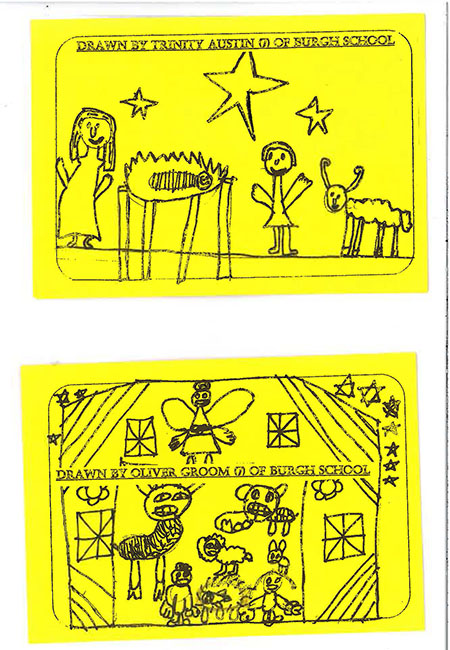 Update 25 November
In our P.E. lessons we are learning netball skills including passing the ball, moving to find space and defending.
We have also made some Rangoli patterns, as part of our Diwali topic, using paint, chalks, pastels and felt pens. Here are two of the carefully painted designs for you to look at, we hope you like them as much as we do.
Children in Need 18 November
Today our school is raising money for Children in Need. Here are photographs of the SPOTACULAR SUPERHEROES in Year 3!
Dave 11 November
Year 3 had fun making their own friends for Dave (our skeleton friend) by cutting out the different bones and labelling them. Each group worked really well together as a team!
Bones 4 November
Year 3 have started learning about skeletons and had great fun drawing around each other and trying to label all the different bones that they knew!
Fruit Salad 21 October
Year 3 had a great time cooking again this week. We made fresh fruit salad and we all tried it! It was very popular!
Vegetable Soup 14 October
On Thursday we used our food preparation skills to make vegetable soup. We chopped, peeled and prepared the ingredients before Mrs. Gray cooked the soup for us to taste.
Instructions 7 October
Year 3 are looking at instructions in their English lessons. We have been reading instructions, thinking about the language used and we will be writing instructions ourselves. We read and followed some instructions to make and decorate pyramids. Here is a photograph of the finished products.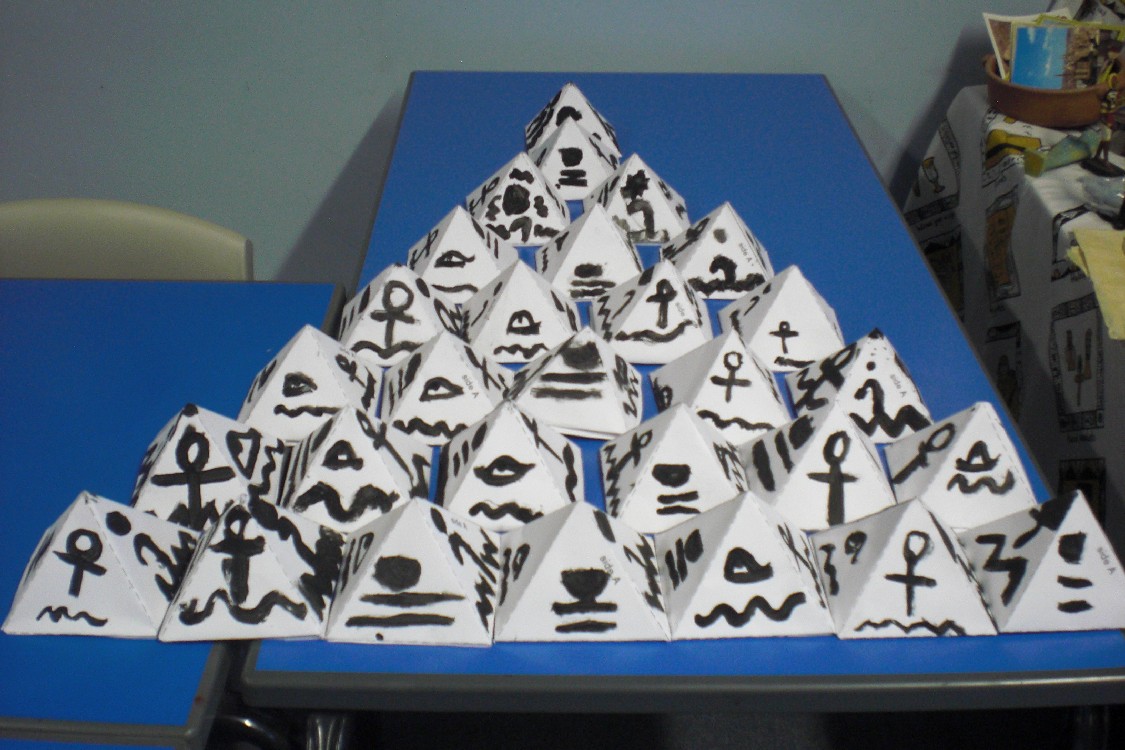 Egyptian Day 26 Spetember
Year 3 had a great time during their Egyptian day today….Alfie really enjoyed being the bossy Pharoah!
Nutrition 23 September
Year 3 had a great time learning about Nutrition and eating a balanced diet today!
The Twits 16 September
In Year 3 this week we have been looking at the life and works of Roald Dahl. We really like his book called The Twits.
In our English lesson we thought about describing the characters of Mr and Mrs Twit, we used our ideas to write WANTED posters. Here are a couple of them for you to look at.
Roald Dahl 13 September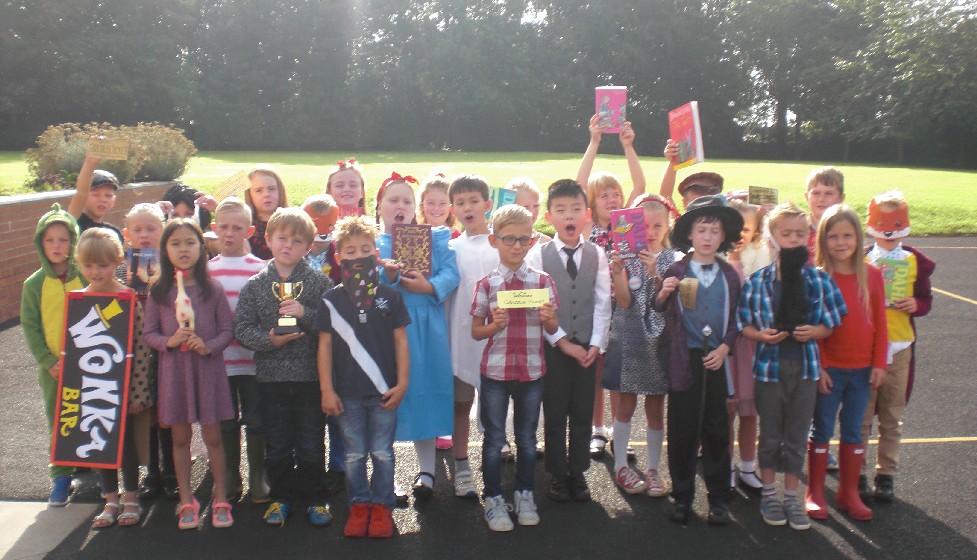 Year 3 enjoyed dressing up as their favourite character from the Roald Dahl books. We have been reading The Magic Finger and The Twits and we are going to start the BFG tomorrow!
Alphabetical ordering skills 9 September
Year 3 have been applying their alphabetical ordering skills today by checking all the books in the library are in the right place!