Welcome to Year 2
Dance Festival 29 June
Y2 took part in the dance festival at Skegness Academy this week. We all had so much fun and learned that we are all good at dancing! All the staff and student leaders at Skegness Academy ensured that we had a truly amazing day. We can't thank them enough.
Have a look at our photos to see some of our dance moves. See if you can spot Miss Bearman and Mrs Lammiman trying out some moves too!
Our Walk around Burgh! 23 June
As part of our 'Humanities Week' linked to Burgh-le-Marsh, we went on a walk! We had to identify and label a map as we went along. We identified many buildings and places correctly. After our walk, we drew maps of our route and constructed a key for it, using symbols.
Jonah and the Whale 9 June
In R.E we have been learning about different Bible stories. This week, we heard the story of Jonah and the Whale. We then had the challenge of writing the story in our own words.
Year 2 have really impressed Miss Bone with their AMAZING writing skills. Well done everyone!
Dissecting Owl Pellets 19 May
As part of our learning about animals and their habitats, we dissected owl pellets! First we made predictions about what they were (we had quite a giggle!) then we learned that owl's regurgitate the skulls and bones from the animals they have eaten. Once we dissected the pellets and tried to identify which animal the owl had eaten, we began to understand more about food chains. We remembered to use scientific vocabulary such as predator and prey, producer and consumer.
Maths is Fun! 12 May
In Science, we are learning about animals and their habitats. I would like you to create a 'shoebox habitat'. Think carefully about the animals that you will need to show in your habitat and what kind of habitat they live in. What do they need to survive? Ideas and examples can be found on the Homework sheet. All 'habitats' must be brought into school by
Wednesday 17th May.
Download the Habitats Homework
Lincolnshire Sausage Burgers 27 April
Today we all made Lincolnshire Sausage Burgers as part of our whole school focus on Lincolnshire food. To make the burgers, we first had to cut an onion. Miss Macklin and Miss Hall showed us how to do a bridge cut to help us with this. Once the onions were fried (they smelled delicious!), we mixed them with the Lincolnshire sausage meat. We moulded the mixture and then waited for them to cook. The burgers were delicious! We even got the chance to try some Lincolnshire Poacher cheese and some of us had it on top of the burger! Most of us thoroughly enjoyed them and it was great that some of us tried some new food. A HUGE thank you must go to Miss Macklin and Miss Hall who cooked with the children and made it so enjoyable for them. Thank you also to Mrs Kirk who organised our Lincolnshire food week. It has been such a treat for us!
Puppet Shows Friday 31st March
We were all fantastic this afternoon. We performed our puppet shows to the Reception children, with clear, expressive voices. The little ones joined in with repeated refrains and gasped when Grandma and Little Red Riding Hood were gobbled up! The children were all very proud of their puppets. They had put a lot of time and effort into making them. Just three words of the many that Reception described the shows as : "Amazing!" "Awesome." "Brilliant."
Red Nose Day 17 March
You all looked fabulous today with your red noses and crazy hair! You made such an effort and have helped a great cause. Great job everyone!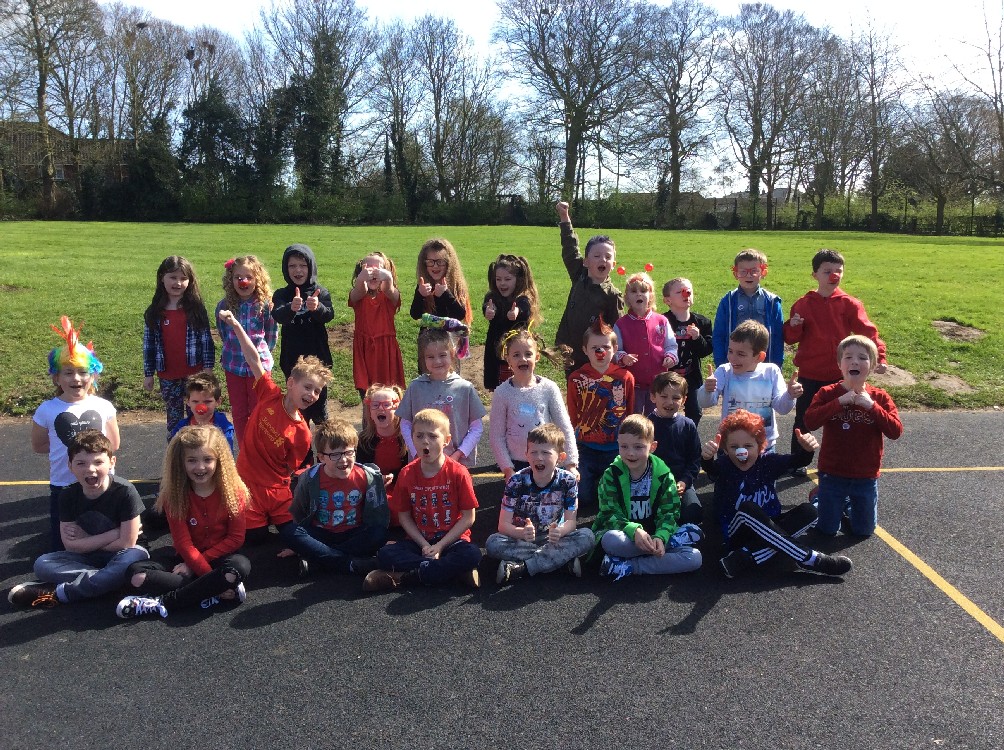 Our Cress Investigation! 17 March
This week we tested how cress seeds would grow in various conditions. We looked specifically at temperature, water and sunlight. Have a look at the photographs below to see the results. We were particularly surprised by the cress that had no sunlight… it grew very well but it was yellow!
We are Scientists!
First of all, I would like to say a HUGE 'well done' to you all for handing in super homework this week. It has been great to see so many of you extending your learning at home.
Please have a look at the photos below to see us planting our sunflower seeds. We have used this planting experience to help us with writing instructions in English. All children remembered to use imperative verbs in their instructions. Keep up the hard work Year 2!
Hip Hip, Array! 2 March
We have been learning lots about multiplication in Maths this week. We have learned about arrays and have been able to create arrays (with counters and by drawing them) to match many multiplication questions. WOW!
Geography Skills 24 February
We have been using our skills to search for England, Scotland, Wales and Northern Ireland in an atlas. We also found out the capital cities of these countries too! We are going to focus more specifically on Scotland and will be using the Katie Morag stories as the inspiration for our Geography sessions.
Our Puppets… To be Continued! 10 February
What do we need to survive? 27 January
In Science, we imagined that we were stuck on an island. We thought about the things we would need to survive and the things that would make us happy. We all came up with some interesting and thoughtful answers. Take a look!
The Creation Story
In R.E we have been learning about The Creation Story. We listened to Miss Bone read the story from our Bible and we also saw it represented in a different way on the interactive whiteboard. We all had a go at writing our own creation stories and illustrated it in creative ways too.
Investigating 2D Shapes
Year 2 have been very hands-on in Maths over the last week. We have been busy exploring the properties of 2D shapes (remembering to use specific mathematical vocabulary) and we have also investigated symmetry in a range of shapes.
Super Scientists! 19 December
This week we have all been super scientists. We started off the week by sharing amazing homework. Well done everyone, you really enjoyed stretching, squashing, bending and twisting many different materials.
Throughout the week we have also enjoyed lots of other scientific activities including planting bulbs, testing for absorbency and building umbrellas to find out which materials are waterproof. We remembered to use lots of scientific vocabulary in our explanations and predictions. Well done.
Year 2 have also enjoyed wearing Christmas jumpers this week and have had lots of fun at their Christmas party. What a busy week we have had!
Christmas is coming! 9 December
We have had a wonderful week! A very big well done to all of the children in KS1 for their Christmas nativity "It's a Baby". We are all extremely proud of you.
This week, we have also enjoyed many more Christmas related activities. Please take a look!
It's a baby 9 December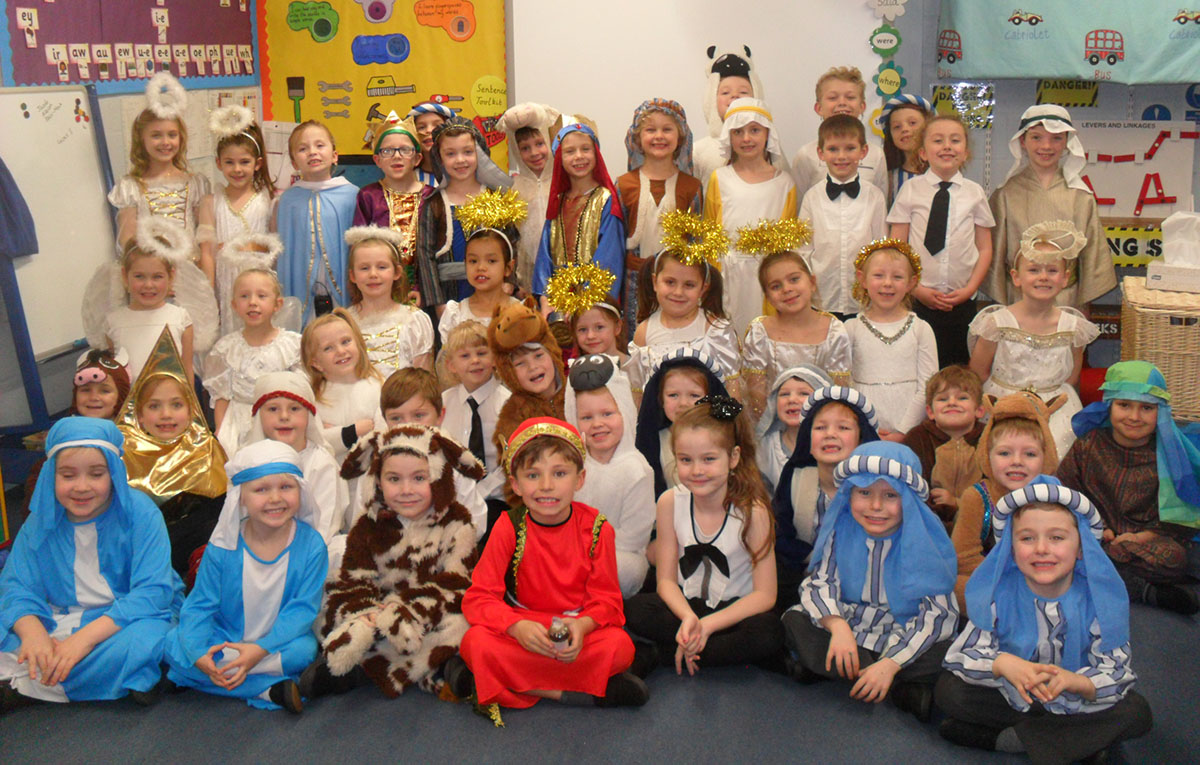 Well done and thank you to both Y1 and Y2 for their Christmas nativity of "It's a baby". Last night was their final performance to parents. They were brilliant!
Nativity 2 December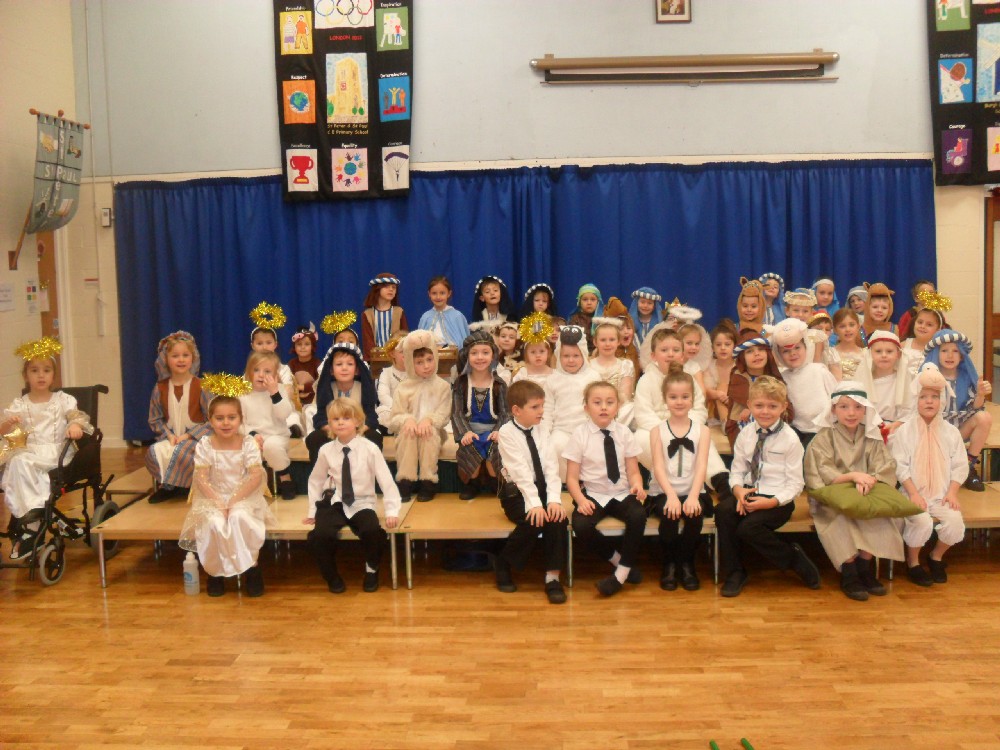 Key stage One children have been extremely busy preparing for their Nativity Shows next week!
Children in need dressing up! 18 November
Money, Money, Money! 17 November
This week, we have continued to learn all about money. We now know the value of many coins and have been able to combine coins in a number of ways to make the same amount. We have enjoyed lots of activities involving money. Some of us played bingo, some worked in a cake shop and others in a fruit shop! We had to practise giving change and we did a great job!
Remembrance Day 11 November
This week, we have been learning all about the importance of Remembrance Day. Today, we made a special visit to the memorial at the church. We heard "The Last Post" and we stood silently for two minutes.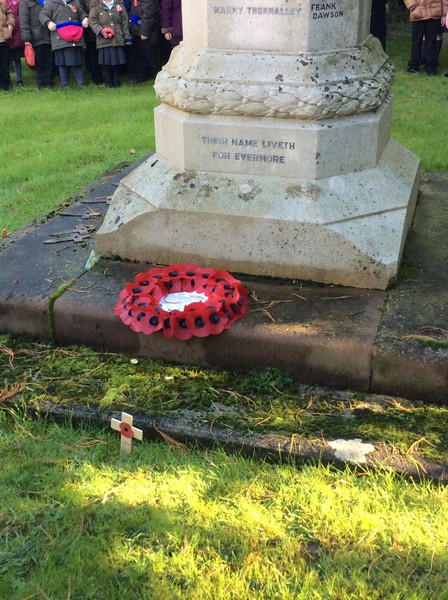 Remembrance Day 10 November
Inspired by Kandinsky 3 November
This week Mrs Arnold introduced us to the artist Kandinsky. We created our own abstract art in the style of Kandinsky whilst listening to music. Don't they look great?
London's Burning! 20 October
On Monday, it was time to recreate the Great Fire of London. It was a tough decision to make, especially after all the effort that had been put into making them. However, we went ahead after a class vote and it was awesome! First, we put our houses in position ourselves – remembering what the streets were like in London in 1666. Miss Smith came along to start the fire (in Henry's Bakery, of course!) and then we watched the fire spread. It was quite a windy morning which meant that the fire spread quickly (just like when the Great Fire of London happened!). We observed and talked about the effects of the fire. We noticed that some houses took longer to burn because of the materials used to make them. Once the fire stopped, Miss Smith found some metal left in the ash. Our scientific minds have since been busy thinking about why this was the case.
Making and Creating
We had so much fun making salt dough bread in role of 'Thomas Farrinor'. We mixed flour, salt and water together before kneading it. We then shaped the dough carefully and put it in the oven. Today, we decorated the bread with poppy seeds, sesame seeds and linseed. Don't they look amazing?
A huge well done to all of you for your wonderful Tudor houses. You made such marvellous creations and should be very proud of yourselves. They are fabulous!
Please remember that Monday is our Great Fire of London Day. Don't forget that you can come to school in your costume. It's going to be a great day.
Diary Writing 28 September
Today we became Samuel Pepys! We used the past tense to write about the things we saw, heard and smelt on 2nd September 1666. We also wrote about how we felt. Look at the powerful adjectives we used too... Can you spot them?
Marvellous Maths! 23 September
This week we have been revising our knowledge on place value. Have a look at the photos below to see how we have been able to show 'tens' and 'ones' (or units) using sticks and bundles.
A World of Pure Imagination 16 September
Roald Dahl Day was an exciting celebration! A tremendous effort had gone into creating wonderful costumes. Thank you to all grown-ups at home for your support.
At the end of the day, Wonka Bars were handed out and our Golden Ticket winner was excited to receive a copy of 'The Magic Finger'. Congratulations!
In other news... We have been stepping back in time to 1666. We have been imagining what it must have been like to witness such a huge fire and have written about our feelings. We also wondered about the questions we might have asked ourselves. There were many super responses such as 'Where will I sleep now?' and 'Are my friends okay?'. Well done for remembering to use a question mark!
A special mention must go to all of you who completed your homework and for your incredible effort in going the 'extra mile'.
A Wonderful Week 9 September
What a great week we have had in Year 2! Miss Bone has really loved seeing your smiles as you enter the classroom every morning!
This week we have started to learn all about the Great Fire of London. The children have been interested to learn lots of new facts and some have even shared extra information from home – excellent!
We had the challenge of writing an acrostic poem in Literacy. This was quite tricky but the children created some amazing poems… Have a look! Well done everyone. Be proud.
Don't forget… Your homework is to be a researcher and find out as many facts as you can about the Great Fire of London! Please return your fact-filled pages by Wednesday 15th September. Have fun learning finding out lots more at home!