Y6 go to the Opera!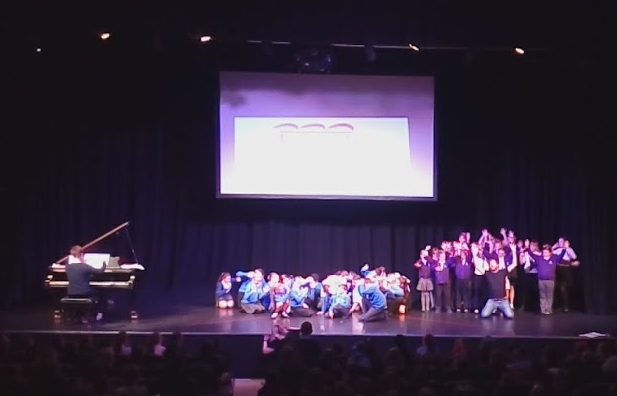 The Y6 class from Burgh School have been part of the recent SO Festival. The SO Festival takes place in Skegness and the surrounding area and is one of the biggest family-friendly and completely free outdoor arts festival in the UK. This year the festival took place from 27 June to Sunday 2 July 2017.
Although children from Burgh school regularly perform in the school and in the local community, the children in Year 6, along with children from eight other local schools, performed something very different on this occasion as the project involved the children working with a team from the Garsington Opera, focussing on the story of Semele.
Here is the story: Semele is due to marry prince Athamus, however, she is secretly in love with Jupiter (the King of gods). Ino, Semele's sister, doesn't want her to marry Athamus, because she loves him. Ino admitted this. Cadmus interrupted to say Semele was abducted away to the realm of gods. Jupiter's world she was in was described as having "Endless pleasure, endless fun." Semele is extremely happy being in this world.
Juno, Jupiter's wife, has a message from Iris that Jupiter has made Semele a world of pleasure. Juno is not happy Semele is here, so she decides to get her revenge. Iris also tells her that the palace is guarded by two dragons. This means Juno will need help to avoid them. She sets off to find Somnus, god of sleep, to tell him her plan to get revenge upon Semele.
Semele finds that it's not as great as she thought it would be, because Jupiter is only there to visit her occasionally. She is on her own and feels depressed. She also feels like Jupiter will get bored of her. Now she wants more humans to be with her. Jupiter finally realises how Semele feels, so he brings Ino to talk to her. Juno asks Somnus to help her with her plan and if he said yes Juno would promise Somnus all of his dreams and desires. Somnus has agreed to help. First, he will make the dragons fall to sleep so she could enter the palace. Also, Somnus would send a dream to Jupiter so he will grant whatever wish Semele wants.
As Juno arrives, she disguises herself as Ino, Semele's sister. This is to tell Semele that to become a goddess, she has to get Jupiter to show himself in his real form. Jupiter finally awakes from his dream and finds Semele to grant her whatever wish she wants. Semele's wish wants to be seeing Jupiter in his natural form. Jupiter knows that it won't end well if he shows himself, but he promised Semele he will do whatever wish she granted, so he did. Semele died instantly. Back on Earth everyone remembers Semele's fate. From Semele's ashes a son and a god has been born.
So what did the Y6 children from Burgh school actually do? First, they met the opera team in school on Monday 26th June and completed a morning-long workshop in the hall. The morning provided a welcome break from the intensive work on the annual Y6 production 'Robin and the Sherwood Hoodies'! Leading the workshops were five amazing and talented people: Freya (director), Rob (opera singer), John (composer and pianist), Belinda (opera singer) and Paul (organiser).
The songs our school rehearsed were 'Endless Pleasure' and 'Oh Terror'. In order to perform at our best, we had to carry out several warm up activities to start, then we moved on to vocal warm ups, before finally actually coming up with actions to accompany our singing.
The first warm up was about changing direction, operating at different speeds and utilising space. The vocal warm up was about making different sounds and also using our whole bodies to perform whilst singing. When we had finished the warm ups, we practised the song and routine which we would be performing on stage. Freya directed this and added to it as we came up with ideas. John made little changes to the music too as we rehearsed. The morning was over very quickly, but we learned a lot, some of which we were able to use in our own show performance.
On Thursday 29th June Y6 travelled to Skegness to perform at the Embassy Theatre with other schools. The schools that went were: Huttoft, Partney, Hogsthorpe Primary Academy, Sutton on Sea, Tattershall, St Helena's, Ingoldmells, and Skegness Academy. When we arrived we went up to the Arts Room with two other schools and had a warm up and hour-long singing workshop. Then we went into the auditorium to watch some of the rehearsals before it was our turn to rehearse. In the afternoon it was show time. We watched clips of professionals from the Garsington Opera performing and we also heard the story told by Freya. During the retelling of the story each school took to the stage to perform their part with John, Rob and Belinda. All the schools were fantastic and Y6 were captivated by the performances of their peers. The opera culminated our school performing 'Oh Terror' in the dramatic finale to Semele.
The whole event was a tremendous experience and Y6 all enjoyed performing on the Embassy stage. The work resulting from the day was also screened as part of the SO Festival programme! Hopefully Burgh school will have the opportunity to take part in a similar experience in the future!
By Lauren and Grace (Y6)
Find out more about the SO Festival at www.sofestival.org
Find out more about Garsington Opera for All at www.garsingtonopera.org/gallery/opera-all